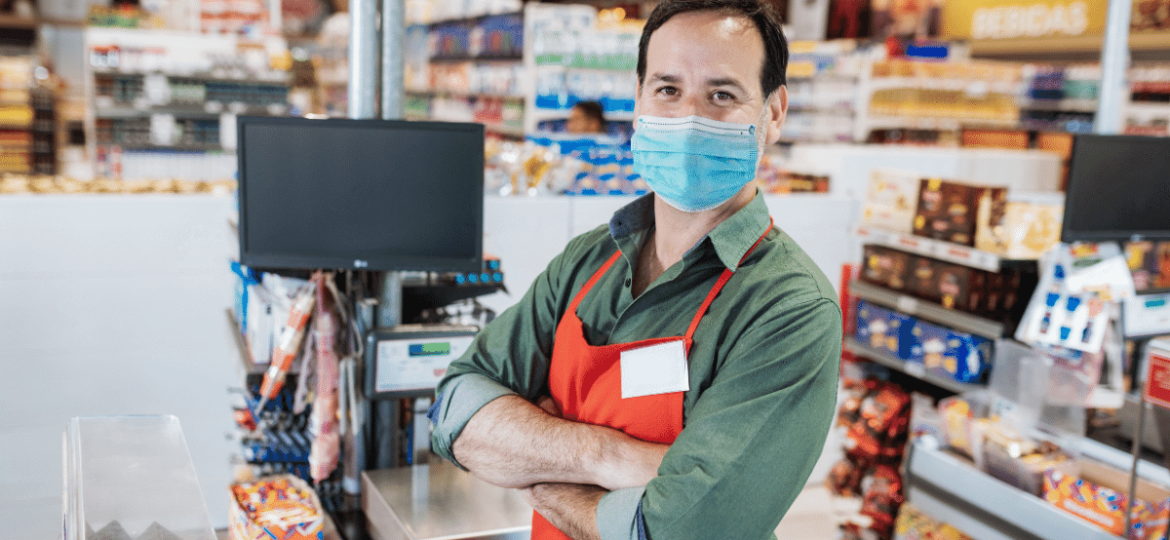 The pandemic continues to leave its mark on the global economy and cause many businesses to pause operations, scale back their workforce, and even halt hiring completely. However, for many essential businesses–and the essential workforce they employ–day-to-day operations must go on and, for many, hiring for essential roles has never been more challenging. The pandemic has shone a light on those whom we rely on to provide vital care, goods, and services and who do so in the face of heightened risk and exposure.
Because the pandemic has made in-person recruiting difficult to conduct, there's been an uptick in the way businesses use social media to hire new talent. Across industries, from restaurant and hospitality to retail and groceries to business services, these savvy CareerArc clients have learned that a combination of strong organizational branding and employee spotlight posts helps bring in new talent and customers, too.
Reinforce employer brand values of care and responsibility


Using just two photos, this post from Panda Express intelligently builds on its existing brand while showing how the company has adapted to contemporary reality. The first photo features a masked worker standing next to a legend that says "Good Fortune," and the words "We're in this together," both messages conveying positivity and hope at a time of adversity as well as the shared responsibility in the fight against COVID-19.
The second photo builds on these themes by showing a Panda Express employee handing take-out to a customer in a safe, socially distanced manner. The door is open, the takeout is placed on a table, and the employee and customer are standing at least six feet apart. Finally, the text that accompanies the post highlights that Panda Express was rated the "#1 restaurant in health and safety" and then provides an informative link.
Unsurprisingly, this post attracted a significant number of likes, comments, and shares, proof that openly valuing the health and wellness of its customers, as well as its employees, is a surefire way for businesses to use social media to hire new talent.
Openly reward hard work (and attract more hard workers)
Boston Market takes a similar approach in this post by not only openly spotlighting an employee but also revealing it has an involved, supportive company culture. While General Manager Haley is the principal subject of this post, the mention of Regional Vice President of Operations Ray shows that the company keeps in close touch with its employees and rewards excellent work. As the hashtag says, this job is #farfromfries.
By calling out the exemplary cleanliness of Haley's restaurant ("second to none") this post showers praise on Haley and makes it clear that the contributions of new hires will be recognized. As if that wasn't enough of an incentive for potential candidates, the photo of Haley wearing a mask that accompanies the post underscores that this business values safety and recognizes that these times require hard work and dedication.
Spotlighting employees also shines a flattering light on businesses that use social media to hire motivated, dedicated employees.
Offer long-term commitment with up-to-date messaging
Many potential employees crave the notion of job security, which is partly why this post from Meijer celebrating store director Larry Levin's 50th anniversary with the company is so refreshing. It's also wonderful to see a veteran employee in conversation with a younger team member. Clearly, this is a business that values commitment, teamwork, and on-the-job training.
While businesses use social media to hire new workers, spotlighting long-term employees, especially one who is wearing a mask and has clearly adapted to the times, warmly demonstrates how much this company values its people.
The tremendous response to this post—over 590 reactions and counting—shows how powerfully this message resonates, not only in the company's hometown of Grand Rapids but beyond.
Take a solid stand to appeal to solid employees
The first industries that often come to mind when we think of essential businesses are hospitals, pharmacies, and grocers, overlooking those who manufacture the vital goods and services delivered at the frontline. With this post Allied Universal gives us a friendly reminder of how essential manufacturing companies are and that organizations that keep an #EssentialBusiness safe and secure are doing vital work.
The text and photo work together to convey how seriously the company performs its work. The employee in this photo wears an expression of concentration and concern: nothing is getting past him. It sends an elegantly clear message of the qualities Allied Universal is seeking in terms of upholding Allied Universal's brand of security and positivity in a time when both are urgently needed, it's as solid as they come.
---
Great talent is always essential to a business. Need social recruiting to attract more top candidates, fast? CareerArc's social recruiting solution and services have helped companies reach more candidates they need, in less time and with less effort. Attract and hire the best candidates at scale through social media—schedule a demo today.