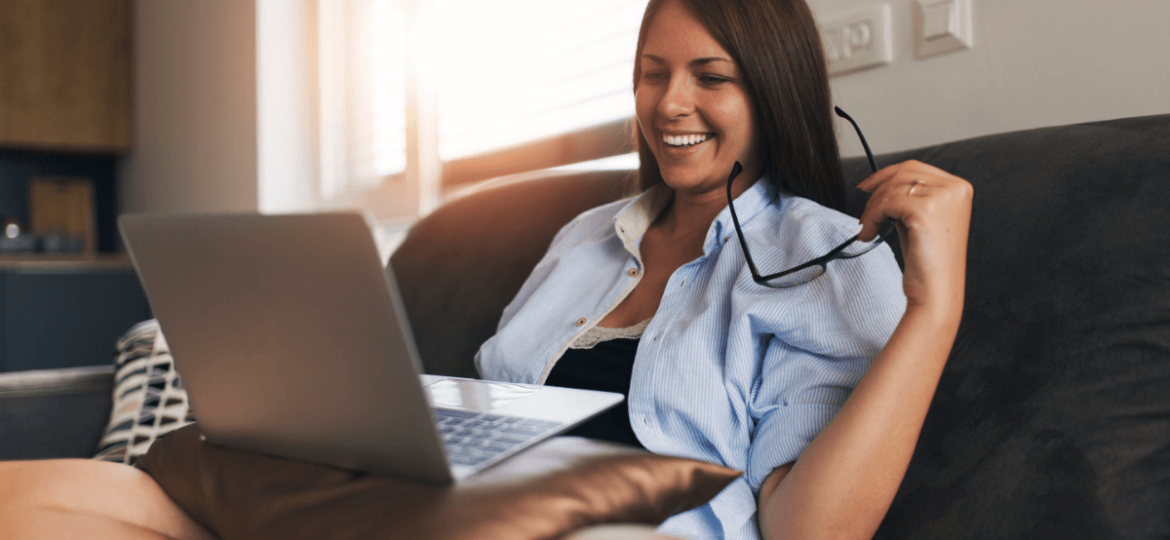 How can companies build community when employees can't be physically together? Despite the challenges of COVID-19 and remote working, many organizations have discovered that online positivity goes a long way. These companies create a sense of belonging by showcasing their employer brand on social media. 
These videos and posts are not only creative and uplifting, but they display several of the essential components of a healthy organization: by focusing on their values and their people, these companies reinforce their company culture while inspiring their workforce.
So what ingredients go into the perfect social media post? We've put together some standout examples from these four CareerArc clients to give you a glimpse at (virtual) organizational excellence. 
Bring people together with playfulness  
Sometimes, making people feel connected is all about embracing playfulness. This spooky virtual costume contest from DriveTime encourages the creativity and energy of their team by challenging employees to come up with the best possible Halloween costume in quarantine. 
The tightly edited video starts with a view of the "judges" seated in a socially distanced manner and quickly cuts between individual costumes and the group conference screen. These visual choices make everyone feel like a vital part of the action and the team (which is a crucial component of managing a good team) while highlighting individual contributions.
The upbeat music and helpful chyrons identifying each costume keep the energy moving throughout the minute and 25 second video. There's no need for a voiceover or overt brand statement. By keeping the video brief and playful, the closeness of the team and the creative company culture come through loud and clear. This is A+ work when it comes to displaying a vibrant employer brand on social media. 
Be the company that keeps on giving, no matter what
Just because they're working remotely doesn't mean that the Republic National Distributing Company couldn't find a way to give back to their community. With this elegant post, the company reaffirmed its commitment to staying connected while also upholding a culture of responsibility and ingenuity. 
In the past, the RNDC had raised funds for the community with skeet shoots and golf tournaments. In order to adhere to social distancing guidelines, this year the employees held a fun "Tie and Hat Day" and received donations from 98% of their associates. 
By combining carefully chosen hashtags, a moving anecdote that underscores the RNDC's ongoing values, and a visually rich photographic palate of the tie-and-hat-wearing employees, this employer brand on social media conveys generosity and a strong company culture. Rain, sleet, snow, pandemic: this company lets nothing get in the way of its community ties. 
Use interactivity to strengthen community and boost sales
It's an open secret: creating interactive posts not only helps energize customers and employees, they're also a great way for a company to broadcast their employer brand on social media. This post from Guitar Center encourages "musicians of all genres" to post a video, as labelled with the hashtag #WhyWeMakeMusic, explaining what they love to play and why they make music.  
While the initial post itself attracted positive comments from a wide array of employees and customers, the subsequent posts featuring members of the "Guitar Center family" allowed the company to keep posting new, authentic, and engaging content on a regular basis. These videos not only boost the company's core business but also display a large, talented community. Employees who want to be musicians can indulge their dream on a national platform. Customers can easily become a part of that dream.
In terms of keeping their brand fresh while engaging their workforce during an isolating time, this post by Guitar Center is rock star level. 
Actively share accomplishments to support organizational values

Lamb Weston is one of North America's largest potato companies, supplying large restaurant chains and other commercial food vendors. When the COVID-19 pandemic hit and forced many restaurants to significantly scale back, this company didn't run from reality: instead, they embraced the opportunity to help those in need.
This post, which spotlights Lamb Weston's $125,000 contribution to the James Beard Foundation's Food and Beverage Investment Fund for Black and Indigenous Americans, helps remind employees and customers alike about the company's fundamental values. Instead of dwelling on painful times, it promotes optimism about the future.
Companies that actively incorporate their donations, programs, and other community outreach efforts into their employer brand on social media build a strong yet compassionate workforce, and garner respect from current and future customers. 
---
Raising awareness around your employer brand on today's top social media sites can deliver you more qualified, culture-fit candidates. Discovering the tools and support you need to make a real impact in social recruiting is just a click away: schedule a demo of CareerArc today.