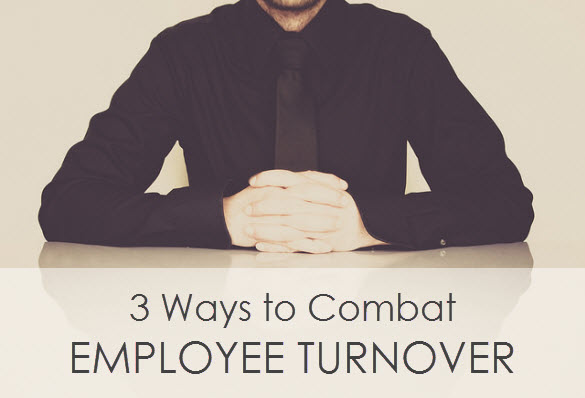 If you've read any HR publication these past weeks, you likely already know the top three trends that will impact human capital in 2015:
Increased Turnover (Up by 44% in 2014, Source: ERE)
Increased Mobile & HR Tech Adoption (Source: TLNT)
Increased Focus on Retention & Employer Branding (Source: Bersin by Deloitte)
These HR trends pose great challenges for HR pros, and ironically they are all driven by one piece of very good news: our economy is recovering. As economic prosperity spurs job creation, experts say employers will not only be challenged by the pace of fulfilling increased labor demands, but also in retaining their existing talent.
However, where there are challenges, we see opportunities. Here are the three ways to combat employee turnover in 2015.
1.

Play a Strong Offense: Build Employer Brand Like You Mean It.

The power may be shifting from employer to employee, but influence will also shift towards strong employer brands. Employees who may have stayed at a company to weather a weak economy will now gravitate towards better employers backed by a solid reputation. Employer brand is not built overnight, but make sure you have at least an online brand presence to build from. Monitor review sites, reenergize employee advocacy and referral programs, and extend that advocacy program to your corporate social profiles. Fueling your employer branding efforts will help remind your current talent of your good employer record, and attract the talent who may be searching for a big career change in 2015.
2.

Adapt Fast: Mobile is the New Chess Game, and Speed is King.

2014 marked the first year when the use of mobile devices surpassed that of desktop use, and approximately "60% or so of social media time is spent not on desktop computers but on smartphones and tablets."Whether retaining or recruiting top talent, this overall trend suggests more people are accessing information on-the-go. Some predict the mobile revolution could soon render recruiting staples, like the resume, obsolete, with candidates now taking advantage of a one-button apply functions that integrate with one of their online professional profiles like LinkedIn.The need for speed in reaching candidates and in keeping HR processes efficient and measurable will continue to drive HR tech adoption. Our advice? Adopt wisely and adapt fast to stay ahead of the game.
3.

Play a Strong Defense: Retain your Best People by Setting the Best Example.

The start of 2015 looks to be a very tricky time for HR Pros: Layoffs typically rise at the end of Q4 and at the beginning of Q1, which the recent spike in unemployment claims seems to support. But how employers handle these layoffs sends a crucial message to the employees who remain with the company.Establishing a consistent, dignified, and transparent offboarding policy, as well as providing career assistance— like competitive outplacement services and career coaching—can help show, through action, that your company invests in employees beyond company lines.
Solutions & Additional Resources
The Art of Salary Negotiations
Joyce Domijan, a VP of CareerBeam–a division of CareerArc–shared her expertise on how to navigate salary negotiations with HR Bartender, a leading HR blog.
A Kinder, Gentler Ax
The Wharton School investigates the more humane methods to lay people off, and why organizations don't use them nearly often enough.
Keeping Employee Turnover Low
Fast tips and ideas on retaining your best talent.
By Tallulah David