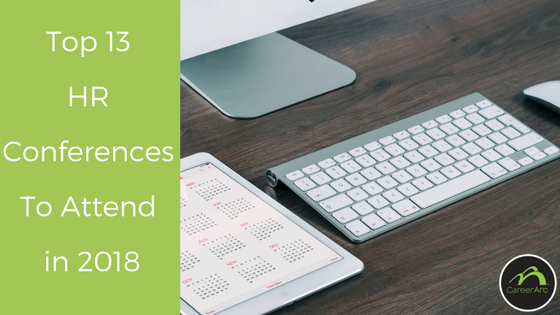 As a talent or recruiting professional, you know that the job market is constantly changing. One of the best ways to stay on top of the latest trends is to attend HR conferences.
However, with so many tradeshows to choose from, how do you decide which show will benefit you and your organization the most? Not to worry, we've scoured the web to find the best conferences that are sure to set you up for success in 2018.
---
March

HR in Hospitality | Las Vegas, NV on March 5-7 | #HRinHosp
The HR in Hospitality Conference & Expo is a conference tailored to address the unique challenges Human Resource professionals face in this growing industry. Hundreds of HR and labor relations professionals from hotels, resorts, restaurants, casinos, and cruise lines turn out for this yearly conference to learn about new HR products, discover best practices and share ideas with like-minded professionals.  

April

ERE Recruiting Conference | San Diego, CA on April 2-4 | #ERERC
The ERE Recruiting Conference is a go-to networking event for many talent acquisition professionals. The show is known for its in-depth sessions that explore recruiting tactics, latest news, tips, and how-to's on hiring strategies and technology.



SHRM Talent | Las Vegas, NV on April 16-17 | #SHRMTalent
SHRM is the largest HR professional organization in the country with over 285,000 members. While most know of its highly-attended yearly conference, SHRM Annual (which this year occurs June 17-20, see below), it's smaller, more focused SHRM Talent Conference is designed specifically for recruiting and talent management professionals.

May

RecruitCon | Nashville, TN on May 10-11 | #RecruitCon2018
This two-day event highlights new technologies to streamline recruiting, from leveraging algorithms to help review and identify resumes of top applicants to integrating video interviewing to take your hiring process to the next level. Join this conference to access the latest recruiting strategies from top brands sharing their success stories.



Employer Branding Strategies Conference | San Diego, CA on May 22-24 | #EBrandCon
With 91% of candidates seeking out at least one resource to evaluate an employer's brand before applying for a job, the health of your talent brand is likely top-of-mind. This unique conference combines hands-on workshops from both marketing and talent acquisition gurus discussing best practices for candidates experience and employer branding strategies. This year CareerArc will be hosting a lively panel featuring talent leaders from top brands CVS, Philips, and Fidelity Investments. See the full agenda for more information.
Related: CareerArc Employer Branding Study
June

SHRM Annual Conference & Exposition | Chicago, IL on June 17- 20 | #SHRM18
With over 200 concurrent sessions and 15,000 international and domestic attendees, SHRM Expo claims the title as the largest HR conference in the world. This highly anticipated event is loaded with HR tools and resources to help you lead your company to success. By attending this conference you'll earn credits toward your SHRM-CP, SHRM-SCP or other general designation certification. Pro Tip: Wear comfortable shoes because you will be covering lots of ground.
August

Social Recruiting Strategies Conference | Austin, TX on August 8-10 | #SRSC
The Social Recruiting Strategies Conference makes its second stop this year: The first show was in San Francisco, CA which was packed with amazing speakers and engaging sessions. This summer the SRSC heads to Austin, TX  and once again bring together top industry leaders to offer the latest on social recruiting trends, sourcing techniques, and employer brand best practices. This is one conference you do not want to miss!
Related: Social Recruiting Strategies Conference 2018 – A Tweet Roundup Conference Recap


California HR – PIHRA | Long Beach, CA on August 27-28 | #CAHR18
Hosted in sunny Long Beach, California by PIHRA, this conference is tailored for human resource professionals who either practice or are responsible for HR management. Learn new trends and laws affecting the future of your business, to opportunities for purposeful networking, and to connecting HR communities.
September

HRTech | Las Vegas, NV on September 11-14 | #HRTechConf
HRTech is the go-to event for getting a deep understanding of the HR technology products that are leading and even disrupting, the market. Attendees are able to compare products and services side by side and meet professionals in various HR disciplines, such as talent management, learning and development, and compliance, as well as IT and software development leaders and practitioners. The sessions focus on the business process and organizational success enabled by technology and covers all the latest trends like AI, chatbots, SaaS, The Cloud, social, mobile, analytics, video, gamification and more.



ASHHRA | Pittsburgh, PA on September 15-18 | #ASHHRA18
This conference welcomes Human Resource professionals from healthcare companies large and small to take advantage of sessions, networking events, and 175 vendors and exhibitors who altogether work to solve the mounting needs of the healthcare industry, now the largest employer in America.


SourceCon | Atlanta, GA on September 24-26 | #SourceCon
Targeted towards sourcers and recruiters, SourceCon is a subset of ERE Media built to provide knowledge and insights about sourcing best practices. Presenters and attendees here are prepared to get into the weeds of online sourcing, making SourceCon one of the most anticipated and talked-about shows of the year. If you want to learn about the top tools, tips, and strategies to source better, and faster, this show is worth considering.
October

Strategic HR Forum | Chicago, IL on October 14-16 | #HRPS
This forum is designed for senior HR leaders with 15+ years of HR experience who are responsible for planning the strategic direction of their organizations. Attendees will have the opportunity to learn, engage with and exchange ideas with other noted business leaders.


HR Southwest Conference | Fort Worth, TX on October 14-17 | #HRSWC
HR Southwest invites attendees to join one of the largest regional educational and networking event for human resource professionals. This conference hosts more than 2500 attendees and nearly 200 vendors. Take advantage of this conference to learn more about talent acquisition strategies and workforce planning.
---
Check out our events page to find out what conferences we're attending this year, and if you're headed to one of the shows, make sure to tweet us at. @CareerArc and include the show hashtag so we can add you to our VIP list.