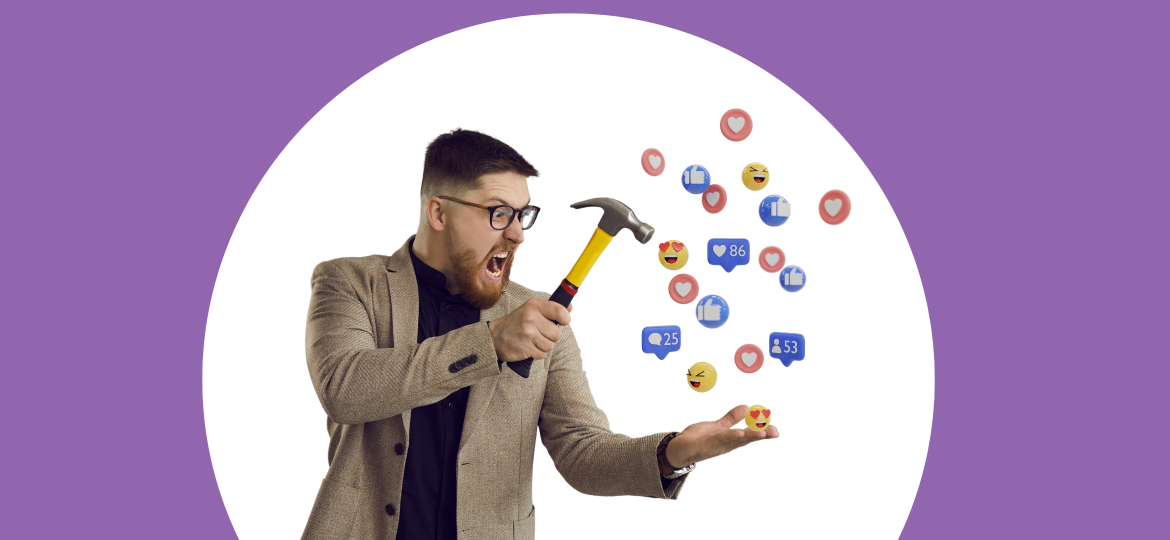 Social media is a must for companies today—but not necessarily for the reasons you might expect. Yes, it's a great outlet to connect with customers, sell products and services, and build a consumer following. But it's also an invaluable resource for talent attraction, helping HR and talent acquisition teams attract top talent.
That's where social recruiting comes in. 
At its core, social recruiting means using the power of social media to find quality candidates. It also helps those quality candidates find their dream roles with their dream companies. Everyone wins! 
New to social recruiting? Here's exactly why it's so important for today's companies.
Understanding the power of social recruiting
Social recruiting is one component of a successful talent attraction strategy. For most companies, it's beneficial to connect with job seekers where they're already spending a lot of their time: on social media platforms.
An effective social recruiting strategy can (and should!) involve a variety of platforms and techniques. If you're not quite sure what your unique blend should look like, there are tons of great employer branding examples to learn from.
Below, we'll explore seven companies that represent social recruiting done right. Follow their lead, and you'll be one step closer to a robust talent attraction strategy.
7 companies using social recruiting effectively
First up, this financial services company is a perfect example of a corporate careers page on social media.
Talent acquisition teams often assume they need access to their main brand's social accounts to participate in attracting talent on social media, but that's not necessarily the case. Brighthouse Financial uses our favorite workaround: a career-focused page that's separate from the main brand accounts. 
This type of page doesn't require buy-in from your marketing team (which typically owns main social accounts) to share great talent attraction content. And for candidates who want to track your open roles, it provides one clear place to check in—without getting lost in posts aimed at consumers.
Brighthouse Financial happens to use Facebook for this purpose, but plenty of companies use the same approach on LinkedIn, X (formerly Twitter), Instagram, and more. If you don't have the flexibility to post on your brand accounts for talent attraction (or you just want a separate space to do your own thing!), consider embracing this workaround for your company. 
We often hear from companies that aren't quite sure how to use X (Twitter) for social recruiting. If that rings true for your brand, Dedrick Russel's account is a helpful reference.
As a talent recruiter for Gray Television, he uses his own account to share job opportunities at Gray. (Note that it's common for recruiters to make separate accounts if they also use X for personal content. No need to give up memes and personal posts just to have a professional presence—they can be separate!) 
X is unique in that it's one of the few platforms that's meant for multiple posts per day, so Russel uses frequency to his advantage. His steady stream of posts helps keep job seekers (and future job seekers) informed with a mix of job posts, employer brand posts, and other resources. Plus, his use of images and videos in each post helps the content stand out on a crowded feed. 
LinkedIn is another great place to have your recruiters post open jobs—just not quite as often. Unlike X, on LinkedIn, you'll want to stick to a max of one post per day.
We're looking for a pioneer in the next generation of news gathering. If you've got what it takes, apply now to join our amazing team in Springfield, MO. https://t.co/ZEVWqaKoNu #Hiring #TVNews

— Dedrick Russell (@dedrickrussell) September 26, 2023
For talent acquisition teams that do want to post about open jobs and their employer brand on marketing-owned brand accounts, it's not always possible to post every job opening as it's announced. In that case, this example from Medcor is another helpful compromise.
Every month, the company posts a roundup of all its new and current openings. The roundups help break up the monotony of individual job posts and show another side of the company beyond the usual marketing-focused content. As a bonus, any job seekers who are especially interested in working for Medcor know exactly where to check for roles every month.
The key is finding the right balance with your marketing team—work together!
Instagram is an underutilized platform for talent attraction (especially employer brand content), but Casa Colina proves why it's so powerful. 
Keep in mind that dedicated careers pages tend to have higher engagement rates than corporate pages on Instagram, so your follower count doesn't really matter. Even if your candidates don't follow you, they still check social media. They may come across your content by searching for you (either directly or with broad search terms), browsing their feeds, or through shares from their connections who do follow you.
More importantly, candidates are actively using social media to check up on company accounts: 58% of job seekers search for information about potential employers on social media. Follow or not, they'll find you when they need to! 
To incorporate Instagram into your social media recruiting strategy, borrow Casa Colina's strategy: sharing a mix of employee spotlight content, DEI content, and career development posts. Variety is critical if you want to stand out on a platform that's typically associated with personal posts. 
View this post on Instagram
Because many employees already use LinkedIn for career-oriented content, LinkedIn is the ideal platform to expand the reach of your talent attraction posts. If that's your goal, leveraging your larger employee base is a great approach.
Compared to company profiles, personal profiles (like your employees' own accounts) drive 2.75x more impressions and 5x more engagement, making them an invaluable resource for social recruiting.
Ulta Beauty implemented this with a strategy that its employment marketing specialist, William Leitch, calls the "social recruiting cascade." To nail the flow of content, William recommends starting with recruiters, then involving hiring managers and talent attraction team members, and finally expanding to leadership and the broader employee base.
(If you're curious about exactly how this strategy works in action, check out our webinar with Ulta Beauty here!)
The key to Ulta's success is the final step in the strategy. Ulta also shares job and employer brand content on its brand pages, giving job seekers an all-in-one look. As a result, employees spread the message with their own networks, and Ulta capitalizes on the candidate experience within its own page.
LinkedIn may be the most common platform for social recruiting, but it has some underutilized features itself. One of those features is the LinkedIn Life tab, featured on every company page.
At its core, the LinkedIn Life tab is a dedicated space to show off why your company is a great place to work. RHA Health Services LLC offers a great example of how to use the LinkedIn Life space to your advantage, showcasing who you are as an employer and why job seekers might want to come onboard.
When your LinkedIn Life page is as attractive as this one, you can even create custom outreach that drives traffic to this specific page. Then, as you reach out to prospective candidates using any channel or tactic, you can link to your LinkedIn life tab for extra context.
Want to apply a similar strategy outside of LinkedIn? If so, take a look at BAE Systems, which uses the same approach for its Facebook page. Instead of calling itself a "careers" page, the "Life at BAE Systems" page focuses more heavily on why the day-to-day experience in the company is so desirable. 
While the company builds its employer brand and entices prospective candidates, it can also share job openings and other relevant resources. 
Bonus resource
If you need even more inspo, we've got you covered. Check out our social recruiting lookbook for more examples to guide your company's strategy. 
Automate your social recruiting strategy with CareerArc
Feeling inspired to elevate your approach to social media recruiting? 
These job and employer branding examples give you a blueprint to follow, and CareerArc makes the execution as simple and efficient as possible. We automate the entire process, helping you capitalize on all these benefits with minimal effort.
Ready to try it out? Click here for a demo.