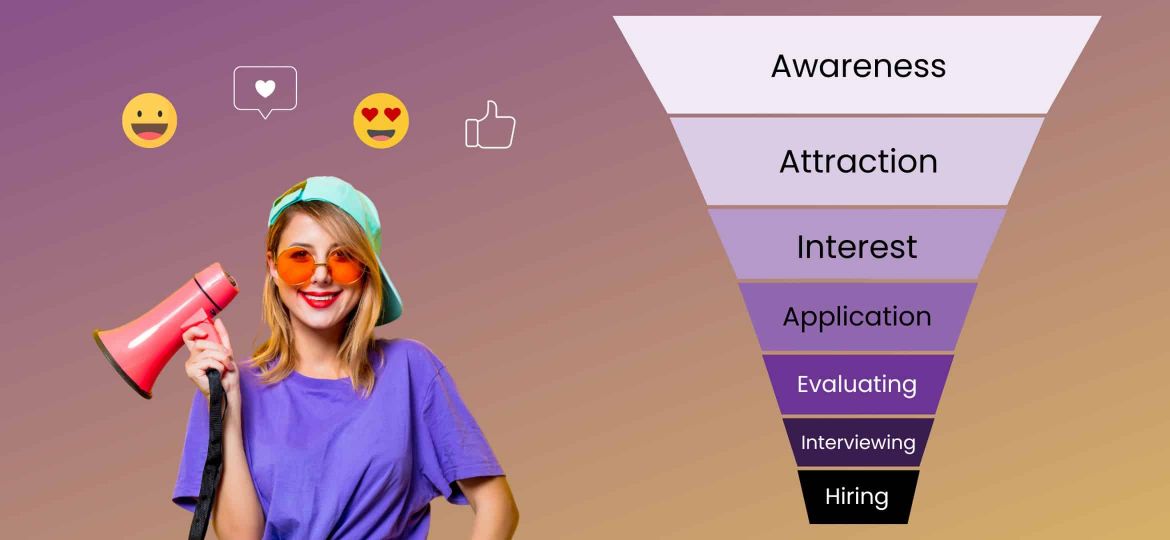 If you're looking to fill open roles, build a more robust employer brand, or automate more of your talent acquisition strategy, it's hard to overstate the power of social media. 
Social recruiting—or the process of using social media to connect with prospective employees—is more powerful than ever. As more of the workforce is made up of digital natives, it makes sense for employers to lean into digital networks to meet their recruiting goals.
New to social recruiting? Here's why it matters for today's talent acquisition teams—and where it may fit into your current strategy.
Why social recruiting matters
Social recruiting is one component of a talent acquisition strategy. Alongside other tactics, it helps employers find quality candidates using the power of social media.
Because there are so many methods of attracting talent, some teams believe they don't need a social media strategy for talent acquisition if their existing approach is working. 
As you might imagine, that's a myth! Even successful teams can benefit from the introduction of social tactics—and many find that it makes their existing approach even stronger. 
With that in mind, we'll walk you through the "standard" talent acquisition and recruitment funnel and explore the ways social recruiting benefits each step. No matter what your current funnel looks like, you'll find opportunities to bring social recruiting into the mix.
Understanding the standard talent acquisition funnel
While there are a few variations on the talent acquisition funnel, most candidates move through roughly the same process with most employers, even if the steps have slightly different names. 
Here's our "standard" recruitment funnel here at CareerArc, along with the channels that talent acquisition and recruitment teams have traditionally used for each stage. After we explore these traditional channels and influences, we'll use the next section to highlight where social recruiting fits into each stage.
Awareness stage
Definition

: The employer's efforts to introduce new candidates to its company and employer brand

Traditional methods and influences

: Job fairs, word of mouth, employer branding (e.g., company culture, DEI, etc.)

 
Attraction stage
Definition:

The employer's efforts to attract job seekers to its open roles

Traditional methods and influences:

Job descriptions, benefits and perks, word of mouth (e.g., employee referrals), job boards, paid ads, recruiter outreach, talent pool email nurtures
Interest stage
Definition:

The employer's efforts to share information with candidates who are actively interested and researching its company and open roles

Traditional methods and influences:

Content on company careers pages (e.g., FAQs, interview tip videos, employee testimonials, etc.) review websites (e.g., Glassdoor)
Application stage
Definition:

The employer's efforts to make the application process as seamless as possible for interested candidates

Traditional methods and influences:

Links to your ATS via your company careers page and job boards, direct communication with recruiters or hiring managers
Evaluation stage
Definition:

The employer begins to evaluate candidates

Traditional methods and influences:

Application/resume reviews, short-listing pre-screening calls, skill tests
Interviewing stage
Definition:

The employer conducts interviews with candidates

Traditional methods and influences:

Phone, video, or face-to-face interviews
Hiring stage
Definition:

The employer extends job offer(s) to their top candidate(s), who then join the company

Traditional methods and influences:

Job offer letters, orientation programs, training
Wondering where social recruiting fits in? The short answer is everywhere! 
The longer answer is that social recruiting is versatile, and it can (and should) play a role in multiple stages—and in some stages more than others. Let's take a closer look at what that looks like for each stage. 
How social recruiting enhances each stage
Awareness stage
In the awareness stage, social content is a great way to get on both active and passive candidates' radars. We've found that 86% of job seekers use social media as part of their job search, so you're contributing to the conversation in places where candidates are already active. 
To use social recruiting for awareness, try sharing company updates, culture, and events on platforms like LinkedIn, X (formerly Twitter), Facebook, and/or Instagram. You can also promote your job fairs to encourage your digital talent pool to come meet you in person. Don't forget to have your employees share those updates, too! 
You can also share articles or posts that help highlight your company values and mission. Remember that this doesn't have to be new or sophisticated information—your careers page or website likely already has tons of information you can borrow for social! 
As you share these kinds of content over time, you'll build a recognizable employee brand. 
Attraction stage
In the attraction stage, your social strategy is all about connecting your employer brand with your job content to begin attracting candidates to your open roles. The more employees see positive content about working within your company, the more they'll start to wonder if they should join the team. 
The strategy for this stage is similar to the awareness stage, but the content you share should be a bit more targeted to job seekers. Try sharing behind-the-scenes looks into your company, employee spotlights/testimonials, or Q&A sessions to offer deeper insights into the company experience.
While the aim for the awareness stage was focused on employer branding, the attraction stage is more focused on job content with some employer branding mixed in. Within each job post, make sure to include information that helps you stand out from other open roles. Consider highlighting employee spotlights/testimonials and emphasizing unique benefits like sign-on bonuses, generous PTO policies, or education reimbursement. 
Again, you can likely pull this information from existing content you've already created. It doesn't have to be super sophisticated—it just has to reach prospective employees at the right time!
For attraction posts, don't forget to use job-related hashtags. Stay away from ultra-generic options like #hiring, though. Instead, be more targeted to attract the right job seekers. A few more effective examples are #NurseJobs, #BostonRetailJobs, or #AccountantJobs. When in doubt, be specific! 
Interest stage
During the interest stage, your goal is to stay top-of-mind for candidates who may be almost ready to apply. 
The key is to make it simple for them to get more information when it's needed. Make sure all your job-related social posts are linked back to their respective job postings so job seekers have the full description. This is another great time to leverage your employee network, encouraging current employees to share job openings with their own networks. (More on that here!)
You should also make sure you're using all the fields that are available to you on social media. For example, LinkedIn has a "LinkedIn Life" tab that lets you spotlight the employee experience in more detail. On other platforms, you should include a link to your careers website in your bios.
The more information job seekers can have at their fingertips, the more likely they'll follow through with the application process itself.
Application stage
In the applying stage, your main goal is to boost qualified applications for your open roles. To that end, make sure all of your job posts have a link that clicks directly through to the specific job (or, if it's a round-up, to your careers page with all open roles). The fewer hoops candidates have to jump through to reach the application, the better.
For multi-location hiring, job maps are a great way to grab attention on social and improve the candidate experience when they land on your careers site. 
When in doubt, imagine that you were interested in applying to a role with your company. Would you know where to click? Would every step of the application process be clear? If not, simplify those steps or create informational content (like FAQs or an overview of your application process) to make it clearer. 
Evaluation stage
During the evaluation stage, candidates will also be deciding whether they want to work with you. Interviews are a two-way street, after all! 
Social recruiting content aimed at this stage should emphasize what's great about working for your company. When candidates come across social posts painting your company in a positive light, they'll be reminded of why they applied in the first place.
You can also encourage candidates to stay up to date with life at your company by adding a link to your automated email application confirmations with your social media accounts.
Interviewing stage
The interviewing stage is relatively straightforward and may not appear to have a clear link to social recruiting. Here's our take: when social recruiting helps automate the rest of your talent attraction strategy, your recruiters and hiring managers have more time and attention to focus on the interviews themselves. 
Since this is the most human-centric part of the process, it makes sense to devote more energy to this stage. Social recruiting helps make that possible by lowering the time commitment for the other stages and ensuring that candidates will find their way to your open roles 24/7. 
Hiring stage
Finally, in the hiring stage, social content helps new employees feel like they're joining a great team. You may choose to celebrate new hires on social media to make them feel welcome, or use private groups or channels to share onboarding resources.
While you're at it, make sure to encourage employees to connect with your pages—both to integrate with the team and to help share your employer brand and related job content moving forward. The cycle continues! 
Leverage these benefits with CareerArc
Ready to incorporate social recruiting in your talent acquisition funnel? No matter where you're starting from, CareerArc makes the process simple and efficient. Incorporate social recruiting into all of these stages or just a few—it's up to you! 
With CareerArc, you can automate all your social recruiting tactics and let them run in the background while you continue your traditional strategy. Capitalize on all the benefits we outlined above without the headache of a strategy overhaul.