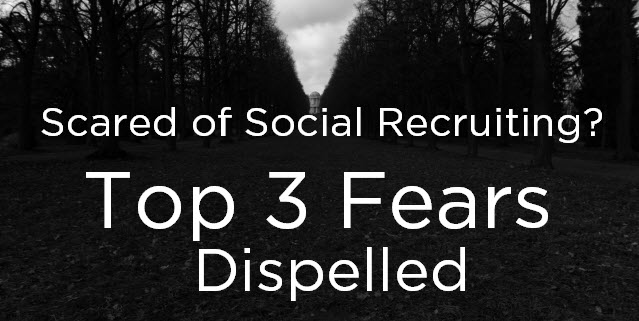 Halloween is upon us, a time of year when we evaluate and test our fears most, which is why we couldn't think of a better time to revisit the top fears that still prevent employers from fully adopting social recruiting.
Annual industry studies prove social recruiting use is rising every year, and with that expanded adoption, we've seen many old fears dissipate rapidly. But there are a few fears that we can confront today and dispel with a healthy dose of reality—here are the top three:
1. Fear: Social Recruiting is too complicated and time-consuming for organizations to handle.
Reality: 94 percent of organizations use social media to recruit and 80 percent state the main reason for participating is to source passive candidates. (Source: SHRM)
Not too long ago, social media was a domain purely reserved for people, not companies. Soon after and were allowed, brands cautiously kept to the margins of the page of social sites with banner ads which, at that time, were considered gambled investments in social advertising. Fast forward to today where, just this month, AdAge reported that small businesses now spend more on social than any other media in terms of usage and spending.


Within just the past decade, social has completely tipped the scales of B2B advertising, shifting preference from traditional and outdoor print ads—centuries-old media—to social media.  Fear of the unknown is the most common fear, but we believe that fear will only diminish faster as more companies add social into their recruitment strategy.
2. Fear: Social platforms like Facebook are really meant for recreational use and social interaction, not business.
Reality: 58 percent of HR professionals use Facebook, up from 54 percent in 2011. 42 percent said they use Twitter for recruitment, up from 39 percent two years prior. (Source: SHRM 2013 Survey)
SHRM found that 94 percent of HR pros use LinkedIn to recruit. While LinkedIn has become the network for active job seekers and recruiters alike, other social sites show strong potential to source the coveted passive candidate. According to Jobvite's 2014 annual social recruiting report, 26 percent of HR professionals surveyed successfully hired candidates through Facebook, while 14 percent reported successful hires from Twitter. These numbers have not dipped once since they have been recorded.
Our client 84 Lumber recently shared their success through a case study, detailing their excitement in hiring several candidates through the CareerArc for Pages Facebook career tab within the first few months of tracking performance, and with just a little over 1,000 likes on their page.
Related: Social Recruiting: The New Weapon-of-Choice In Battling Brand Giants
3. Fear: Screening candidates' social profiles can get employers into trouble.
Reality: You can still promote jobs on social platforms without ever needing to evaluate candidates' social profiles during the screening process.
Another oft cited fear of employers is the fear of not being legally compliant, and this is a reasonable fear for any employer. Because of this, many employers opt to distribute their jobs socially while refraining to use social media as a screening tool.


However, legal experts say that even for those who do evaluate job seekers' social activity assume risks which so far remain theoretical. According to Brian E. Koncius, a partner with Bogas, Koncius & Croson PC in Bingham Falls, Mich., failure-to-hire cases are very difficult to prove, with that burden of proof resting on the plaintiff:
"Despite these concerns, both plaintiffs' and defense attorneys working in the employment arena acknowledged that social-media-driven civil rights claims remain largely theoretical in the current environment… Given the wrinkles of new technology and a climate of relatively high unemployment, he said, such cases would be even harder to prove in court." (Source: Bloomberg BNA)
The lack of any litigation filed against employers in this regard should not be mistaken as an endorsement to misuse candidates' social profiles in the evaluation process. These evaluative standards have been set by the Equal Employment Opportunity Commission (EEOC), and so changing the medium of evaluation should not change those standards. Best practices, like those available here  and here can help HR teams ensure their social media use is both ethical and effective.
Related: 3 Qualities of Highly Successful Social Recruiters
Bottom Line: Risk exists in every aspect of business, but good business is about minimizing that risk and maximizing reward.
The scariest cautionary tales make for the most memorable horror stories, but there are a lot of good stories out there that don't make headlines—stories of how companies gained competitive advantage, boosted retention and referral programs, enhanced employer brand, and more.
You just have to know where to look.