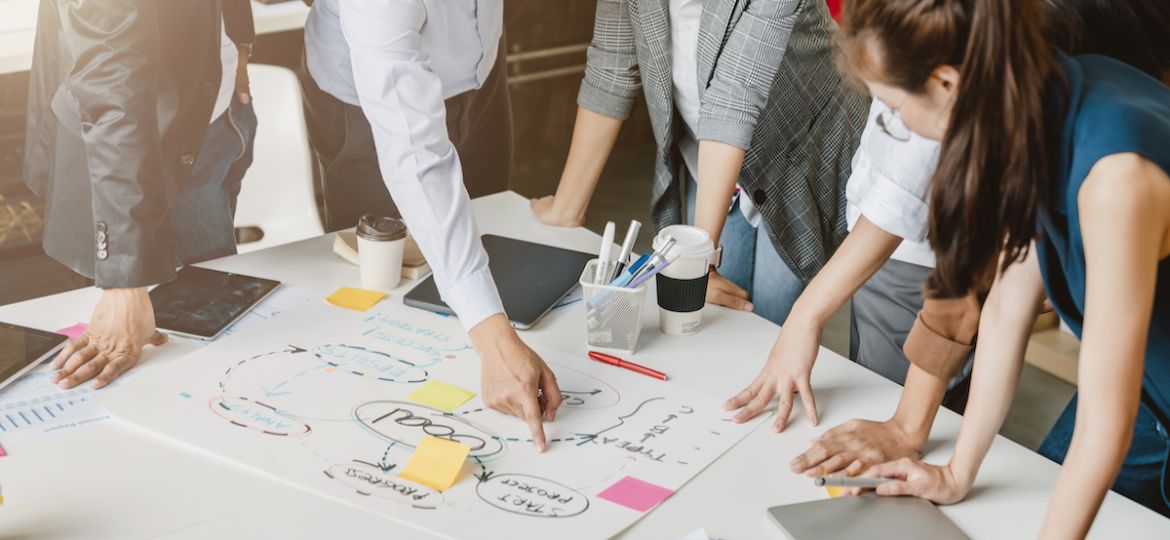 When a candidate turns down an offer or leaves their role prematurely, it's easy to point the finger. Perhaps the candidate-in-question was just using your company's offer to get a pay increase at their current company. Or maybe the team that they were hired onto did a poor job at training them for their new responsibilities.
Typically, either the candidate or the hiring manager could shoulder the blame. But are those the only parties that play a part in a recruitment situation that has gone south? Truthfully, that would just be too simple. In many cases, the recruitment or HR manager also may have had a hand in a candidate's failure to launch.
And in some cases, the first step at correcting mistakes is accepting where they could stem from—and owning your piece. Then you can move forward, equipped with a better understanding of how to improve. Here are common recruiting mistakes that are all too easy to make—and how to fix them.
1. Not taking the time needed upfront to truly understand the open role.
Today's job market is tough. Competition for quality candidates is aggressive and HR managers have to move fast in order to snatch up top talent while they can. So, it's understandable when the hiring process is sped up. And the faster a job posting goes live, the better. Right? Well, not so much. Not taking the time in the beginning to truly understand the role and its responsibilities will only set the hiring team and candidate up for eventual frustration and failure.
One way to ensure you set everyone up with the right expectations is to write a job description that truly depicts the role, its duties, and impact. Here's how to write a good job description if you are in need of a refresher. It's also important for the HR manager to understand the role so that they can ask the right screening questions. One of the more common recruiting mistakes occurs when a recruiter rests on standard questions that cover more topics in line with the culture of the company. Brush up on the topic at hand and ask some pertinent subject matter questions too.
2. Underestimating the candidate experience.
Whether a candidate eventually takes the job or passes on it, their opinion matters. Everybody talks—or types—and a poor candidate experience could end up being posted about on social media or job boards. In fact, the Human Capital Institute found in one report that 72% of job seekers report sharing their negative candidate experience online.
While this is one of the common recruiting mistakes, you can correct this error by avoiding communication drop off. Try to keep up regular touch points throughout the hiring process. As an HR manager, it's your job to demonstrate your company's ability to communicate clearly and openly. Extending yourself to candidates in this way will only showcase your commitment to your future employees. And if a candidate ends up not being the right fit today, it doesn't mean they won't be in the future. Continue to stay in touch and ask for feedback about how they think the recruitment process went.
3. Only pushing forward active job seekers.
If you have hundreds of applicants in your queue, why look for more? Well, because the best applicant may be a passive one. They might not be looking for a new job, but that doesn't mean they wouldn't be open to the possibility.
Seek out candidates both externally and internally. Look for niche career groups on social media or research top performers making a splash in the given industry you are hiring. Send out personal messages and if you don't hear back at first, reach out again and really convey your interest.
4. Involving only one team member in the interview process.
Often times, the hiring manager interviews an applicant after a phone screen with a recruiter. But that might not be enough, especially if this person will be working within a large team. After the interview they might not even have regular, daily contact with their interviewer.
Consider adding prospective peers into the interview process. If a candidate is coming for an in-person interview, have them meet with a panel of people, all together or in different meetings. This will allow for an opportunity to invite more well-rounded perspectives and tactical application evaluations. And different contributors can share notes, opening the hiring process up to the impacted team.
5. Not testing applicants as a part of the application process.
It's easy to talk the talk, especially for some roles that are more uncharted in today's world of new technology and communication applications. Instead of letting the candidate talk about their skills, let them share them. A kind of skills assessment test won't only benefit your team but can also benefit the candidate by giving them a peek inside to what their role will entail.
Work with the hiring manager to develop a test that could mimic a day in the life for the candidate. Allow the hiring manager to review it before having the candidate come for any in-person interviews. This can help ensure your pool of interviewees is qualified on the functional level.
6. Overlooking the need for cognitive diversity.
It's easy for unconscious bias to get in the way throughout the hiring process. But outfitting your company with teams built with cognitive diversity is worthwhile. It's been found that teams that are built with different kinds of thinkers, solve problems faster and have big ideas that push traditional boundaries.
Instead of focusing solely on finding a good culture fit, look for a candidate that can add something to your culture. If a candidate thinks differently than the hiring manager, try to encourage the manager to lean into their differences and explore "what if" questions as a part of the application process.
7. Overselling company culture.
When speaking with candidates, it's important to stay true to your company culture as it stands today. Try to not oversell it by highlighting aspirational elements. The candidate could be disappointed once they are onboarded and realize they were sold a dream and not a reality.
Work with the hiring manager to establish parts of your company's culture they feel are most present in the day-to-day. Share those attributes with the candidates and let them understand how the culture will impact them directly, and not a universal you touted in a company handbook.
8. Underselling company culture.
In the same breath as the above common recruitment mistake, underselling what your company culture has to offer is also something to avoid. It can be just as easy to focus solely on the duties and requirements of the position and overlook touting your company's unique culture. And thus, you can miss out on insights that will help determine whether or not the candidate can add to it.
Again, look to your hiring manager and the potential team for practical examples of how they see company culture impact them on a regular basis. Share these examples with the candidate and ask them how they could envision enriching your culture.
9. Relying on subject matter experience alone.
Today's workforce has to be both agile and ready to learn. Technologies are always changing and new jobs that never existed are emerging. It's important to recognize that other things beyond subject matter experience can strengthen a candidate's stake.
Try not to underestimate a candidate's ability to learn quickly—and willingness to learn—if they aren't entirely equipped with the skill sets required for the open role today. Also look for elements that weren't required but could be beneficial.
10. Overlooking internal influence or potential.
The best candidate could be at your company but be in a different role or on a different team. The best candidate could also be a connection to someone at your company.
Leverage your current talent pool and reach out to other managers outside of the team with the open role. Share the job posting and ask them if they know anyone, inside or outside of the company that could be a good fit. Tap into existing employees to get the word out and consider internal applicants.
11. Letting ego play a part in the decision-making process.
It's not a stretch to say that existing employees may feel threatened throughout the recruitment process. Whether it's on behalf of the hiring manager wanting to maintain status quo or team peers not wanting to be overlooked, these kinds of feelings can taint the recruitment process.
The best way to combat this common recruiting mistake is to not cater to it. Be sensitive to any feelings, but don't let them get in the way of progress and a good hire. Try to communicate how this person can better the team's impact and focus on the positive, if the conversation seems to get too personally motivated.
12. Not utilizing social media.
Practically everyone uses social media today, and not only for personal reasons. Social media allows your company opportunities to lean in to engaged audiences that could also be potential candidates.
Social media recruiting can expose your posting to wider talent pools. And you can target specific groups that may be more attracted to your opportunity based on its subject matter. If you're new to the world of social recruiting, check out these trends that will help your build out a strategy.
13. Only looking for talent when you need it.
Sure, the pressure is on to find good candidates when you have an open role to fill, but that doesn't mean you can rest once a candidate is found. HR managers should always be looking for new talent.
Grow your existing talent base and connect with industry leaders by hosting networking events and informational webinars. Lean into social recruiting tactics and stay connected with top performers who may have friends in the industry.
14. Resting on your employer brand image as it stands today.
In a market that is always evolving, you should never be too comfortable. Look to improve your employer brand and strengthen any outward messages by showcasing how you act on what you say.
Get involved with your community and look for ways to give back. Your company's actions can be organically shared out by people outside of your brand. And this will only empower your message and influence.
15. Dropping contact after an employee is onboarded.
When it comes to avoiding common recruitment mistakes, it's important to understand that retention is just as critical as recruitment. HR managers spend so much time and energy sourcing top talent, but they should also invest some effort in keeping them around.
Continue to stay in touch with new hires after they are onboarded and look to support them throughout their first year, not just their first week or month.
3 Tips On How To Avoid Making These Mistakes
Each of these common recruiting mistakes has their own set of solutions. But you can keep these general tips in mind to help avoid future missteps across the board.
1. Collaborate across departments. Get to really understand the needs of the teams you recruit for by working more closely with them. Consider shadowing individual roles for a day, invite other departments feedback on job postings, and reach out to team leaders to express how they feel company culture impacts their team.
2. Invest in technology. Utilizing the right tools to source and recruit candidates can streamline the hiring process for everyone, which can help improve a candidate's overall experience. Make a good impression on job seekers with the best technology for your business.
3. Take an end-to-end recruitment approach. Also described as full life cycle recruiting, this kind of recruiting approach supports the success of a candidate long term and improves their experience along the way. Stay in contact throughout the hiring process and keep up contact once an employee has been onboarded.
No one is perfect. But that only means there is opportunity to improve and grow as professionals in the HR field. Look at any past mistakes as learning experiences and use these tips to start 2020 off on the right foot. If you're looking to do more social recruiting in the new year, be especially attuned to these social recruiting trends to attract top talent to your organization.