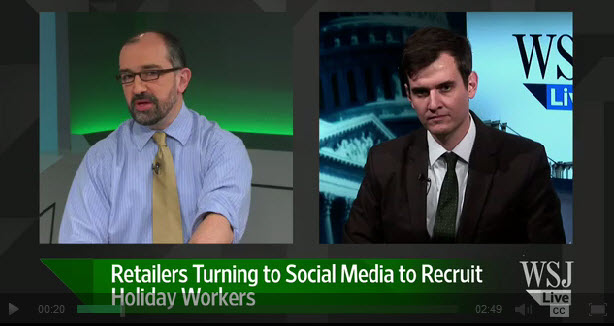 Retailers and shippers are projecting to hire about a total of 800,000 in seasonal staff this winter for what is expected to be the strongest holiday shopping season in this millennium, thus far.  However, employers are finding it more difficult to fill these seasonal positions in 2014 than in recent years, and the dearth of applicants has prompted companies to explore new channels for hire. The Wall Street Journal caught the trend, reporting that companies are primarily flocking to one new destination to source more qualified candidates: social media.
In a video interview on WSJ live, journalist Eric Morath was asked why it took so many retailers so long to utilize social media for recruitment:
Q. It's interesting that they're turning to social media out of necessity. You wonder, "Why didn't they think of this before?"
Morath: Well these have traditionally been ways to essentially advertise to customers, reach out to people who want to buy your products, and for some companies…they are not necessarily advertising to people who are looking for low-wage retail jobs, but they realize, 'Hey, if we open up our audience maybe that mom or dad that's staying home with the kids might be willing to help us out during the holidays so why not reach out to our customers as employees?'
Perhaps necessity is the greatest invention, as social recruiting has already given companies, like Beverages & More Inc., quick wins to celebrate—bringing us to the first reason WSJ cites social as the medium of choice for holiday hiring:
Social Media Has Already Proven To Drive Quick Recruitment Results
The article touts BevMo's recent success with Twitter, noting that the company had 1,000 open seasonal requisitions to fill, and was at first reluctant about advertising jobs to its customers. However, after just a month of distributing jobs on social media, BevMo increased online applications by 66%.
Here is one example of their job tweets:


Spiking its online application volume just by adding social media into their mix of hiring channels gives us fantastic proof of social media as an effective source of hire; however, we would add that BevMo may have seen an even higher jump in online applications if they had followed just a few TweetMyJobs Twitter best practices—such as hashtag optimization, geo-tagging, and incorporating inline twitter images and twitter cards—all of which have shown to increase SEO and click through rates on Twitter.
They're ability to garner these numbers without tweet optimization techniques only open up the imagination to what conversion rates might still be possible if their tweets could reach even more potential candidates on Twitter.
Related: 3 Signs You're a Twitter Recruiting Ace
Recruiting on Social Media Effectively Attracts Passive Candidates

High staffing demand, but low-applicant turnout reveals a holiday labor market reacting to the continued economic upswing. As Morath explains, although national unemployment has dipped, the labor force participation rate—which includes everyone employed along with everyone who desired to be employed and is 16 years-old or above—is at a sluggish 62.7%, a number unseen since the late 1970's. Retail employees of past holiday seasons may have since found full-time positions or experienced the boons of economic recovery, thus rendering the need for a seasonal job this year less urgent and less crucial.
With so much potential human capital waiting in the wings, Morath argues:
"Social media pushes broaden the pool of candidates by attracting workers who aren't actively looking for jobs."
While traditional job boards are the venue for active job seekers and employers to meet with one common goal—securing a hire—social media has become the venue for brands to engage with followers and even turn these loyal customers into loyal employees.
Related: Recruiting Just Got A Lot Harder: 5 New Reasons Why
Holiday Hiring is a Sprint to the Finish. Social Media Moves at the Speed of the Season.
Holiday hiring is tricky business: Employers have just about a month to fill thousands of requisitions. Usually starting after holiday sales forecasts are announced in early October, companies make a mad dash to be fully staffed by early November, just a few weeks before Black Friday.
Ellen Davis, an executive who manages National Retail Federation's Talent Acquisition Group, supports employers' moves towards social media:
"When you're hiring 10,000 people in that short time, you can't take out newspaper ads…Using existing channels to reach prospective hires is smart and economical."
UPS is leveraging social media and other interactive platforms to fill 95,000 holiday jobs.
UPS—a TweetMyJobs client—is projecting to add a whopping 95,000 members to their team this season, almost doubling their last year's count of only 50,000 hires. They advertise jobs on Twitter (@UPSJobs), and their Facebook page links directly to the Job Map powered by TweetMyJobs which visually captures the breadth of their current hiring demands.
Are you using social media to hire this holiday season? Share your experiences and tips below or with us on Twitter @TweetMyJobs using the #TMJEdu hashtag.