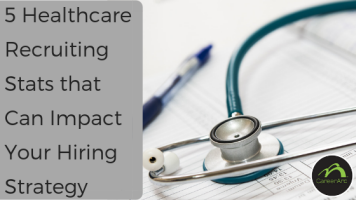 It is no secret that healthcare recruiting has become exponentially competitive. However, with unemployment numbers dipping to new lows and an aging population awaiting to receive extended care, HR professionals may not only struggle to find qualified healthcare candidates but also strive to retain their top talent for years to come.
Healthcare is now the largest employer in the United States.
The Bureau of Labor Statistics had estimated that the healthcare industry would make up the largest share of jobs in the United States by 2020. However, healthcare beat those projections and became the biggest employer in Q4 of 2017, surpassing manufacturing and retail for the first time in American history. (Source: The Atlantic)
The increase in healthcare jobs comes primarily as a result of the aging Baby Boomer generation, further compounded by the expanded insurance coverage under the Affordable Care Act (ACA) and higher standards for care. Despite being the fastest growing industry, the supply of qualified healthcare workers is not expected to keep up with demand, which spells large-scale shortages in talent pools across the US.
The largest projected workforce shortages will be in home health aides, nursing assistants and lab technicians.
A recent Mercer study estimates a  nationwide shortage of 446,000 home health aides, 95,000 nursing assistants, and 60,000 medical and clinical laboratory technicians by 2025. (Source: Mercer)
To become a home health aide—also referred to as "home care worker" or the "direct care" of the workforce—typically requires a high school diploma and so presents a lower barrier entry than other healthcare professions like nursing. However, the salary for home health aide workers remains a challenge. The median pay for home care workers currently sits at $11 an hour ($23,000 per year), so employers may need to start adding creative perks and incentives to attract more into the profession.
Related: [ Live Webinar] High-ROI Sourcing: Secrets to Finding Hidden Talent in the Candidate-Scarce Era >> Register now 
34% of organizations are increasing benefit packages to retain and attract talent.
With unemployment as low as it is, employers must do everything they can to invest in their employer branding to win over talent.
This is especially true in today's highly competitive healthcare labor market. A survey of HR professionals indicates that extending perks such as career development, flexible working and retirement planning benefits will be most effective to attract the most qualified job seekers. (Source: SHRM)
With experienced nurses retiring at a rapid rate and a shortage of new graduates entering the profession, hospitals, and other healthcare facilities are offering five-figure signing bonuses to hire and retain nursing talent. (Source: CNN)
Nearly all hospitals in the United States now have social media presence.
Social media has given hospitals a channel to engage with the community they serve. Hospitals use social media in various capacities,  and in a recent study showing 99% of the hospitals surveyed having a Facebook account, it is clear that social media has become an essential tool for healthcare to leverage. (Source: Healthcare Success)


CVS Health, a CareerArc client, utilizes their Facebook page to support their employer branding and social recruiting efforts. Kerry Noone, Director of Employer Branding and Recruitment Marketing, describes in a recent SHRM piece her Facebook content strategy, saying that her team follows "the lead of what resonates with people and what kind of engagement" when deciding what content to utilize. Noone shared that her team has seen great success in highlighting job posts and hiring events on top of company culture.  (Source: SHRM)  
Related: CVS Webinar: How to Communicate Company Values to Attract High-Value Hires
92% of healthcare companies say that employer branding is a powerful tool used to attract talent. Employer branding allows them to set themselves apart from the competition. Despite this, few firms have a dedicated budget for employer branding (43%) or a dedicated role in charge of it (44%). (Source: Health eCareers)
Key Takeaways & Recommendations:
Shortages in talent will pose a number of recruiting challenges for healthcare organizations. In order to combat these shortages, fill positions and attract qualified healthcare professionals, HR leaders must employ innovative ways to reach active and passive job seekers and retain workers as best they can. Here are a few areas to consider.
Source Beyond the Local Market:

Mercer HPA notes that the talent shortages will affect states and counties at varying degrees. With that in mind, HR professionals can look to target from nearby regions with surpluses in those roles. VON Canada found success in reaching credentialed healthcare talent across an expansive territory through

geo-targeted social recruiting campaigns

powered by CareerArc. This effort led to improvements in time-to-hire, cost-per-hire, and quality-of-hire.

Reevaluate & Reinvest in Your Employment Offering and Benefits:

Organizations can win over talent by taking a proactive approach and bolstering their total rewards programs. As many companies have seen, better benefits can serve as a great value proposition to prospective candidates and help mitigate turnover.

Leverage Your Social Media Presence for Recruiting:

With unemployment so low in the US, there is not enough qualified talent actively searching on the job boards.

84% of organizations utilize social media as part of their recruitment efforts.

 Healthcare companies that are competing in markets where active job candidates are particularly scarce, social media channels provide a way to reach passive candidates where they are spending most of their time online. Social networks also open up opportunities for candidate referrals especially if your recruiters and hospital staff engage with or even publish your job posts and job related content.  

Lead With a Strong Employer Brand:

In a competitive talent climate, attention is scarce, which makes establishing a compelling and memorable brand all the more important. In our recent Employer Branding Study, we surveyed over 1,100 professionals and found that

only one-in-five candidates would apply to a one-star rated company

. Take a brand audit and evaluate your talent reputation from a candidate's point of view, comparing it with others in your local market.

Prioritizing social recruiting and employer branding empowers firms to reach a candidate who may be gainfully employed elsewhere and compel them to join an organization that offers what they want – be it better benefits, opportunities to grow, or values that align better with them personally.
What's Next: