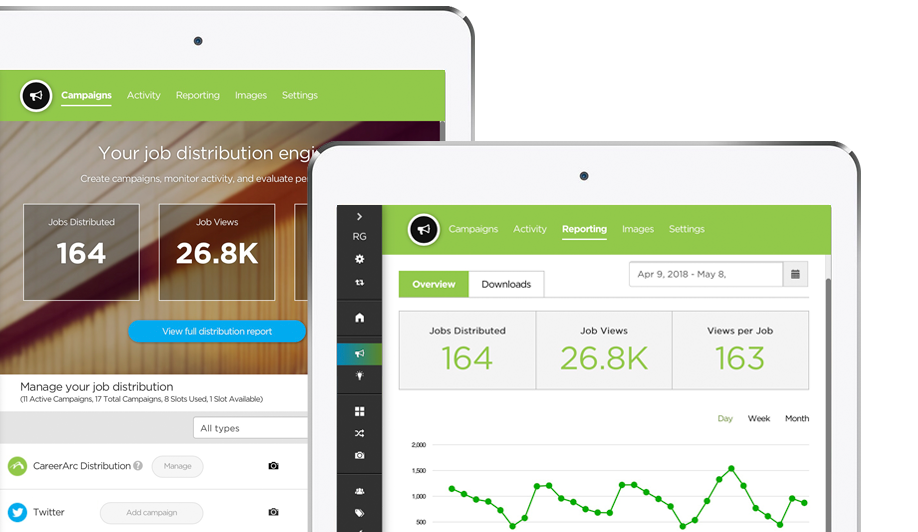 From new features like our Universal Help button that offers assistance with one click, to enhanced layout and functionality that pave new, time-saving workflows—CareerArc 2.0 is now available to experience how social recruiting was meant to be managed.

We are thrilled to announce the recent launch of CareerArc 2.0, the latest significant update to our award-winning social recruiting platform.
We've made enhancements to both the CareerArc recruitment software suite used by over a thousand enterprise clients, as well as to our candidate-facing digital products which serves millions of job seekers. Below we highlight some of the added and upgraded features that make this our most intuitive and advanced version to date.
Schedule a free demo of CareerArc 2.0 >>
---
Social Recruiting Rebuilt for Candidate-Driven Hiring
CareerArc 2.0 gives talent acquisition professionals a new level of employer brand management built for the ever-tightening labor market. According to a recent SHRM survey, about 9 in 10 organizations are now using social media to recruit talent. CareerArc 2.0 helps optimize social job post performance and increase brand visibility on social media through advanced visual media capabilities, including video-enabled publishing, image editing, and asset management.
Enhanced Image & Video Capabilities
CareerArc 2.0 allows you to seamlessly add images and videos across multiple social media platforms and digital products, including the CareerArc Job Map—an embeddable map interface displaying open jobs in map view.
View the Team Fishel Job Map
As part of the upgrades built into the new CareerArc 2.0 platform, the CareerArc Job Map remains the most advanced careers map on the market: Now with the ability to show custom images and videos right beside your job descriptions, the CareerArc Job Map can help turn candidates into applicants more quickly, more often.
Check out the Starbucks Job Map, Ulta Beauty Job Map, and UPS Job Map, all powered by CareerArc.
Easy, Flexible Campaign Creation
A common pain point for talent teams of any size is content creation. Now with the ability to save drafts of your social posts on the CareerArc Engage Module, CareerArc's social media publishing tool built for recruiting, you can capture ideas on the fly, as well as invite other team members to author content you can later polish and publish. CareerArc Engage now also comes equipped with ready-to-use social media content templates that can be further customized to alleviate content creation, and re-creation.
Quicker, Easier Job Posting
Driven by user-focused design principles, CareerArc 2.0 delivers a highly intuitive user experience redesigned with speed in mind. By charting the shortest path to popular platform actions, such as launching social campaigns and managing open job inventories from our Distribute Module, we've stripped away the complexity of campaign setup for quicker, easier job distribution on Facebook, Twitter, and LinkedIn. 

Fully Tablet-Compatible
Your candidates are engaging online, round-the-clock. Now you too can recruit at the speed of social. The new CareerArc 2.0 is fully tablet-compatible, allowing you to post job content and check on live campaigns whenever, wherever.
Get Help With One Click
Our new Universal Help Button, found on every page of the SaaS platform, serves as a direct line to each client's dedicated CareerArc Client 


Success Manager, or a shortcut to the CareerArc Learn Module—an in-app resource center now complete with platform FAQs as well as curated, regularly refreshed HRCI- & SHRM-approved social recruiting courses. Learn more about our clients.
Persona-Driven User Settings & Deep Customizations
Built for the ever-evolving hiring team, CareerArc 2.0 includes default user permission settings tailored to fit various HR and marketing team roles—such as Recruiter, Employer Brand Manager, and Social Media Manager roles—available to assign to multiple users and open for further customization.
---
What Our Clients Are Saying

"CVS Health hires talent in both the health care and retail spaces, which currently represent two of the most significant opportunities for employment in the country. During a time when job openings outnumber candidates, we need to expand our reach as wide as possible to support our hiring strategies. CareerArc delivers a real-time competitive advantage in recruiting on social media and an opportunity for us to promote our company values and culture. The release of CareerArc 2.0 allows us to stay on the cutting edge of HR technology and recruit at the speed of social."
– Kerry Noone, Director, Recruitment Marketing & Advertising, CVS Health
Recruiting Talent in a Candidate-Scarce Climate
"Employers face an unprecedented challenge: hiring in a job market squeezed by record-low unemployment and driven by candidates born and bred on social media. It is for this candidate- and attention-scarce era that we have designed and today proudly release CareerArc 2.0—our most advanced social recruiting solution to date. With significant investments in interface design, collaboration tools, and media sharing capabilities, CareerArc 2.0 was built to keep our clients' employer brands in front of their target talent and ever at the forefront of social media innovation." – Robin D. Richards, Chairman & CEO, CareerArc
---