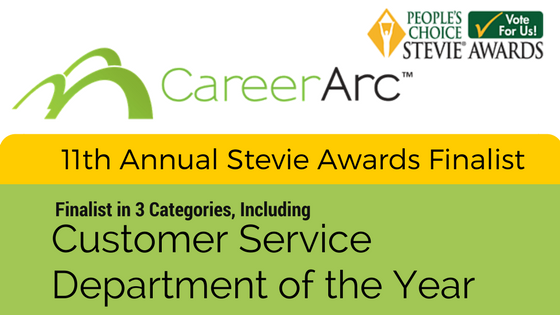 We are pleased to announce that CareerArc has been named a finalist in the 11th Annual Stevie Awards for Sales & Customer Service, marking 2017 as our third straight year to earn this high distinction for customer care. As a finalist, CareerArc will ultimately be declared a Bronze, Silver, or Gold winner in three categories:
Customer Service Department of the Year – Computer Software

Front-Line Customer Service Team of the Year – Technology Industry

Award for Innovation in Customer Service – Computer Industries
CareerArc is among a distinguished list of Stevie Award finalists which this year include IBM, Cisco Systems, Adobe Systems Inc., Delta Air Lines, DHL Express, Ally Bank, and more. View the complete list of finalists.
---
Vote for CareerArc – Takes Just Two Clicks
As a finalist in the Customer Service Department of the Year category, we have also earned a nomination for a fourth award – the People's Choice Stevie Award for Favorite Customer Service.
Vote here to show your support for our customer service team! >> 1) Click on the checkbox; 2) Click on the "Submit" button.
---
"Being named Stevie Award finalists for three straight years not only proves the level of commitment we have for our clients but also displays the relentless dedication of our Client Success Team to consistently deliver customer service at a high level. We are so proud of our client service and product teams who together achieve a customer experience standard that year-after-year earns recognition." – Robin D. Richards, Chairman and CEO, CareerArc

Stevie Award Winners will be announced on February 24, 2017 at the Stevie Awards gala banquet in Las Vegas, NV.