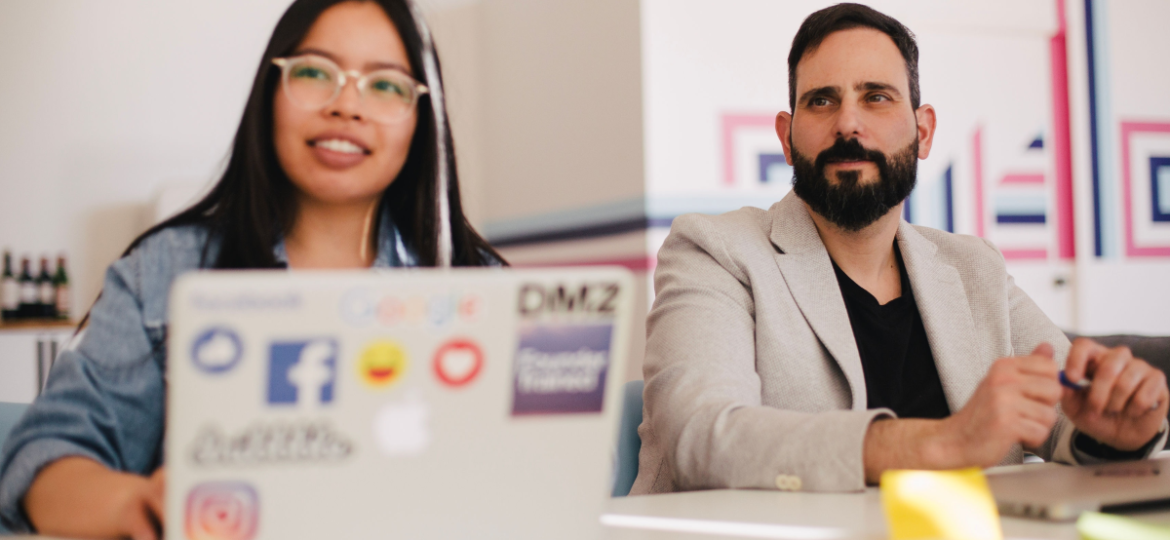 As a modern HR professional, you already know the benefits of social recruiting. However, not everyone in your company may understand the perks that come with this recruitment strategy. In order to introduce social media recruitment in a way that convinces internal stakeholders, you must start by framing the idea in a way that non-HR professionals can understand. This is a challenging exercise, but one that is necessary for getting social media recruitment strategies approved at your company.
Here are the steps to take to most effectively pitch using social media for recruitment.
1. Know your stakeholders.
It may sound obvious, but before pitching social media recruitment, you must know who the stakeholders of this project are. This is a critical step because if the right people don't feel like their needs are being met or they aren't being heard, the likelihood of their approving your product or service effectively diminishes. According to the Business Directory, a stakeholder is "a person, group or organization that has an interest or concern in an organization [or project]."
For social recruiting, common stakeholders often go beyond HR and the recruitment team. Senior management, finance, tech, and marketing may also be impacted. Think through who the stakeholders are at your company and arrange them by level of interest in the project and their power to influence it.
2. State the problem.
Most people know the importance of hiring, but they may not be familiar with how tight the competition is in today's candidate-driven market. Educate them that the market is at near full employment and there are more open jobs than people to fill them. Due to the lack of skilled, high-quality candidates, indicate that recruiters need to find new ways to reach candidates where they are.
You can also bring up any pain points—such as having to spend too much time sifting through resumes of unqualified candidates or not being able to reach passive candidates—that are specific to traditional recruiting channels for your recruiting and HR teams.
3. Present the solution.
After giving your stakeholders a clear idea of the obstacles your hiring team is currently facing and their negative impact on business as a whole, you can then present using social media for recruitment as the means to address these issues. There are many directions you can go in your pitch, but these are the main components you'll want to touch on:
Access to a large talent pool
With two-thirds of U.S. adults on Facebook—and about three-quarters of those users reporting that they visit the site daily— you'd be amiss not to mention the access to such a large talent pool that social recruiting provides. This unprecedented reach with job seekers makes social media a necessary medium in recruiting.
Employer branding
Using social media for recruitment is an effective way to establish and promote your company's employer brand to prospective candidates. By sharing stories, photos, and videos of your company on social media platforms, you'll be able to highlight your company culture and mission to candidates and make a good digital "first impression." Even more, by promoting your company culture on social media, you also increase the likelihood that you'll attract candidates who are the right cultural fit, which ultimately impacts the bottom line.
Passive candidates
Social recruiting presents an opportunity to not only reach passive candidates, who are candidates who are currently employed and not actively seeking a new job, but also build relationships with them. Even if you aren't filling any specific positions at the moment, these connections create a database of high-quality candidates for when a hiring opportunity does arise.
An employee referral program
Due to the social nature of its platforms, social media allows you to enlist the help of current employees at your company to share and broadcast job opportunities on their personal social media channels. According to the Society for Human Resource Management (SHRM), employee referrals have the highest conversion rates from interview to hire and are cost-effective as well as time-saving. Posting jobs on social media makes it all the more easier for employees to share opportunities within their network.
4. Cite research stats.
Data-driven decision making is a top priority for companies, so make sure you highlight industry data when pitching social media for recruitment to stakeholders. Luckily, there are many published studies on social recruiting that you can reference. To give stakeholders an idea of the new hiring landscape, you can reference the 2016 SHRM survey that reports 84% of companies are using social media for recruiting purposes. For those not currently using social media for recruitment, the same study reports 9% are planning to do so in the future. Additionally, according to Aberdeen Group, 73% of job seekers between 18 and 34 years old found their last job through a social media platform. Having research that points to the effectiveness of social recruiting makes your argument all the more convincing.
5. Share competitor examples.
If you can demonstrate that comparable firms have successfully executed what you are recommending, you will be that much closer to achieving stakeholder buy-in. Make a list of the three to five competitive brands in your industry that are executing social media recruitment strategies. Look for businesses similar to yours and share how they are posting careers- and job-related content on their social media channels. How often are they posting content? Are they featuring real-life employees in images or videos? Note what they are doing well and how they might be winning relationships with the talent your organization wants.
Giving your stakeholders an example using a specific social recruiting case study is even more compelling. Look for success stories and testimonials from companies with a similar size, industry, or market reporting increased brand awareness and reach on social media. Example case studies to reference are ULTA Beauty, which saw a year-over-year 53% increase in hires through social recruiting alone during the holiday hiring rush, and Bayada, which decreased its average time-to-fill decrease by 15% by using social media for recruitment.
6. Predict ROI.
Above all, executives and management care about the return on investment from social recruiting. Compared to the cost of other recruitment efforts such as job boards, recruiting events, and advertisement, social recruiting is significantly less expensive. Setting up accounts on LinkedIn, Facebook, and Twitter are all free of cost, and investing in a social recruiting tool is still comparably cheaper than traditional recruiting solutions. To demonstrate ROI, you can explain how using social media for recruitment reduces cost per hire by building a pipeline of interested, qualified candidates at your disposal. This also reduces time-to-fill. Mentioning these metrics are surefire ways to grab hold of your stakeholders' attention.
7. Keep the dialogue open.
Now that you've taken the time to involve your stakeholders in the decision-making process, you need to make room for each of them to bring up their individual questions and concerns in the process. Identifying and preparing for these potential concerns ahead of time is helpful, as it'll show you've done your homework. The key is to have an open dialogue around using social media for recruitment and ensure that your stakeholders know their comments and suggestions are valued. Another way to instill confidence in your stakeholders is to keep them updated in your social recruiting journey. Report campaign progress and results across business leaders and executive stakeholders. This should keep you on track and maintain the buy-in.
To stay ahead of the competitive recruiting market, it's clear that modern organizations need to be using social media for recruitment. Getting buy-in from stakeholders may be a challenging process, but by clearly presenting evidence and tying the solution back to business objectives, you can propose a case that is appealing for all involved.