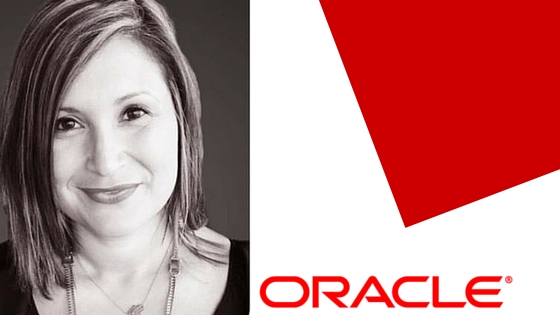 Guest Post | By Celinda Appleby, Head of Global Recruitment Branding, Oracle | @celindaappleby – Veiw Celinda's #TalkHR Webinar "Employer Branding 101."
---
I think that success only comes along if the brand and your champions truly believe in your dream! I was lucky to have Oracle believe in mine.
After 4 years of working for HP in a highly corporate structure teamed up with an agency of record, I took the opportunity at Oracle to bring my role as the Head of Global Recruitment Branding one step further. As I brainstormed ways to support this organization by maintaining a global brand alignment yet allowing each region to shine individually; I came up with this entirely different model. I realized that if we wanted agency results then why not start thinking like one?
Sketching this concept wasn't easy, in fact it was a real brain-killer until I took into control of all variables; but I'll walk you through some of the key takeaways from this experience.
Build a world class team
I have always been a firm believer that you are only as strong as the people around you and that's how I started my journey: by handpicking amazing people with strong marketing backgrounds so that together we can join forces to lead the global strategy and support it at a regional level. Since the countries we reach are so different in terms of people and hiring demands, the plan was to adapt the content depending on the candidate persona we wanted to attract in each region.


That's how I got to this new model that involved having a regional strategist, a social media expert, a branding expert, a team of designers and a team of copywriters, all of us rallied together to empower the employer brand in terms of finding the right message that our talent would relate to and communicating it further within each region.
Communication is key, no doubt about that! I used my first 8 weeks at Oracle, to pick up the phone, spend the time connecting with everyone and sharing my ideas with anyone that would listen (oddly enough, almost everyone wanted too). I connect with my team weekly and monthly via calls and video chats to keep in touch, coach/mentor, strategize and discuss our performance.
Building from scratch, I found that…
Having a strong employer brand makes it a lot easier to recruit
As people get to know your brand, it's more likely for them to consider working for you. We shared brand via social channels, with outstanding results. We started off by increasing our existing fan base on Facebook, Twitter and LinkedIn, while eventually starting to explore new audiences with Instagram and blogging.
Since over 300 million people use Instagram all over the world, I found that it's a great way to extend our audience with a Career profile that openly speaks to potential talents from the point of view of our own employees.


Building authentic campaigns was much easier when I realized…
Bringing the human voice to your message can make the brand easier to relate to
I strongly believe that one shouldn't go too far beyond your brand when building its message. When I came to Oracle, I found that our biggest challenge they were experiencing was staying true to the Oracle employer brand, while also keeping it as human and friendly as possible. That's why we very much focused on showcasing our values, principles, and who the people from our company really are, rather than just selling jobs.

Giving up on the corporate voice and replacing it with the real people behind the business was not easy, but it tripled our engagement rates on Facebook in terms of likes, comments and shares and doubled our average reach per day.
So we decided to step our Twitter game up:


When I first started at Oracle, they had over 15 careers related twitter handles that were being poorly managed with varying voices and lots of job tweets. I started this journey by consolidating the handles and taking on a global vs. decentralized approach. I kept the two handles that had an existing fan base and changed the handles to @CareersatOracle and @JobsatOracle. This allowed us to have one handle to focus on engagement and the other to showcase jobs that were SEO'd and searchable yet aligned to the time zone of the job seeker.
By combining our employer brand strategy with the Oracle brand behind the scenes made every story more human. I realized that regardless of your hiring target, everyone simply responded better to personalized content rather than big chunks of text. In just a few months since I started revamping the Careers at Oracle Twitter channel with live stories from our team, our fan base increased significantly, and before we knew it, our retweets and total mentions sky rocketed.


Exploring all social channels to make our employer brand one to remember, inevitably involved increasing our LinkedIn activity. We share our LinkedIn page with Oracle Marketing, so our employer brand approach started from scratch. We only  have access to one Global post weekly, therefore we are very picky as to what we post to this channel. Consistency within all channels is crucial and this increased our overall impressions as well as the chance to reach the immense pool of passive talent that LinkedIn offers.  We immediately saw an appetite for employer branded content on this channel.
So far, this initiative has produced great results, but the truth is, we have only begun to explore the possibilities we have to reach out to a wider audience. All this has shown us that the candidates are out there waiting to find us. Focusing our message on what they expect from us as people and not just resources returned an overwhelmingly positive response.
And one that you can achieve as well.
---
Guest post by Celinda Appleby, Head of Global Recruitment Branding, Oracle | @celindaappleby – Veiw Celinda's #TalkHR Webinar – Employer Branding 101.