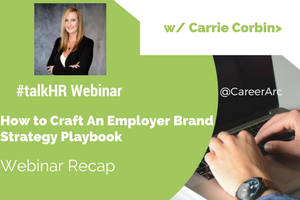 2018 marks a fresh start for many talent acquisition professionals and for many that means getting a jump start on a new recruiting and employer branding strategy. If you feel like sourcing talent has become harder to attract and acquire, you're not alone.
Competition is fierce for recruiting teams. Our recent Employer Branding Study, wherein we surveyed over 1,100 participants, found that only 1 out of 5 people in today's workforce is an active job seeker.


So what is going to make your company stand out from the rest?
Talent acquisition and recruitment marketing professionals tuned into our Employer Brand Playbook webinar hosted by Carrie Corbin, Head of Talent Attraction, Employer Brand and Diversity Recruiting at American Airlines, to learn how to develop a successful employer branding strategy for 2018 and beyond.
To help recap the discussion, we've highlighted below the top shared #talkHR tweets from the webinar.
Attracting Top Talent in 2018
This! And how can you be known? How do you tell those employee stories? #TalkHR –@TheCarrieCorbin pic.twitter.com/Tl5UMOcQgy

— Abby Cheesman (@AbbyNeilson) January 25, 2018

Hiring top talent has become harder through the years for recruiting leaders.  The recovering economy has caused the unemployment rate to dip to a seven-year low, decreasing the number of active job seekers in the labor market and increasing the time it takes to fill new job openings. It is no longer enough to simply post a job, you must also be known as a great place to work.
To gain a competitive advantage in the market, talent acquisition professionals must constantly seek out new ways to attract active and passive job seekers. One of the best ways is to invest time into developing an employer branding strategy. This means telling the story of what it's like to work for your organization. You can showcase the perks, the fun activities, and give candidates an idea of a typical workday.
However, like most recommendations that have the potential to yield high impact on your recruiting efforts, we admit this task sounds easier said than done. Abby (@AbbyNeilson) raises a good, and very common, question, "How can you be known as a great company to work for and how do you tell your employee story in order to attract talent?" With a number of years of experience in the field, Carrie (@TheCarrieCorbin) dove into examples on how to develop an employer brand strategy, starting off with the perception a job seeker may have of your company.  
Watch the webinar >> World Class Employer Brand in 100 Days: How This Radically Different Approach Makes Exec Buy-in Much Easier
Candidate vs. Customer: Employer Branding Perception
Perception IS the reality for our customers and candidates! #iwork4dell @TheCarrieCorbin @CareerArc pic.twitter.com/6F34z6WDio

— Jennifer J Newbill (@JenNewbill) January 25, 2018

One of the most noteworthy tweets came from CareerArc webinar host alumna, Jennifer Newbill (@JenNewbill), who mentions perception is the reality for our customers and candidates. Each job seeker and customer has their perception of your organization based on past experiences that can weigh heavily on their idea of your company's values. This can make it difficult to relay your employer branding message solely from the mouth of the talent acquisition team. What companies need is positive word-of-mouth from candidates who are now more than ever frequenting social media and review sites to evaluate an employer before even applying for a job. In our study, respondents identified Facebook as the top go-to resource for evaluating employer brand beyond the company website. Employer Review Sites came in second on that list, followed by LinkedIn.


Your strategy may also involve help from other departments like marketing. Your image as an employer is defined by your effort to communicate to existing and prospective candidates why your company is unique and a great place to work, which should be a consistent message shared by all departments within your organization.
Related: Webinar on demand hosted by Jennifer Newbill >> Visual Pop! 7 Types of Eye-Catching Content to Boost Your Talent Brand
Attract the Right Candidates
Be you. Be authentic about what you are, and tell the story in a way that will attract the right people. #employerbrand @TheCarrieCorbin #TalkHR pic.twitter.com/UQqI83Y65f

— Abby Cheesman (@AbbyNeilson) January 25, 2018

So, what makes your company a unique place to work? It's the good, it's the bad, and it's what makes you different than other companies. Not everyone is going to gravitate towards your employer branding message or the open positions you have, and that's OK. As Abby mentions, be authentic about who you are and tell your story in order to attract the type of candidates you're looking to hire.
Related:12 Ways to Communicate Your Employer Brand – Webinar Recap
Employer Branding Health Check
Do you know what the brand perception is of your company as an employer?

Ask yourself… ⬇️#TalkHR pic.twitter.com/GBAKU74hjB
— CareerArc (@CareerArc) January 25, 2018

Carrie summarizes the webinar perfectly with this Employer Brand Health Checklist to help get you off and running to the perfect employer branding message for your organization. Ask yourself these key questions in order to get started:
Do you know what the current perception of your employer brand is?

Do you have buy-in across all of the departments who should be involved in developing and managing your employer brand?

Do you feel like you have a comprehensive understanding of the difference between employer brand and recruitment marketing?
A great way to find out is by asking your current employees what they like about working for you. What is your current employee value proposition? An EVP can consist of your benefits package, reasons why your employees enjoy working for you, and your leadership style.
Talent Acquisition & Marketing Team Up for a Perfect Employer Branding Message  
The Q&A was an active 20-minute discussion. One webinar attendee asked for recommendations on how to work with the marketing department whose ideas may not align with the recruiting team's vision. Carrie recommends attendees to talk to marketing leaders early on and frame it as a collaborative discussion. Ask them their thoughts on what the employer brand and value proposition should include, and also convey your ideas and emphasize where you agree. She also suggests having separate social media pages. For example, having a dedicated Twitter page for marketing purposes and a dedicated Twitter page for recruiting efforts where you can share your job openings, express and reinforce your employer brand message, and engage with candidates
In the midst of strategizing for the new year? Find out what new recruiting trends are making an impact in 2018.