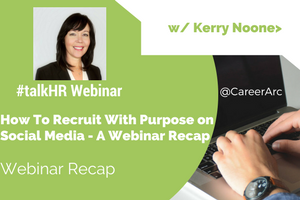 As the talent market tightens from historic low unemployment, companies are seeking more ways to differentiate themselves and their job opportunities to win high-demand applicants. While competing with additional salary and benefits may attract more, and possibly better-qualified candidates, salary, and benefits may not attract culture-fit, and high-character employees. One way companies like CVS are doing this is by communicating company values on social media.
Talent acquisition professionals from companies of all sizes tuned into our Recruiting With Purpose webinar hosted by Kerry Noone, Recruitment Marketing and Advertising Director at CVS, to learn what, and what not to do, to confidently recruit with purpose and authenticity on social media.
To help recap the discussion, we've highlighted below the top shared #talkHR tweets from the webinar.
Watch the webinar >> Recruiting With Purpose: How to Communicate Company Values to Attract High-Value Hires
Webinar Poll: The Collaboration Between Recruitment and Marketing

In order to recruit with purpose, many companies like CVS enlist the help of their marketing team and even hire marketing professionals to join the talent or recruitment team. However, the majority of companies are understandably hitting a few roadblocks towards collaboration.
Kerry launched a poll asking attendees how they collaborate with marketing to execute a recruitment marketing strategy. Nearly 58% of attendee's share the responsibility of posting on social sites with their marketing team. A surprising 43% of attendees have very little, or no collaboration with marketing.
Fostering this cross-functional collaboration is a challenge for almost all organizations, and if you do find your company at this crossroad, it means you have reached a point in your employer brand initiative where the potential benefits of working together with marketing are valuable enough to justify the investment.
Kerry suggested to start off by measuring the traffic you're receiving from our career site and other talent communities so that you get an understanding of your needs. This will help validate the reason for communicating your value proposition in order to differentiate yourselves from other companies and drive the correct candidates to apply for your jobs.
For more real-world tips on how to gain executive buy-in, including marketing buy-in, on employer branding and recruiting initiatives, be sure to watch World Class Employer Brand in 100 Days: How This Radically Different Approach Makes Exec Buy-in Much Easier with Charlotte Marshall.
Building a Recruitment Marketing Strategy
Recruitment Marketing Strategy

Step 1: Establish a foundation to drive recruitment & benchmark against talent competitors #TalkHR pic.twitter.com/3DGitXEz9B
— CareerArc (@CareerArc) February 21, 2018

This highly shared tweet above highlights Kerry's recruitment marketing team strategy. She suggests starting off by understanding your company's challenges and identifying your recruiting goals. Once you've determined this you can build a strategy around your goals and establish an employee value proposition (EVP). An EVP is a statement of the many reasons why a candidate would want to work for you, and it can include the benefits package you provide employees, a description of your company's winning culture, or notes on the professional growth opportunities available within the company.
Steps three and four involve putting the first two steps to work: Communicate your employer brand story by connecting with the right candidates, both external and internal talent, on the right channels. Lastly, make sure to implement a strategy to measure success and understand what messages are resonating with your audience.
Recruit Internal and External Candidates
"Making sure content resonates with both internal and external candidate experience." @CareerArc #TalkHR pic.twitter.com/wgn0UB0z5p

— Chelsi Molina (@ChelsiMolina) February 21, 2018

As Carrie Corbin mentioned in last month's Employer Branding Playbook webinar, employer brand today is a joint-ownership primarily between companies, employees, and even job seekers who all can influence the talent reputation and shift the public perception of an organization.
As Chelsi Molina (@ChelsiMolina) reminds us in her tweet above, your internal employees also apply for your job openings, or worse, look elsewhere for new opportunities. hen building an employee value proposition, creating content that resonates with both internal and external candidates is critical.
Related: How to Craft An Employer Brand Strategy Playbook – A Webinar Recap
Determining Your Company Values
People want to know what your company's values are. In order to #recruit with purpose ask yourself these 3 simple questions. ⬇️ #TalkHR pic.twitter.com/ys4dUjQeDP

— CareerArc (@CareerArc) February 21, 2018

So you're ready to revise your EVP or brainstorm on the values you plan to communicate with candidates, but you don't know where to start? A great way to determine this is to first ask yourself these three questions.
Why did you come to work for your company?

Why have you stayed?

What would make you leave your company?
This is a great exercise, and if you were open to it, one you could ask a few others in yo company to answer. You may discover some reasons you hadn't initially considered. Find out why you enjoy working for your organization. It can be because of your company values, culture, or benefits. Share these reasons with candidates and promote them on your social sites or other online resources where job seekers can find you.
Here are a few examples of how CVS has shared their values on social media and beyond.


Kerry spoke about CVS's recent Beauty Mark campaign which supports a more authentic view of beauty by committing to not materially alter the images and photographs used to market their products. Kerry extends this theme and message of authenticity by showcasing their real employees in employer brand content. Their #workwithpurpose recruiting campaign shows their candidates and employees that when you work with CVS you will be working towards a purpose whether that affects your own life directly or impact the life of another person.
Understand the Stakes: Today's Hiring Landscape
#Recruiting with #Purpose Thanks #talkhr @CareerArc @kerrynoone pic.twitter.com/UrsrawqooD

— Jason Kent Crowell (@JasonKentCrowel) February 21, 2018

Jason Kent Crowell (@JasonKentCrowell) captured Kerry's final and informative slide–an infographic showing how the recruitment landscape has changed and likely will continue to change in the years to come. If you feel like recruiting has become harder throughout the years, you're not alone. A few telling stats she shared include:
95% of recruiters say hiring will be more competitive this year.

The average time-to-fill has increased by 50% between 2010 and 2016.

$500 is the average cost of each open position, per day.
In the midst of adding social media to your recruiting mix? Learn 3 critical, yet overlooked, steps to achieving effective social recruiting adoption.