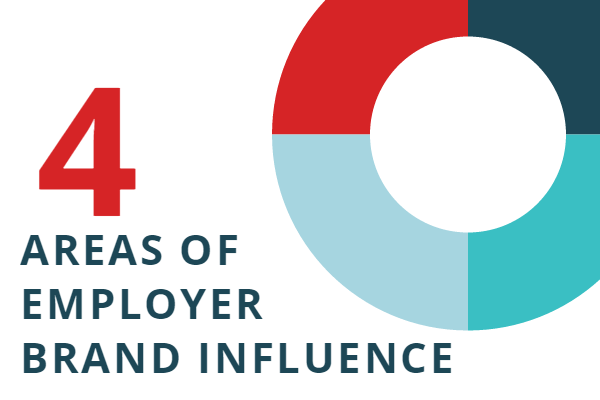 The industry is all a buzz about employer branding these days, and with good reason: The labor market is tightening, and today's discerning job applicants turn to Twitter, LinkedIn, and employer review sites for a peek behind the company curtain.
These sites and social platforms have become a destination for potential candidates to learn how companies actually function (or dysfunction) judging from employee feedback and fellow applicants' candid reviews of the candidate experience.
In our Employer Branding Study we found that 75% of job seekers consider an employer's brand before even deciding to apply for a job.
But how does a company go about shaping, or reshaping, its brand? We see employer brand being molded by four main areas of influence – company culture, employee opinions, candidate opinions, and the corporate brand.



While corporate brand and company culture are driven from within the organization, employee and candidate opinions are based on direct experience and interaction with an employer and reflect not only how an employer treats its people, but reveal a company's values and ethics which guide their business decisions. 
Talent acquisition professionals today are ever pushed to straddle the line of marketer and recruiter, what we termed the "HR-Marketer hybrid." Hiring professionals who are just starting to take on these hybrid roles are fast becoming the experts and leaders of employment branding in their organization.
Related: 3 Signs You're a Pro at Social Recruiting
We view the HR-Marketer placed strategically at the intersection of these four corners of employer brand, helping shape and communicate the company culture and corporate brand to the candidate audience, and ensuring those values are truly reflected in the candidate and employee experience.
These four areas of employer brand influence are regularly debated and are themselves quickly evolving. Here are the latest, relevant news pieces to show how these areas are being studied, perceived, and reshaped:
Company Culture
Employee perks and benefits became a big strategy, particularly led by tech giants and startups alike that compete for in-demand tech talent. Our Workplace Flexibility Study took the pulse on this topic, surveying 1087 working professionals on their views on telecommuting, flex time, and other workplace benefits and found that employees value these perks more than employers think they do. This piece by Benefit News discusses how workplace flexibility programs and perks are being embraced–albeit cautiously–by more and more employers.
This Fast Company write-up pivots around the same question we posed in our Workplace Flexibility study: Is technology to blame for work-life imbalance? The piece looks at the emerging workplace technology and messaging apps that are trying to combat the belief that tech keeps us working round-the-clock. 
Related: Webinar| Visual Pop! 7 Types of Eye-Catching Content to Boost Your Talent Brand
Employee Opinions
Our Employer Branding Study found that a company's most vocal critic is likely a former employee who had been fired or laid off. We covered the shakeups in tech these past few quarters, but in the first few months of this year all eyes have been on Yahoo which announced in January its plans of cutting 15% of its workforce–about 1,700 employees.
Rumors of firing employees by accident have spread, according to Fortune, and this Fast Company piece points to how workforce cuts can not only affect the lives of former employees, but could test the loyalty of those who remain.
Candidate Opinions
The majority of candidates' opinions focus on their candidate experience–a term now so widely used in the talent space that this recent ERE piece says what many of you have been thinking: I'm Tired of Hearing About Candidate Experience.
The author believes a positive candidate experience can directly and positively impact a company's bottom line. What's his main gripe? Companies who tout the importance of treating candidates well, but lack the structure and systems to address the real gaps in the candidate experience.
Corporate Brand
Your corporate brand on social media communicates more than the copy and images you place on your profile pages. Often it's how you communicate, not what you communicate, that defines and delivers your talent brand message.
This post by Entrepreneur sums up the four mistakes your social media profiles might be committing with job seekers. This piece covers what you could be doing wrong, but how do you know you're doing it right? Read the three signs you are a pro at social recruiting and see if you're optimizing your employer branding and hiring efforts on social.