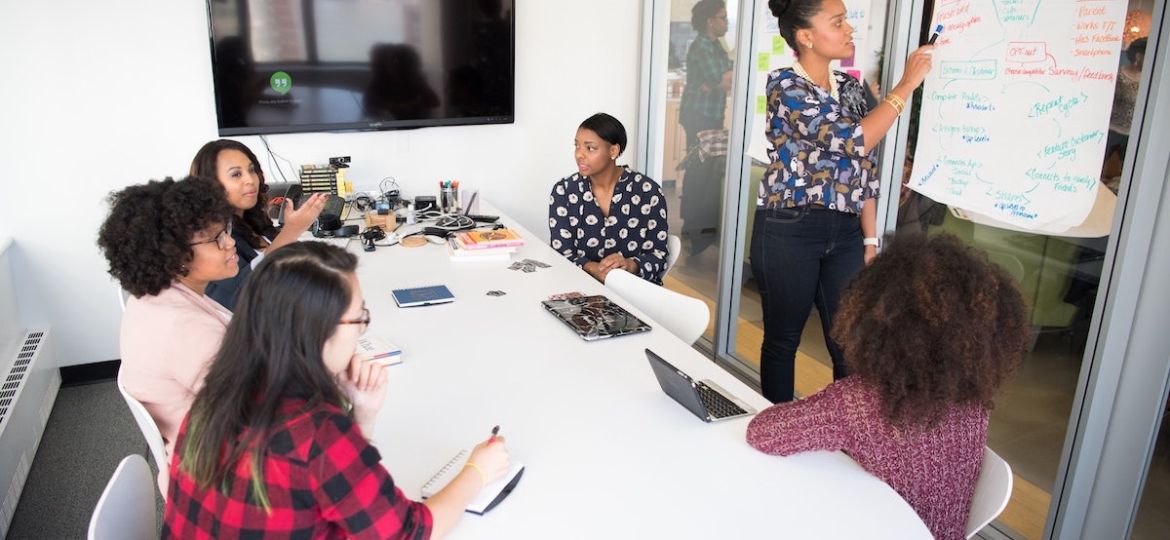 In the world of a recruiter or HR manager, talent is everything. Sure, there may be other aspects to the job, but if they aren't leading to quality candidates-turned-new hires, these efforts are ultimately all for naught. At the core, people are what keeps a company growing and moving forward, so one of the most important things you can do in talent acquisition is create a recruitment marketing plan that equips it for today's challenges and tomorrow's opportunities.
To be sure, it is no easy feat to make your brand stand out among the competitors that are vying for the same talent. However, with the right marketing methods driving your message and attracting the right people, you can implement a strategy that will set your company up for hiring success. Below we map out 12 keys to building an effective recruitment marketing plan.
1. Determine your end goals.
When it comes to developing a recruitment marketing plan, it's important to first know what you want to specifically achieve before taking action. Besides, you don't just want to hire people—you want hire the right people. So ask yourself: What kind of people does your company need? Are you planning for technological advancements? Is there a new division that needs staffing? Are you looking to build on your current company culture or are you developing it into something new? By taking time to define your hiring goals up front, you'll be better poised to create a recruitment marketing plan best suited to your needs. 
2. Know what qualities you are looking for in a candidate.
When looking to fill a position, there are certainly technical qualifications that a candidate must meet. However, when building a recruitment marketing strategy, you should also consider the ideal personality traits that you want in the workplace. Assess the current state of your workplace culture and consider if these characterizations are worth emulating in new hires. You may also want to consider creating more cognitive diversity which creates more flexible teams and boost productivity.
3. Have a clear employer value proposition.
Once you know what you are looking for in an employee, you should then define what you offer to them as an employer. A strong employer value proposition answers the prospective candidate's question: "Why should I work for this company?" With a clear mission and attractive benefits, a well-thought-out employer value proposition helps your brand stand out to both active and passive candidates alike.
4. Don't forget passive candidates.
While active candidates start off already with a vested interest in your brand, passive candidates may be harder to connect with since looking for a new place to work is not top of mind for them. However, a truly strong recruitment marketing plan should vie for the attention of passive candidates just as much as the active candidate's. One way to hook a passive candidate's interest is to host networking events or industry learning opportunities. Consider creating a webinar sharing the best practices of a new technology, or throw a happy hour for developers within your local area. Whatever you decide to do, keep your industry in mind your ideal candidate's unique needs and interests.
5. Refresh your careers page.
Applicants and passive candidates will likely encounter your brand's career page at some point within their job search. This online destination offers a great opportunity to make a lasting impression early on in their journey, so make sure that this page is dynamic, reflective of what your company has to offer, and mobile responsive. It's a digital world, and the reality is that many applicants will be accessing your site today via their cell phones and not their computers.
6. Have career-specific social media accounts.
Integrating a recruitment marketing plan into existing company social account strategies is a plausible but not ideal route. It can be easy for recruitment messages to get lost in the social shuffle as corporate accounts typically cater to consumers. And while some consumers can be viable candidates, you can really maximize your impact when sharing recruitment messaging on career-dedicated social media accounts. CareerArc's social recruiting platform automatically distributes employer branding content and job opportunities on social media accounts such as these.
7. Create recruitment-specific content.
Inbound marketing techniques in the form of original blog posts, videos, webinars, and podcasts can help generate interest in your brand outside of traditional recruitment materials. These types of content can spark a valuable connection with potential candidates outside of job boards. It can also act as a resource, positioning your brand as an authority in your market and a best place to work.
8. Use a targeted, data-driven approach.
Creating and sharing content as part of a recruitment plan is a good idea, but to truly get the most out of those materials, you should also target your audiences and track the content's performance. Think about creating different social pages for different areas of the business, and invest some time in gathering and reviewing social analytics. You will then be able to adjust your content strategy according to the findings.
9. Create a talent pipeline.
Only looking for talent that fills open roles is an all too common error made by recruitment professionals. Instead of limiting your search to opportunities available today, work on creating a talent pipeline that you can utilize in the future. Connect with top talent in the fields that your company covers. Reach out, make an introduction, and keep up the connection by inviting them to networking events and learning opportunities. Within a year's time, a lot can change for both the individual and your business. Who knows, new needs may make them into the perfect fit for a newly opened role.
10. Utilize existing talent.
Your current talent pool is an asset that should be utilized within any recruitment marketing plan. Model employees can act as official brand ambassadors by authoring blog posts, hosting behind the scenes videos, webinars, and podcasts. But any employee can contribute, really. Engaged employees who interact on social media can post news articles and photos from the office that their personal networks will see. The more you engage and enrich your employee experience, the more proactive they will be in helping to grow your talent pool.   
11. Stay in touch.
Continue to nurture relationships with candidates after a role has been filled—whether or not the person ended up getting the position. Candidates who may not have been the right fit today, could be the perfect match for a role down the line. When touching base with past candidates, see what new skills they might have learned and update them on any new developments that have taken place at your organization. New hires may also disengage if they don't have the right guidance, so don't forget to check in on how they're acclimating, offer them a mentor, or invite them out to a company happy hour.
12. Ask for feedback.
You can look at data and stay stringent with your recruitment marketing plan, but the best way to measure progress is to ask real people what they think. Keep your hand on the pulse of your company's culture, and ensure you are selling the right picture to potential candidates. Ask current employees what they think defines your culture and see if there are shared gripes that can be addressed to better employee outlook. You can also get feedback on your application process to be incorporated in your future recruitment strategy.
A recruitment marketing plan requires both time and effort, but top talent is worth the work. Remember, once you land the best talent for your company, your job is not over. You also play a part in ensuring that the new hire stays with the company and grows over time. For tips and tricks on how to do just that, check out these employee retention strategiesthat will help incentivize existing employees to remain with your company for the long haul.