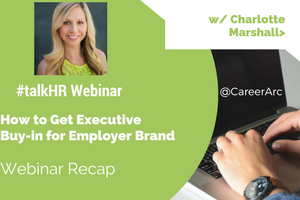 As a talent acquisition or marketing professional, you understand the impact an employer branding strategy has on attracting top talent to your organization. From gaining a competitive advantage to attracting ideal candidates, your employer brand can be the main key to your recruiting success.
Although in some cases, executive leaders may not be aware of the impact their employer brand can have on their talent strategy, let alone be aware of the term "employer branding," thus making it very difficult to justify the investment needed to launch your employer branding strategy.
Talent acquisition professionals tuned into our World Class Employer Brand in 100 Days: How This Radically Different Approach Makes Exec Buy-in Much Easier hosted by Charlotte Marshall, VP of Digital, Social Media & Employer Brand at Magellan Health to learn how her radically different approach makes exec buy-in much easier.


But how easily are HR and talent leaders gaining buy-in for employer branding? Charlotte polled the attendees and found that over 73% of the audience thought securing this investment was not an easy task at their organization. 
It came as no surprise to us that this was the case, further validating the assumption that educating and convincing executive teams to invest into an employer branding strategy is one of the most common challenges talent acquisition professionals face while trying to grow their recruiting efforts.
In order to recap this latest CareerArc the #talkHR webinar, we've highlighted three of Charlotte's approaches different ways to achieving executive buy-in for your employer branding strategy.
Watch the webinar >> World Class Employer Brand in 100 Days: How This Radically Different Approach Makes Exec Buy-in Much Easier
How Do You Launch an Employer Brand in 100 Days?

Charlotte kicked off the webinar by addressing what was likely the biggest question on everyone's mind: "How do you launch an employer brand in just 100 days?" For many, a three-month launch schedule is a remarkably short period of time; however, it was this aggressive timeline that piqued the interest of Magellan's executive team and helped gain their initial trust, as well as what gave the Charlotte and her team the motivation they needed to fulfill on that promise.
Every company is different. Your launch schedule does not need to be contained in 100 days. Charlotte explains that the idea is to approach your employer branding activation with pace and momentum. By doing so you and your team will reap the compounding rewards of that forward momentum.
Charlotte listed four key benefits you'll receive from key stakeholders by adding a shorter activation timeline to your employer brand.
Advocacy

Momentum

Relevancy  

Budget
By keeping up the tempo, your efforts start to gain steam and garner attention with each small win. The activity and buzz surrounding your project will then entice advocacy from internal employees and stakeholders, in addition to ensuring continued interest, curiosity, and engagement throughout and beyond the 100-day mark.
Aggressive timelines also prevent one of the byproducts that often cripple long-term projects: switch penalty. The more that leaders and stakeholders have to pick up and put down their ideas while managing a variety of ongoing projects, the more that ideas get lost or become outdated. With this timeline you'll also have the capability to prove your ROI much faster, which will make the request for budget approval a lot easier for this project and for the others that follow.  
How Do You Create an Employee Value Proposition?

Before you kick off your employment brand planning, you first need to determine your employee value proposition. Find out why candidates would love to work for your company. Charlotte found this out in a few different ways: She surveyed members of her company, hosted persona workshops, and conducted face-to-face video interviews.
By conducting this research, she and her team were able to get specific with the current perception and awareness of the Magellan brand from multiple points of view. Their findings led them to arrive at the creative and succinct campaign that resonated with all audiences: "We Hear You." This message was tailored to address the worries and needs candidates have and reassure them that Magellan Health listens.  An important note Charlotte mentions is to make sure your EVP message is being revised at least every six months.

Related: Webinar on Demand >> Recruiting With Purpose: How to Communicate Company Values to Attract High-Value Hires
How Do You Achieve Executive Buy-in Through Data?

One way to get stakeholders to agree to your proposed solution is by reframing the problem. One of the biggest takeaways from the talk was on how Charlotte was able to gain buy-in in part by calculating and presenting to her executive team the total daily lost revenue caused by the number of vacant roles. The equation in the image above tacks a tangible cost to the problem of open jobs staying open for too long. Once you agree on the problem, proposing a solution becomes an urgent and necessary next step. 
Competitive research can also help build the case for employment brand investment. Providing examples of a competitor's employer branding campaigns can help prove that these campaigns are a worthy and necessary investment, and perhaps in comparison to other companies in your space, it's an investment your organization should have been making yesterday. 
Need more help educating your executive team about employer branding? Watch our Employer Branding 101: No Really, What Is Employer Brand and Why Should I Care? Webinar now.