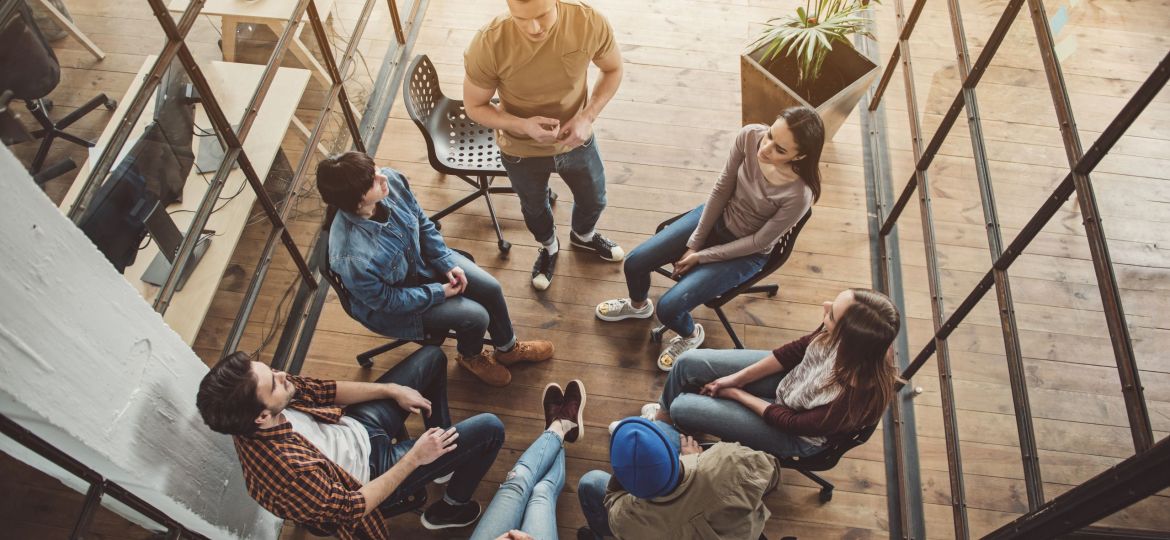 How efficient is your team? While the answer depends on a variety of factors, the most critical may be how well your team members work together. Effective collaboration not only affects productivity directly but also impacts employee satisfaction. In a recent Slack survey, employees ranked being part of a "community" at work as one of the most important workplace values.
Team bonding is one element of building a company culture that keeps individual workers engaged and productive while improving the way your teams work. Collaborative tools and flexible workspace design can contribute to a more efficient team dynamic, but there are also simpler solutions for quick team building, such as team-building activities.
Some may view traditional team building games as disruptive and ineffective—especially when they are used without context or strategy. Yet when the right team-building exercise is used at the right time, it can help your team learn more about each other and work more effectively together. These games don't have to take up a lot of time either; the following 5-minute team-building activities can quickly create a closer work community.
In order to help you better target your time, these team-building exercises have been organized by their focus. Whether you're looking to improve your team's communication or boost creativity to generate new ideas, you'll find a five-minute team building activity below to fit your needs.
5-minute team building activities to improve communication
Communication is at the heart of any team's productivity—or lack of productivity. These quick games are designed to get your small groups or large groups talking, which is especially important for your company's newest hires.
1. Four Walls Communication Activity
This quick activity is all about learning how each team member prefers to communicate, allowing for better collaboration, and less miscommunication in future interactions. It's a simple activity that requires only a few sheets of paper but can have a dramatic and immediate effect on your team's collaboration and productivity.
Materials: Paper, tape to stick the paper to walls
Step 1. Label each of four walls with one format of communication: face-to-face, phone, email, and text/chat.
Step 2. Team members are instructed to go to the wall that reflects their preferred mode of communication for work.
Step 3. Each team member shares their communication preferences and dislikes with the rest of the group.
2. Team Birthday Lineup
A classic for a reason, this team-building exercise requires your team to communicate with each other without the use of words. The challenge is for them to find creative ways to share the information needed to complete the task.
Materials: None
Step 1. Team members form a line, standing side by side.
Step 2. Team members are to rearrange themselves in order of their birthdays (month and date), without talking.
3. Penny For Your Thoughts
This sharing game is often used as an icebreaker and provides a unique way for your team members to learn more about each other. As one of many 5-minute team building activities for work, "Penny For Your Thoughts" can reveal commonalities between employees for further team bonding.
Materials: Jar of pennies that are no more than 15 years old
Step 1. Each team member draws a penny from the jar.
Step 2. Employees share something memorable or important that happened to them in the year on the penny.
5-minute team-building activities to identify strengths
Team building activities that involve a range of tasks can help team members better understand their individual strengths and how those strengths contribute to the larger group. The following 5-minute team-building activities help your employees identify and use their best talents as a team.
4. Replication
This five-minute team-building exercise brings both communication and strength-identification to your team's bonding time. To successfully complete the challenge, team members will need to work together using their various skills in different roles.
Materials: A completed Lego structure, plus enough sets of Lego pieces for each group to recreate the structure
Step 1. Divide the team members into even groups.
Step 2. Display the completed Lego structure to all the groups for 30 seconds, then hide it from them.
Step 3. Provide each team with the appropriate Lego pieces to replicate the Lego structure.
Step 4. After a minute, give one team member from each group the opportunity to view the structure again for ten seconds, then brief the group on what they saw for 25 seconds.
Step 5. Step 4 can be repeated as needed with new team members.
Step 6. The winner is the first team to accurately recreate the Lego structure.
5. Spider Web
In this game, the team must work together to get all individual employees through the challenge. The twist is that selecting the various roles for the team will be very important to the team's success in defeating the Spider Web.
Materials: String and tape
Step 1. Fix pieces of string across a doorway at various heights and at different angles, with the strings crossing each other to create a web.
Step 2. The team is required to get all team members through the "web" without touching the strings.
Step 3. Each team member must go through a different opening in the string.
Step 4. Instruct the team to choose one person who is responsible for selecting the order and hole for each team member, one member who is allowed to speak, and one person who is allowed to touch and move one string at a time.
5-minute team-building activities to encourage creativity
Sometimes being productive as a team means coming up with creative new ideas. The team-building games below will have your team looking at both problems and opportunities in new ways, within the five-minute time limit.
6. Scrambled Puzzles
Jigsaw puzzles are just the background for this selection from our 5-minute team building activities. The real test will require your team members to apply problem-solving techniques and show flexibility in addressing an unexpected challenge.
Materials: One 100-piece jigsaw puzzle for each small group
Step 1. Place one puzzle on each table. Remove five pieces from each and place them on another table.
Step 2. Divide team members to each table and assign them to complete the provided puzzle.
Step 3. To finish their puzzle, each team will need to find a way to work with the other teams to find and claim their missing pieces.
7. Helium Stick
Another simple 5-minute team building activities for the workplace, this exercise is all about overcoming the initial frustration of a challenge to find the right solution—all while working together as a team.
Materials: A thin stick/dowel rod for each group of six to ten employees
Step 1. Divide your team into even groups of six to ten employees.
Step 2. Provide each team with a "helium stick" at chest height, and have participants each hold the stick with their index finger.
Step 3. Each team's goal is to lower the stick to one foot off the ground without anyone losing contact with the stick or forcing the stick down.
8. Paper Tower
Paper Tower is another fun game that can be used to spark innovation and creativity in your team. The simple materials and constraints of this exercise mean employees will need to look at everyday items in new ways to be successful.
Materials: 18-20 pieces of letter-size paper per team
Step 1. Split your group into smaller groups of three team members and provide each team with paper.
Step 2. Instruct the teams to build the tallest tower possible in the five-minute time limit.
Step 3. Only paper can be used to build the tower, but it can be folded or torn to create the structure.
Step 4. At the end of the time limit, measure the towers to determine the winner.
Team bonding time sometimes has a bad reputation among employees, but they don't have to be dull or pointless. With the right emphasis, these 5-minute team-building activities can be fun games that both break up the workday and support greater productivity for your team. If you are looking for even more ideas to make your team more efficient through a more positive work environment, you can also check out our list of 40 employee engagement ideas to try.
The teamwork and team dynamics of your workplace, developed through exercises like these, is just one part of your employer brand. Contact CareerArc today to learn how to develop your employer brand even further so that you can both retain and attract top talent.