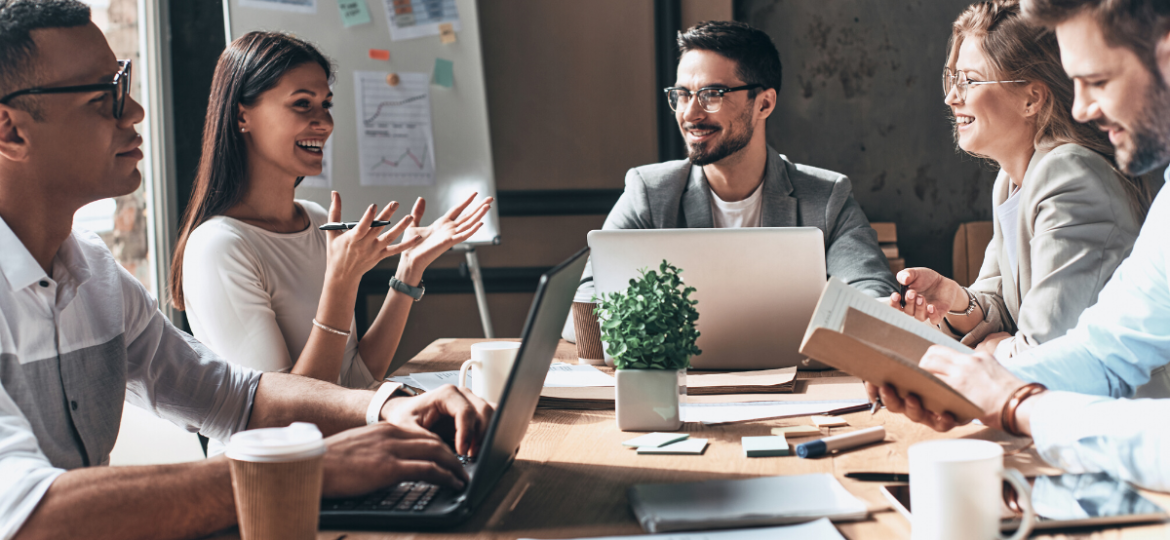 At this point, most HR leaders know the value of building and maintaining a high quality employer brand. They know that top job candidates aren't just looking for a position that fits their skills and experience—they're looking for companies with core values that they can align with.
But how do HR teams get executive buy-in for employer brand? As is almost always the case, cost is key. 
Executives are often singularly focused on the return on investment for any project a company undertakes, and leaders are usually willing to consider projects that save the company money in the long run. A strong employer brand can do just that by reducing the spend in an oftentimes costly area: cost per hire.
Before moving into how a strong employer brand can save your company money, it's vital to understand what is an employer brand and how it can help you retain and attract top talent.
Importance of the employer brand
At its core, employer branding is how your company markets itself to job seekers. This includes messaging around why the company is a great place to work as well as what differentiates it from its competitors. A well-defined employer brand has the ability to filter out potential applicants who are not a good fit and attract savvy job seekers who believe their values align with those of the company, thereby saving the talent acquisition team time and money.
Most importantly, young job seekers are placing a premium on an employer's reputation, with over half of millennials reporting that they want a workplace that aligns with their needs and life goals. Addressing the question of how to build employer brand is one HR teams across all industries must grapple with. But it's also imperative to break it down into dollars and cents for those who aren't intimately involved in the talent acquisition process.
Quantifying the value of employer brand
Arguably one of the most important questions for all HR leaders when considering how to build employer brand is "How much does it cost?" According to a 2016 Harris survey commissioned by Glassdoor, companies spend an average of $129,000 per year on employer branding. Although this might appear to be a substantial amount, it's worth considering how much companies spend on hiring.
SHRM defines cost per hire as the sum of a company's internal and external spending on hiring divided by the total number of hires made within a defined period of time. On average, companies spend $4,129 per hire.
A strong employer brand can reduce many of the internal and external costs associated with hiring. While spending in areas such as compensation for recruiters and pre-employment screening is largely fixed, a compelling brand can help reduce variable costs such as marketing and advertising expenses as well as the cost of time used for conducting interviews and recruiting.
In fact, a LinkedIn report states that a strong employer brand can reduce a company's cost per hire by 50 percent. Clearly, an investment in an employer brand pays dividends. However, the question still remains on how to build employer brand.
Building an employer brand
If the question of how to build employer brand is one of your top priorities, there are a number of simple steps you can take to begin attracting top job candidates. Overall, job seekers want to get a better sense of what makes your company a great place to work and decide whether they can see themselves working there.
Below are some measures to consider as you contemplate how to build employer brand at your company.
Review the current state of your employer brand
Before launching new initiatives aimed at amplifying your company's employer brand for the general public, it's vital to first assess how the brand is already perceived by key constituents.
Start by surveying key internal and external stakeholders to gain a general sense of the employer brand's strengths and weaknesses. From there, you can begin establishing short- and long-term objectives, and developing strategies for capitalizing strengths and mitigating weaknesses.
Once you've gained a clear understanding of where your company's employer brand currently stands, you can then start planning tactics to ensure job seekers are aware of what separates it from the rest of the pack.
Pair job listings with content
Savvy job seekers evaluate not only the roles that they are applying to, but also the company as a whole to determine if it aligns with their personal and professional values. As always, showing is better than telling.
Pair the job openings you post on your company's career site and social media channels with pictures and videos that give those who might not be entirely familiar with your company a glimpse into what a day working at the office is like. This will allow candidates to assess whether your company culture aligns with their personality and career aspirations, and help them to decide whether the company is the best fit for them.
Note that creating content does not necessarily need to take up a great deal of your time. If you and the members of your team are willing and able to spend one to two hours per week gathering content, you will have enough to create an inviting online presence for all potential applicants and make headway in addressing how to build employer brand at your company.
Create employee advocates
Social media is often a go-to source for job seekers who are researching a company. While it's certainly important for every company to have a robust social media presence, candidates often look to accounts from current employees when evaluating an employer brand. 
One of the best ways to leverage the power of social media is to create an employee advocacy program. Identify potential advocates within your company and give them valuable content to share on their LinkedIn or Facebook page. And if your employees want to create their own content, even better! The more invested they are in the program, the more engagement their content (and your employer brand) will receive.
Building an employer brand on social media does not need to be complicated. If amplifying your company's employer brand through social media is one of your priorities, consider CareerArc's social recruiting platform. Our platform has helped HR teams at companies from a wide array of industries easily grasp how to build employer brand on social media while simultaneously allowing them to easily access job openings at the company. Request a demo of the platform here.