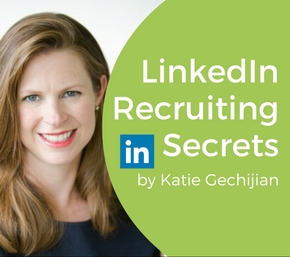 By Katie Gechijian
Vice President, Wealth and Investment Management Talent Acquisition, Wells Fargo
World's Greatest Sourcer 2016 Competition, #2 of 1235
---
Last week, I revealed some of my best-kept sourcing secrets to over 1800 people who registered for CareerArc's webinar, "Secrets of a Top Sourcer: Learn Proven Hiring and Targeting Techniques for Social & Beyond."
I've enjoyed interacting with many of you after the call and appreciate your kind words and feedback. CareerArc asked me to pop-in today to share additional detail on a few "secrets" and I also wanted to share an important update for YOUR success.
Click here to access the full webinar recording and slides. >>
Drop a Virtual Business Card
When I'm working with LinkedIn, I like to do something I call Dropping a Virtual Business Card. I have adjusted my LinkedIn settings to allow someone to see my full name and headline when I visit their profile. To do this you would log into your LinkedIn account and go to:
Privacy Settings > Privacy > Privacy Viewing Options > Your name and Headline.


LinkedIn is a social network and I consider the profiles I view as my opportunity to make a friendly visit. I leave my contact information or Virtual Business Card in case a prospect wants to learn more about me. By adjusting these settings, it allows the owners of the LinkedIn profiles that I view to see WHO viewed their profile, thus allowing anyone I look up to come back to LinkedIn and see that it was me. Not vaguely as "Recruiter at Wells Fargo," and not "Anoynmous LinkedIn Member," but me.
My hunch is that the number one thing people do when they log into their LinkedIn account is to check and see who has viewed their profile. So why make it mystery? Let it be out there and close the loop so they can track back to you and open this communication chain even before you ever send the first InMail.
So let's say you are in Texas in wealth management, and if you were interested and curious to hear what was going on in Wells Fargo, you–the prospect–upon seeing my Virtual Business Card will clearly understand why I looked at your profile, and if really curious, may even reach out to me before I have the chance to reach out to you. This tactic continues to work for me, it's literally a click of a button, and is one that I swear by.  
Related: Smart Campaigns, Real Results: The Art & Science of Effective LinkedIn, Facebook, and Twitter Hiring
How to Use Bing to Search LinkedIn
I like to use LinkedIn from a search engine because it gives me greater control over search results. Recently I have noticed that there is a huge difference in my returned search results when running identical searches in Google and Bing. My theory is that Bing, as a Microsoft product, has an enhanced ability to search and cache LinkedIn public data (soon to be a Microsoft product!)
Now this tip is best explained by example. So let's take the Product Manager requisition below:


In it I've marked a few keywords to use in my search query. Here's the search string I Shared during the webinar last week::
site:linkedin.com "join 400 million" software product manager iot chicago 
The phrase "join 400 million" is key. Why?
All public LinkedIn profiles contain this verbiage (until Monday of this week. See important update on this search script below.): "As a LinkedIn member, you'll join 400 million other professionals who are sharing connections, ideas, and opportunities." 
By adding the "join 400 million" phrase, we were limiting a site search to only public profiles by eliminating all pages that did not contain this specific verbiage. The search industry/sourcing slang for this type of search is an X-ray Search.  Doesn't matter what level of LinkedIn profile you have, or if you even have a profile. I use this tactic every day, multiple times a day, and it is such a time saver. 
Here's what the search returned:


Running the search generated 150,000 results, which is still too many. To chisel it down, I looked closer at the search results and see I can omit results that contain the words "title" and "jobs". I also tweak the location name to "Greater Chicago Area" which is how LinkedIn expresses metropolitan areas.
site:linkedin.com "join 400 million" software product manager iot "greater chicago area" -title -jobs
This brought the search results down to 751, which is pretty good, but still a little too many for me to be effective with. So I go back to the requisition to pull out more keyword–namely "user stories" and "wireframes"–to add to the search query.
site:linkedin.com "join 400 million" software product manager iot "greater chicago area" -title -jobs ("user stories" OR wireframes)


Six results. Perfect. Now I will click on all six of the results to drop my Virtual Business Card, dig into profiles, search for their contact info, (preferably a mobile phone number or personal email address), and then contact the prospect.

Related: Social Recruiting 201: Beyond-the-Basics Techniques for LinkedIn, Facebook, & Twitter Hiring
Important Update >> LinkedIn Changed its copy from "join 400 million" to "400 million other"
As we discussed last week during the Secrets of a Top Sourcer webinar, the social network landscape is constantly changing. I wanted to make you aware of a change I noticed just this week that can impact your use of Bing to uncover LinkedIn public profiles. 

As of this past Monday, the LinkedIn verbiage changed to:



Thus, if you were targeting public profiles by including the "join 400 million" phrase shown above in examples, you would likely return old (cached) profiles as the new verbiage does not contain the word "join."

So, a call to action: I recommend you update your search phrase when using Bing to uncover or X-Ray LinkedIn public profiles. My suggestion is to use the phrase "400 million other" as this will incorporate both old and new variations of the profile ad copy and return a complete result set for your sourcing success.

Want a few sample searches? Try these:

site:linkedin.com "400 million other" "devops" atlanta (Click to see search results.)

Bonus trick: the addition of the phrase  –"like this search" will eliminate job advertisements from your search results.

site:linkedin.com "400 million other" "devops" atlanta -"like this search" (Click to see search results.)
And when I run the search my results drop from an approximated 396,000 results to a slightly better 10,500. This brings the results back into the realm of possible and probable and in a real search, I would test keywords from my requisition to further reduce my result set less than 100.
Hope showing you how to leverage Bing search in your LinkedIn Sourcing gives you something new and fresh to add to your arsenal, and a new way of attacking the data to be really effective. 
Have any sourcing secrets to share? Connect with Katie at https://www.linkedin.com/in/katiegechijian and @kgechijian. 
---
Katie Gechijian has almost twenty years of experience in talent acquisition, with fifteen years in the financial services industry. She has spent the last eleven years with Wells Fargo, innovating the bank's strategies for sourcing, competitive intelligence, and candidate pipelining. She leads the bank's Enterprise Sourcing Forum, where team members gather monthly to learn sourcing techniques and best practices and she recently placed second out of more than 1200 contestants in the "2016 World's Greatest Sourcer" competition held by Entelo and The Sourcing Institute.