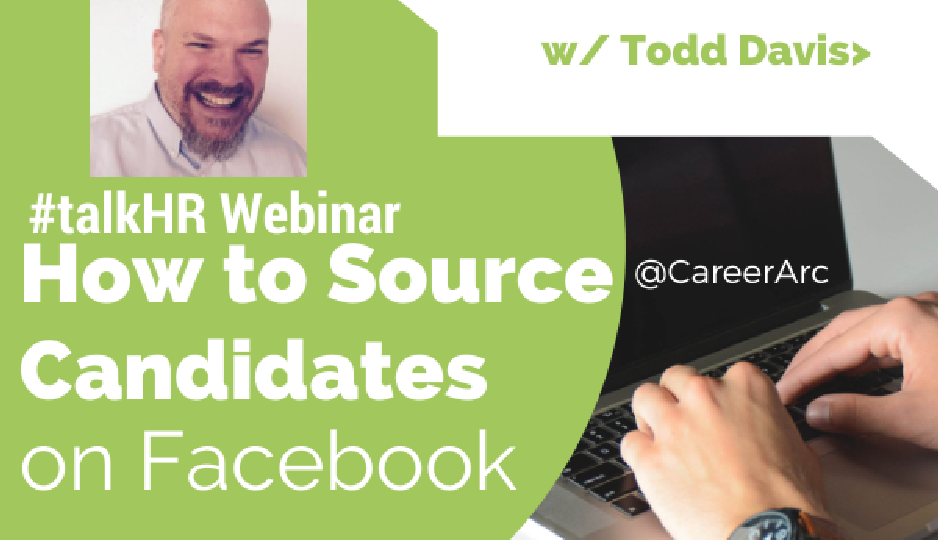 With two billion monthly active users, Facebook continues to dominate the social scene and is fast becoming the largest treasure trove of data for sourcers. However, how many sourcers are actually taking advantage of this gem?
Social Recruiting and Sourcing professionals tuned into our Facebook Sourcing Secrets Webinar hosted by sourcing expert, Todd Davis (@thecandidategen), to learn sourcing tools and hacks for hiring top talent on Facebook.


The topic generated lots of activity on the #talkHR twitter chat, with many attendees sharing some memorable memes and gifs in reaction to some real sourcing secrets Todd divulged during the webcast.
To help recap the webinar, below are those top tweets shared during the event.
Webinar Poll: Have You Tried Souring on Facebook?
Todd kicked off the webinar by conducting a live poll asking attendees about their experience sourcing talent on Facebook. Turns out that only 12% of our audience who have tried sourcing candidates on Facebook have generated great results. About 40% have yet to even try Facebook sourcing.
Knowing that the majority of the audience were just getting their feet wet with Facebook Sourcing, Todd went straight to revealing one of his favorite Facebook Sourcing tools.
Access the Facebook Sourcing Secrets webinar recording and slides. >>
Favorite Facebook Sourcing Tool
You don't have to be a recruiter to join a cool night webinar on how to find ppl on FB. We search ppl all the time.. #SourcingHack #TalkHR pic.twitter.com/AbYcQvYU83

— Shira Ben-Cohen (@shirabc) August 23, 2017

One of the tools Todd recommends is Intelligence Search for sourcing on Facebook. Shira Ben-Cohen (@shirabc) captures a screenshot of the search tool in the tweet above which shows how one could customize their search fields by job title, location, education, and more. Todd then proceeded to launch severals candidates searches live and showed how those search results appeared within the Facebook platform. Below is an example of the results that generate after running a search for "Software Engineers" that currently work at Amazon.

Most Game-Changing Sourcing Tool for Finding Verified Emails
#talkhr Learning about Snovio. #GameChanger #NoMoreOldEmails pic.twitter.com/2dhYCRDu89

— Chelsi Molina (@ChelsiMolina) August 23, 2017

Now that attendees had learned how to compile a list of candidates, they anxiously awaited to discover the best way to contact them. Todd recommended an alternative way to message candidates beyond Facebook Messenger with Snovio–a tool which helps you find and export a full list of verified candidate emails. We were as amazed as Chelsi Molina (@ChelsiMolina) with this tool. #NoMoreOldEmails!
Related: Facebook Recruiting Secrets: A Top Sourcer's Proven Search Techniques for Social & Beyond
How To Contact Candidates on Facebook: The Do's and Don'ts
Don't be creepy while you're "creeping" for Facebook candidates 😂 #talkHR

— Jane (@Jane_Fri) August 23, 2017

Making a great impression is always crucial when contacting passive job seekers for the first time. Todd shared some of his tips on reaching out to candidates.
Best Practices for Contacting Candidates on Facebook:
Don't spam: Send a personalized well-crafted email. This encourages trust among the candidates you reach and will more likely to lead to a response.
Don't be creepy: We couldn't have said it better than Jane (@Jane_Fri). Don't comment on a photo they posted last Thursday or list the names of their family members. Instead, introduce yourself and the reason for your outreach.
Don't write a novel: Facebook is a more casual medium, but that doesn't mean to drop your professionalism. Since Facebook messages arrive through the Messenger App, you want to keep it brief but friendly. Todd discusses where and how your messages appear on the Facebook platform from a candidate's point of view. Watch the webinar playback here. >>
Bring On The Webinars!
A webinar with live demos?!! Bring it @thecandidategen #talkHR pic.twitter.com/Y2ezmIkCVB

— Audra Knight 🤘 (@media2knight) August 23, 2017

It was a great experience to see live sourcing in the wild; Audra Knight (@media2knight) summarized the webinar perfectly with the gif above. Additionally, we're as excited to have Audra, Recruitment Marketing Strategist at Tenable Network Security, host our next webinar on September 20th, which is titled, "Social Recruiting 201: The Must-Know Inbound Marketing Techniques To Boost Your Social Strategy." Reserve your spot now.
Want more free sourcing resources? Check out Todd Davis' The Candidate Generator site for an extensive list of sourcing tools and other relevant content for today's sourcer.
Still new to social recruiting? Get an introduction before joining our next webinar. Watch Now >> Social Recruiting 101: Clear the 3 Most Common Roadblocks To Your Best Employer Brand.