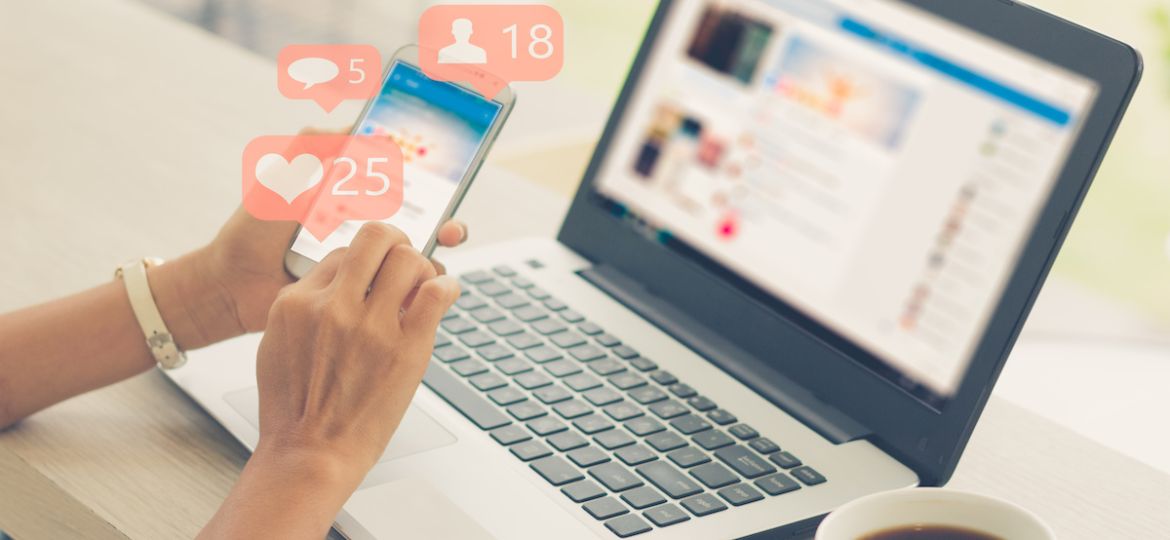 There's no denying that social media and employee engagement are a powerful combination for businesses to connect and engage with an active audience. In 2018, there were about 243.6 million social network users in the U.S.—about three quarters of the country's population. This number is projected to grow every year through 2023. While social media can be used to broadcast a company's employer brand and job opportunities, it can also strengthen employee engagement at a company.
Successfully implementing a social media employee engagement strategy, however, takes work. To have social media and employee engagement truly scale your social media marketing efforts, consider the 11 social media employee engagement tips below.
1. Prioritize company culture.
According to Gallup's 2017 State of the Global Workplace report, 63% of employees are not engaged at work. Before putting energy and budget into employee advocacy, you first need an engaged workforce. Creating workforce engagement starts with company culture, and executives must actually live out and reinforce the organization's core values. Company culture trickles down from the top—and employees are watching.
The 2019 Edelman Trust Barometer reports that 67% of employees expect their employer to have "a greater purpose" and their jobs to have a "meaningful societal impact." Nearly three-quarters expect the company culture to be "values-driven and inclusive," and 80% say they expect their employer to offer "interesting and fulfilling" work. Ask yourself: Are you giving your employees what they want to be fulfilled and satisfied at your company? If not, the last thing they'll want to do is go on social media and advocate for it.
2. Lead by example.
If you want to inspire your current employees to broadcast your company culture, content, or employer brand on social media, you must lead by example. This means you are following best practices and publishing content on a regular basis, posting photos and videos, and adding relevant hashtags to the company social media channel. If you're not already laying the groundwork of an active social channel, your employees will not see any reason to do so themselves. You can also show your interest in cultivating an online community by recognizing individual employees—whether that's an Employee of the Month spotlight or a shoutout for any employee awards or publication mentions. Your employee is much more likely to share a post that they're tagged and recognized in with their social network.
3. Create a social media policy.
It's likely that some employees at your organization are already posting about your brand on social media, while others are open to it but are not sure what they can or cannot post about. An official social media policy provides clarity and guidance to employees so they feel more comfortable posting on social media while protecting your company's reputation at the same time. When creating your social media policy, don't just focus on the restrictions and what employees cannot do on social media. Instead, state what they can do as well and include examples of what constitutes quality employee social media posts. Inviting employees to be part of the policy creation process can also foster engagement from the start. Ask them for their feedback and what they think will be beneficial for the program. The more you make room in the policy for employees to showcase their own personality, the more likely they will have the desire to post on social media. After all, at the end of the day, this is a voluntary opportunity so you want all employees involved to feel as comfortable as possible.
4. State the benefits.
Even though being active on social media in the workplace is voluntary, people still want to get something out of participating. Be sure to explain the benefits your employees can gain both personally and professionally by being part of the employee advocacy program. For one, consistently sharing your organization's content on their social media feed can bolster these employees as industry thought leaders. They can expand their networks and build a solid personal brand for themselves, all while exposing your employer brand to their growing network. You might also want to throw in some perks like bonuses, extra paid time off, or simply internal recognition, depending on your company budget and imagination. If you're not sure what would be a valuable incentive for employees, you can even crowdsource a few ideas.
5. Offer social media training.
Just because someone uses social media doesn't mean they know how to use it well. Provide plenty of training and educational opportunities when it comes to implementing a social media employee engagement strategy. Don't forget that different age groups and departments may have different needs so you may want to tailor the training programs accordingly. Educating your employees on the importance of social media marketing and providing helpful tips that they can take anywhere will increase their willingness to get involved. To conduct these trainings, you can host ongoing informal social media 101 classes, or offer a lunch-and-learn session, among many other options.
6. Gamify the experience.
To add even more incentives to your social media employee engagement strategy, you can up the ante with some gamification. The idea is that everybody likes games as well as the rewards that come along with it. Running a friendly competition is an easy and fun way for companies to engage and motivate employees to work towards certain business goals and objectives. From cross-departmental contests that reward employees who share the most content on social media to social media training programs that grant employees varying certification levels, there are a myriad of ways to incorporate gamification to grow your employee advocacy program. A public leaderboard is also an easy way to recognize employees who are performing well and further inject a sense of competition for the other employees.
7. Provide high-quality content.
Unless you produce high-quality content that is relevant and valuable to your industry, your employees are not going to be as willing to promote it to their network. High-quality content means unique, specific, and useful content. Ask yourself, what does your brand have to say about a particular topic that's different and more valuable than other brands? Create content that your employees are proud to be associated with and furthers their reputation as thought leaders.
Outside of producing original content, you also want to provide third-party content options as well. Employees don't want to come off spammy and flood their personal social media feeds with only company-related content. By providing a mix of first-party and third-party content, you help employees develop rapport and trust with their social connections. After all, millennials place special importance on authenticity when deciding on what brands they like and support.
You can even bring your employees into the content creation process by tapping them for content topics or inviting them to author articles themselves. This level of inclusion will not only enrich and diversify your advocacy content, but also give employees a chance to express their personal voice on social. Having them play a more active role in the social media program will further motivate them and help them get more engaged.
8. Make it easy.
Given that employees are going out of their way to post work-related content on their personal social media channels, the least you can do is make the process as easy as possible for them. One way to do this is to house a library of content in an easily accessible shared folder, or to send out a daily or weekly digest notifying employees of fresh new content. Whatever is your method of choice, have prepared pre-drafted messages and properly sized photos ready to go so it takes employees a minimal amount of effort to share the content. A crucial component to also provide your employees are hashtags to properly add to the post. To further foster social media employee engagement and strengthen your employer brand, you may also want to create a corporate hashtag that reflects your organization. While general hashtags help categorize content for your audience, a custom corporate hashtag helps establish a community among employees and create a sense of belonging.
9. Find your advocates.
To further scale your social media employee engagement, identify and partner with the natural employee advocates at your company. These individuals are typically already avid social media users and are enthusiastic about the company's employer brand. Invest and empower these allies to amplify your social media employee engagement strategy within your company. When employees see their colleagues tweeting and sharing, they will be more prone to do the same. These internal influencers are also ones to tap for honest feedback. Based on their insights, you can then revise or improve any part of your program as you scale.
10. Allow for open dialogue.
When managing social media employee engagement, it's important that your employees feel safe to provide honest feedback. Their feedback is crucial to improving any elements of the program and knowing what your employees truly want. To facilitate open communication within a company, think about creating a monthly or even bi-weekly meeting for the social media participants (no matter which department) to ask questions, report observations, and provide tips. Having a safe judgement-free zone will encourage employees to have a more open discussion on what's working and what's not.
11. Report on KPIs.
If individuals are participating in the social advocacy program, they also want to know how they're moving the needle. Know what numbers you want to report on from the start so you can spot trends as the results come in. Most social media channels have tracking capabilities that make it easy to quantify your efforts. You can also add UTM codes, snippets of text that tell Google Analytics where searchers came from and from what campaigns, to the end of each content you share with employees to more easily track, measure, and benchmark the social media employee engagement efforts. Some key metrics to pay attention to are website traffic, number of followers, and number of social interactions.
Once you have the data on hand, make sure you share the results with the rest of the company. Reinforce the value of the work by connecting the KPIs to the business goals, whether that means more quality job applicants or higher employee retention. When individuals see how their efforts are actually affecting the bottom line, they'll feel a stronger sense of pride which only leads to more engagement.
—
Social media and employee engagement play important roles through the entire recruitment and hiring cycle. Social media is an effective channel to recruit passive candidates, leverage employee brand ambassadors, and build trust with potential candidates within employee networks. The CareerArc social recruiting platform enables you distribute job opportunities on social media as well as post employer brand content that your employees can get behind. Schedule a demo to learn more.