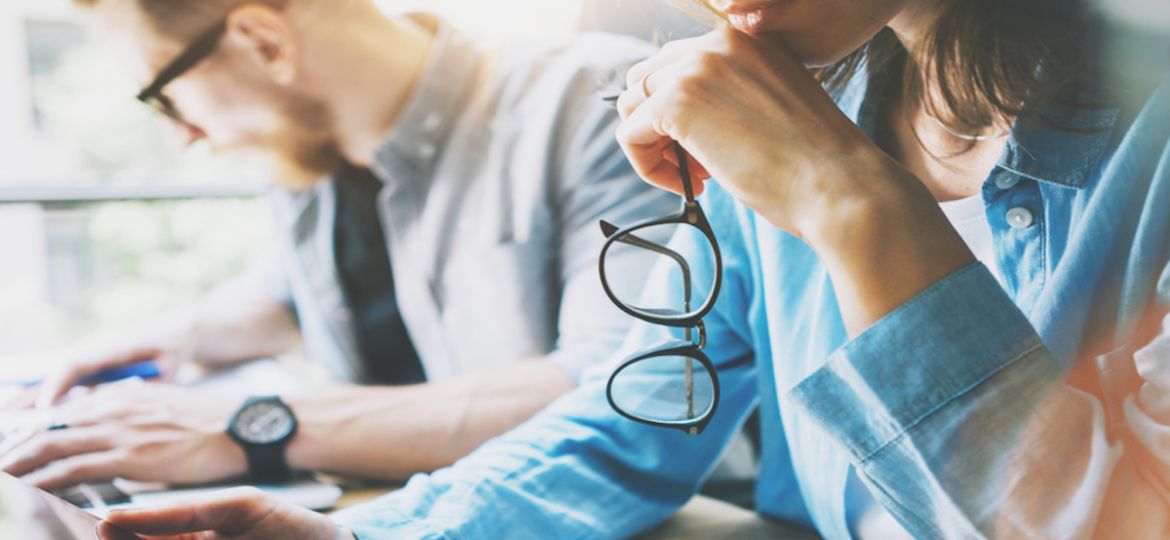 Millennials, a generation that the Pew Research Center defines as those born between 1981 and 1996, have been characterized both negatively and positively in the press. Regardless of what you might think of them, millennials are here to stay and quickly shaping the future of work . The time is now to start thinking about how to properly attract, recruit, and retain this powerful demographic.
Advantages of hiring millennials
To start, here's a multiple-choice test:
Which of the following is an advantage of hiring millennials?:
They'll soon be taking over the workforce
They bring a fresh perspective
They're motivated
They're tech-savvy
All of the above
If you guessed "all of the above," you're correct. Let's walk through each advantage one by one below.
Advantage A: They'll soon be taking over the workforce.
Millennials are making up a bigger percentage of the workforce every day. According to a 2014 Brookings Institute study, millennials will comprise more than one of three adult Americans by 2020 and 75% of the workforce by 2025.
Advantage B: They bring a fresh perspective.
A new generation of employees is an opportunity for new perspectives. Millennials are known to think outside the box, question the status quo, and look for new and improved processes. All of these characteristics are great for tapping into previously unknown areas of success.
Advantage C: They're motivated.
Millennials want to learn and grow. In fact, 80% of millennials cite personal growth as the most important quality when considering a company. This desire for personal and professional development shows in their work as they are eager to take on more responsibilities. If you're looking to hire driven future leaders, millennial workers are a strong bet.
Advantage D: They're tech-savvy.
As first-generation digital natives, millennials feel at home on the Internet. They grew up using computers, portable devices, the internet, and social media, so it's no wonder that a survey of hiring managers indicated that millennials are technologically adept. They are undoubtedly more technologically and digitally proficient than previous generations.
Why hiring millennials is so hard
Undoubtedly, the way millennials look at work is significantly different from older generations. However, rather than expect millennials to adjust to the old way of doing things, it's companies that need to do the adjusting. Here are a few reasons why hiring millennials is so hard:
Reason #1: They don't need your job.
A job interview with a millennial is a two way street: they're interviewing you just as much as you're interviewing them. A recent Gallup report describes millennials as "consumers of workplaces, shopping around for the jobs that best align with their needs and life goals." They have lots of options and they want to make sure they find a company that fits their needs.
Reason #2: They are always looking for new positions.
According to LaSalle Network's annual hiring trends report, 76% of millennial professionals are open to new job opportunities. In a sense, this is good news for a recruiter in that millennials are an interested talent pool. However, it's bad news in that millennials are always looking to see if there's something better if they are not immediately engaged with your employer brand. In a candidate-driven environment, there are plenty of fish in the sea and you need to stand out in order to be caught.
Reason #3: They change jobs more often.
The days when employees would spend decades of their lives with one company prior to retirement are long gone. According to an article from Forbes, as many as 74% of millennial workers plan to quit their jobs sometime within the next three years. That same article says that only 28% of workers plan to keep their current job for longer than five years. However, this isn't to say that millennials actually want to job hop. Rather, the issue is that companies are not giving them enough compelling reasons to stay, with 55% of this group reporting that they are not engaged at work.
How do you reach millennials?
It's clear that companies should be hiring millennials, but what's the most effective way of going about it? Here are 10 key tips to best reach millennials.
1. Show that you're purpose-driven.
More than any previous generation, millennials are in search of meaning in their work. According to a survey conducted by TODAY and fitness company Greatist, 75% of millennials believe that finding a sense of purpose in their work is more important than salary. They want to understand the company values and how their position will make an impact beyond themselves. The same survey reports that 60% of millennials believe social responsibility plays a significant role in choosing where they want to work. Corporate social responsibility (CSR) initiatives include volunteering, fundraising with corporate contribution-matching, employee resource groups, and inclusion initiatives. Communicating your organization's mission statement and the ways you are giving back will position your company as one millennials feel proud working for.
2. Invest in their personal & professional growth.
Contrary to what some companies may think, millennials don't want pingpong tables, fancy espresso machines, and free food—what they really want in a job is personal and professional development. Highlight any mentorship and professional development opportunities you may have such as tuition reimbursement, lunch & learns, educational conferences, etc. You can also demonstrate how employees can achieve short-term and long-term career goals at your company by sharing stories of current team members who have grown from entry-level to leadership roles. If millennials don't see that they can advance within your company, you can be sure that they will soon find an opportunity that will.
3. Be mobile-friendly.
Smartphones are a central part of millennials' digital lives. They are on mobile for everything from shopping to personal entertainment to social media activities—and they also use it for job searching. According to data from ConnectEDU, 56% of millennials use mobile devices as their portal of choice when visiting job search websites. If your not mobile-friendly, you're simply losing out on top millennial talent.
4. Present a realistic preview of your company culture.
Millennials want to know what the day-to-day job at a company is like before they even apply. In fact, millennials rank not being able to clearly understand what working at a company is like as their top pre-application challenge. To paint a clear picture of your company culture, share pictures or videos of employees, company events, the working environment, and more on your social media channels to give millennial candidates a behind-the-scenes look.
5. Promote work-life balance and flexibility.
In today's always-on world, forcing people to put work and life into separate boxes that never overlap is unrealistic. Millennials increasingly want to work for a company that allows the freedom to be fulfilled both professionally and personally. This can look like the freedom to work remotely if needed, unlimited PTO, or flex hours.
6. Get on social media.
According to a 2018 CareerArc study, 68% of millennial candidates say they visit an employer's social media properties to evaluate its employer brand—12% more than Gen Xers and 20% more than baby boomers. The same study also reports that millennial employees are 2.5 times more likely than Gen Xers to go on social media to share negative views of previous employers. The way millennials use social media should influence the way companies use the tool. If you're not on social media, you're simply left out of crucial conversations.
7. Monitor job review sites.
Job review sites like Glassdoor have become a key component to millennials' job search process. A strong reputation and presence on review sites sends millennial applicants a compelling message, while a poor reputation tells them not to apply. To engage with millennials who are researching your company, make sure you respond to reviews—positive and negative—and keep your Glassdoor profile updated.
8. Pay attention to candidate experience.
Since millennials have grown up alongside technology, they have high expectations of digital experiences. To keep millennial candidates engaged, job search activities should be seamless, online applications should be easy, and the hiring process should be quick. A poor candidate experience is a red flag for prospective millennial candidates.
9. Provide consistent feedback.
Part of a good candidate experience when hiring millennials is continuous communication. Millennials are already communicating all the time in real-life—be it texting, tweeting, or posting, etc.—and they expect recruiters to do the same. Recruiters should update millennial applicants throughout the entire application-to-hire process, from prompt followups after each round of interviews to feedback on areas of improvement if they didn't get the job. If your company isn't keeping millennials in the loop during the hiring process, they will likely move on with another company (and share about the experience on Glassdoor).
10. Be authentic.
Last but not least, millennials value authenticity and are looking for authentic companies. They can easily spot a company that's trying to market themselves as something they're not. Be self-aware and genuine in your approach to hiring millennials. This may require some change from the inside out, but it's a worthy endeavor. Once trust is built, your millennial employees will be that much more loyal and driven in return.
—
The CareerArc platform gets companies' employer brands in front of millennials where they are are spending their time—on social media. Amplify your company brand, values, and culture by tweeting and posting content that shows who you authentically are as an organization. Schedule a demo to learn more about the new standard in hiring millennials.