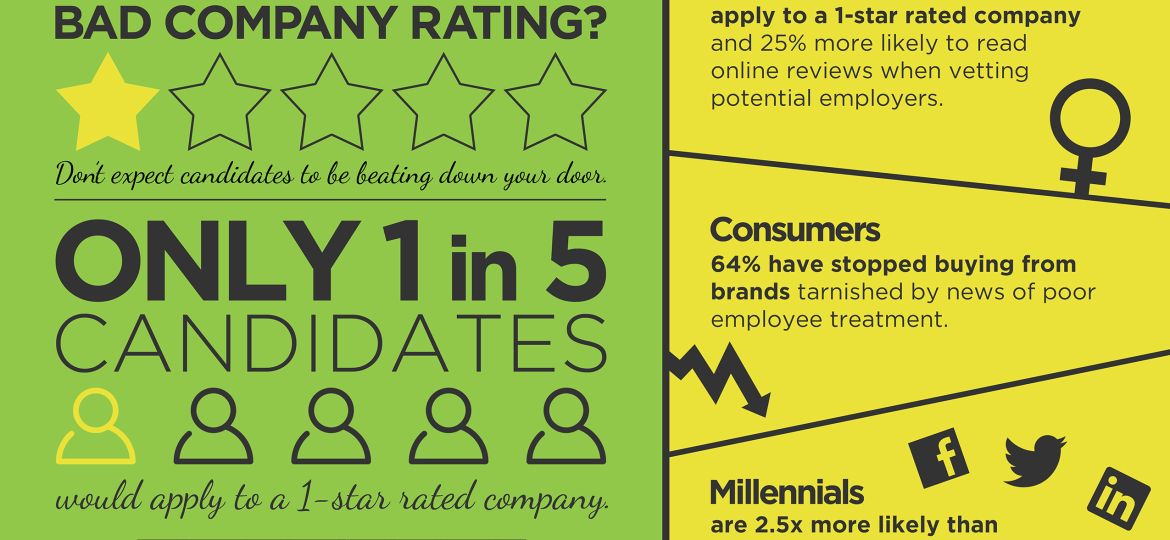 Only 1 in 5 candidates would apply to a 1-star rated company; meanwhile, 4 out of 5 employers doubt the fairness of online reviews. We surveyed over 1,160 adults to learn the causes and costs of a poor employer brand in today's competitive hiring climate.
508 job seekers and 654 HR and hiring professionals shared their thoughts in the 2017 CareerArc Employer Branding Study. Below is an infographic of the top findings as well as a summary of the top stats from the survey.
Download Your Copy of The Employer Branding Study >>
---
---
29 Key Results of the CareerArc Employer Branding Study
(Highlight to Tweet any stat below.)
Star Power: Your Employer Rating Could Be Hurting Your Hiring  
Only 21% of candidates would apply to a 1-star rated company. Only 1 in 3 (34%) would apply to a 2-star company.

86% of companies doubt the fairness of online reviews:

31% of employers claim review sites give an unfair portrayal of a company's employment practices and company culture; and

55% believe these sites give only a "somewhat fair" portrayal.

91% of candidates seek out at least one online or offline resource to evaluate an employer's brand before applying for a job.
Women More Likely Than Men to Avoid Poorly Rated & Reviewed Employers
Female candidates are 33% less likely than male candidates to apply to a 1-star rated company.

Women are 25% more likely to visit employer review sites when vetting a potential employer.

Female employees were 15% more likely to consider quitting their job after witnessing poor client, candidate, and employee treatment.
Your Employer Brand Impacts Your Talent Pipeline AND Your Bottom Line
64% of consumers have stopped purchasing a brand after hearing news of that company's poor employee treatment.

Millennial employees were 30% more likely than Gen-Xers and 60% more likely than Baby Boomers to stop purchasing or promoting an employer's products due to a poor employee experience.

65% of adults say they would be less likely to purchase goods and services from a company that had laid them off.

96% of companies believe employer brand and reputation can positively or negatively impact revenue, less than half (44%) monitor that impact.
U.S. Adults Impacted by Great Recession Are More Likely Jobless Today & Anxious About Tomorrow
43% of employees who were laid off during the Great Recession say they still harbor a negative perception today of the company that let them go, nearly 10 years later.

Respondents who say they were negatively impacted by the Great Recession were also:

44% more likely to be unemployed today;

2.5x more likely to believe another significant recession will occur in the future; and

2.5x more likely to give their current employer a 1-star rating.
Negative Reviews Triggered By Poor Layoff Experiences Has Nearly Doubled in Two Years
The proportion of candidates who reported shared that negative perception with others nearly doubled to 66%; in the 2015 CareerArc Employer Branding Study, only 38% of job seekers had reported sharing their negative views.
Employees who were given outplacement or career assistance following a layoff were 38% less likely to harbor a negative perception of their former employer.

Those who received outplacement and career assistance were also 3x more likely to continue purchasing that company's offerings after the separation event.



Two Years Later: Millennials Are Even More Jaded By, and More Vocal About, Being Let Go
While baby boomers are twice as likely than millennials to report having experienced a layoff or termination in their careers, millennials are 22% more likely than baby boomers to develop a negative perception of the employers who laid them off–an increase of 14%.

Millennials are 2.5x more likely than Gen-Xers to share negative views of past employers on social media.

Overall, millennials were:

less likely to apply to a company after reading poor employer reviews;

more open to switching jobs after witnessing poor employer practices; and

more likely to share their opinions of employers on review sites and social media compared to Gen-Xers and baby boomers.
Facebook Tops the List of Most Frequented Sites to Research Employer Brand Beyond Company Website
The most popular go-to resource to learn about company brand and culture is, once again, the company's online presence, website and social media, with 63% of Job Seekers reporting that they visit these sites after learning about a job opening—an 11% jump in two years.

The most visited site beyond the company's website when researching a potential employer was Facebook (47%), followed by Employer Review Sites (41%), and then LinkedIn (28%).

68% of Millennials visit employer's social media properties specifically to evaluate the employer's brand, 12% more than Gen-Xers and 20% more than Boomers.

Millennials are also twice as likely than Boomers and 50% more likely than Gen-Xers to research beyond the company website, visiting an average two social media platforms or review sites before deciding to apply.
Unhappy Employees Also Most Typically Apply for Jobs Blindly

Compared to the "happiest employees" who rated their current employers with 5 stars, the "unhappiest employees" were:

2.5x more likely to apply for a position without performing additional research about a potential employer.
44% less likely to say they consider a company's employer brand before applying for a job.
Over twice as likely to be actively looking for a new job today.
Conversely, the "happiest employees" are more discerning about the next company they work for:
84% perform additional research before applying for a job.
40% more likely to perform research beyond the company website.
"We live in an age where the decisions we make about where to eat, what movie to watch, and—now—where to work will likely be influenced by an online rating or review generated by peers, not companies. This reality illustrates the shifting balance of power from employers to employees who—emboldened by a recovering labor market—are growing more vocal and demanding of the companies they work for. Organizations that continue to neglect their employer brand and reputation, especially those looking to hire from the millennial-majority workforce, risk losing out on the best talent today, and even more so tomorrow." –  Robin D. Richards, Chairman & CEO of CareerArc.
Survey Methodology
This survey was conducted online within the U.S. 1,162 respondents comprised of 654 human resources and hiring professionals and 508 adults ages 18 and over (51% Female, 49% Male; 44% Millennial, 29% Gen-X, 28% Baby Boomer) participated between September 18 and October 16, 2017. The study re-examines and expands upon the results published in the inaugural 2015 CareerArc Employer Branding Study.