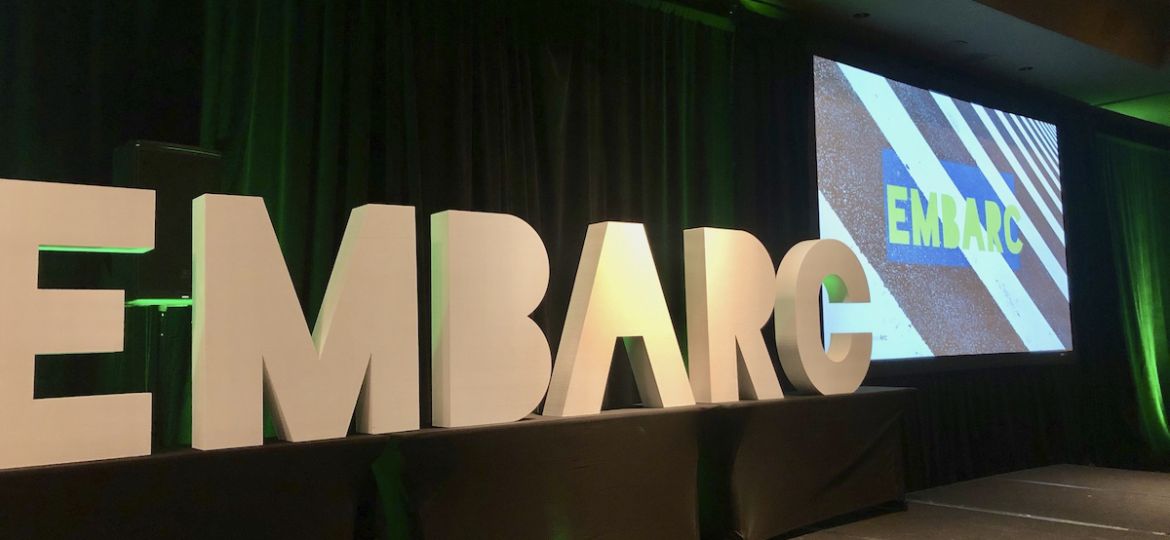 Blockchain technology, more video storytelling, a growing remote virtual workforce. Those are just some of the exciting trends you can expect in 2020, according to today's HR tech industry luminaries and practitioners who shared their insights at the inaugural EMBARC HR Innovators Summit.

Presented by CareerArc, EMBARC drew more than 100 HR professionals together at the W Hotel in Hollywood earlier this month for interactive sessions, hands-on workshops, and new connections. Speakers and panelists discussed everything from communicating HR outcomes to the C-suite to determining the ROI of recruitment marketing to social recruiting best practices, and more. The three-day event created a meaningful and actionable forum for pushing the boundaries of recruiting and transitioning talent.

In keeping with the Hollywood setting, EMBARC also featured splashy entertainment—and a celebrity! The event kicked off with a cocktail party on the rooftop pool deck, where an acrobat performed in a large transparent bubble floating on the water. The next morning, attendees were treated to a fireside chat with America's favorite HR manager, The Office's Toby Flenderson—also known as actor, screenwriter and producer Paul Lieberstein. Paul shared stories and ideas for finding humor in workplace dysfunction, then gamely posed for photos with fans during a meet-and-greet. Matt Stone, Senior Recruiter at Armanino LLP, posted his photo op on LinkedIn which generated over 3k likes in just a few days!

Throughout the event, we asked HR innovators in attendance what they are most looking forward to in 2020. Here are some of the most compelling and memorable predictions.
Bryan Adams, Ph.Creative, CEO and Founder
"I predict a focus on regrettable loss—not measuring attrition or retention in a broad sense, but really drilling into the specific metric of regrettable loss, which is the number of people who leave an organization that you really wish would stay. Once we get clarity on that number, we can start to dig a bit deeper and find out why. Then we'll see cultural change based on the right motivations. That is my big prediction for 2020."

Nicole Rhoda, Grand Casino Mille Lacs & Hinckley, Talent Acquisition Manager
"I think it's really exciting that the role of HR is evolving to be more innovative and creative. Companies are on the right path and we're now seeing roles like chief people officers and chief talent officers that we didn't see before. Today's HR professional does not have a traditional role. They don't have a traditional degree like business management—I actually have a graphic design background—because recruitment is creative."

Judeann Bodell, 3 Day Blinds, Director, Organizational Development
"We're thinking a lot about messaging and how that's received, not just from a branding perspective but also just being sensitive to how it will be interpreted by audiences that are very diverse and divergent…. I think this requires a consciousness and a social consciousness and inclusiveness that's really important."
Shally Steckerl, The Sourcing Institute Foundation, Founder
"I'm curious to know more of what's going to happen with the gig economy and contract labor. We're so focused on full-time employment and a lot of companies are geared towards that, but there's a pretty large contingent of population that doesn't necessarily want that or need that. They don't mind having different jobs, and that's definitely going to create a shift because we're still going to recruit and hire those people—we're just not hiring them on salary. There's a whole aspect of resource management and recruiting that I don't think is being explored a lot."

"I'm excited to continue growing communities, so I think as technology continues to increase how we're able to network and communicate more with each other, we'll eventually raise the bar in the community. My goal ultimately is, I want to be the tide that raises all ships. So I'm looking forward to what's coming down the pipeline as it relates to EI and AI [emotional intelligence and artificial intelligence] and combining the two of those together."

Katy Kelsay, Senior Star, Director of Human Resources
"We are looking at a pretty extreme candidate shortage, specifically in healthcare, so we need to think about how are we going to tackle that issue, how are we going to retain the people, and how do we make sure we're bringing on the right person. I think we're going to have to put more focus on employer branding to reach more people that are not otherwise looking for us. The job satisfaction is pretty high across all companies, so there's not a ton of people who are actively looking to switch. So we're trying to get at those people in a different way."

Jon Thurmond, Team Fishel, Mid-Atlantic Regional Human Resources Manager
"What I'm looking forward to is the continued use of video to tell our stories, particularly from a recruiting perspective. Storytelling has become so much more critical, particularly when we're trying to get those candidates that are not necessarily looking. How do we get them engaged and interested? That's one of the most exciting, inspiring things for me—the use of video, the continued idea of marketing. Employer brand is not separate anymore. It is who you are. That's really come to the front, so I'm excited about that."

Sabrina Baker, Acacia HR Solutions, Founder
"My work is in small businesses and startups, so I think I'm most excited about the amount of tech that's now becoming available for those smaller environments. That is an underserved market and has been for a long time. Now, we're seeing companies that are offering great products even for the smaller organizations, so you're going to have companies of all sizes that are able to have really cool social recruiting platforms and really cool applicant tracking systems."

Ellen Sheehan, HAART at UCLA, Executive Director
"I think technology is going to keep leading the way. We will see HR using technology more. AI is going to become more integrated into how HR delivers their product. We'll have chatbots more. And the next thing that will be coming our way soon is going to be blockchain. So in the technology world, that is where HR needs to really get on board and get their procedures and processes aligned, so they can impact all of it."

Bernadette Barber, Fuller Theological Seminary, Executive Director of Human Resources and Organizational Development
"The remote virtual workforce will become key in 2020. We need to ask, what does it mean to do HR for this group? Of course, there are the very technical issues we need to take care of like payroll process and such, but really, the bigger issues are: How do managers manage, how do you develop the teams, how do you collaborate? We'll need to have all the technology tools to be able to enhance and keep that collaboration and innovation alive."

Elliott Garlock, Wayfair, Global Head of Employer Branding
"I actually don't think anything will be any different in 2020 than it is today. But I do think that over the next maybe three to five years, things will start to get to a place where the dream of a smart talent organization will become much more within reach than it has been in the past. As a few of the more progressive companies break out and actually make it happen and prove that it can be done, then I think there will be other companies that will be able to fast follow behind that. Maybe three, four, five years from now, that'll happen. I think until then, it'll be continued incremental changes."

Tangie Pettis, Aspen Dental, Senior Manager, Strategic Talent Sourcing
"One of the things I believe will be more prevalent in 2020 is the fact that AI will not necessarily replace anyone in talent acquisition. I believe, by 2020, everyone will start to see AI is something to enhance what we do on a daily basis, whether it's HR automation, recruiting automation, or even sourcing automation."

Kelley Lau, Kaiser Permanente, Marketing Consultant
"I think today's recruiting world has changed and so we need to kind of change with it. The last session on AI and technology opened my eyes to what's out there. It's great to see how some of those ideas work and to start thinking about how we can build an ecosystem for our company and move forward with that in 2020."

Robin Richards, Chairman and CEO, CareerArc
"I think what I'm excited about in 2020 is the understanding that I'm seeing in the HR community that social is here, and is here to stay. We can now focus on how we harness both the value and the difficulty of the social networks to get us better employees, help employees stay happier, help transition employees properly, all in a place where the entire world is hanging out."

—

Missed EMBARC this year? Join the fun and conversation at our next summit! Subscribe to our newsletter below and follow us on Facebook, Instagram, LinkedIn, or Twitter to be the first to find out when registration opens.