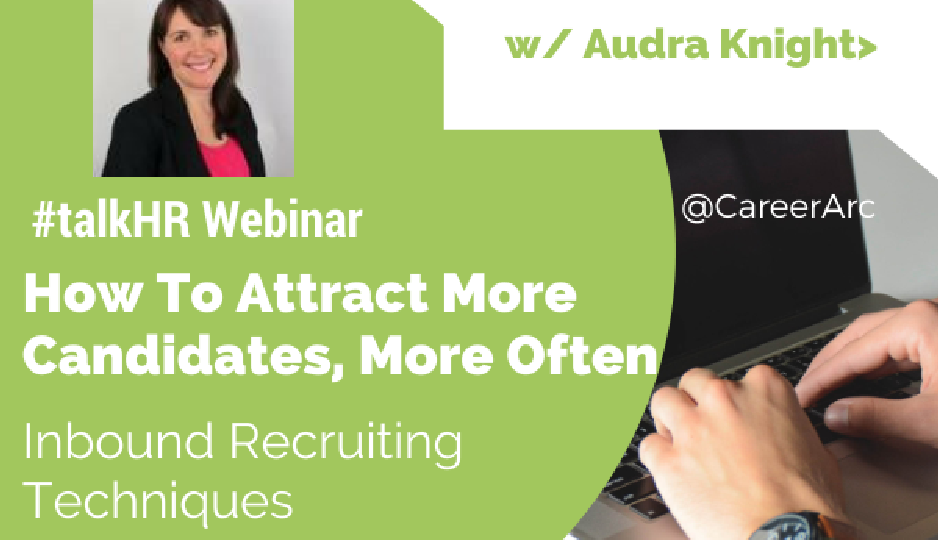 As competition for new talent continues to grow, talent acquisition professionals are searching for new ways to acquire candidates. However, sometimes the best way to reach new talent is to have candidates come directly to you.
Now, you might be thinking to yourself, "Only big corporations are lucky enough to have candidates reach them organically." But while the company's size, budget, and bandwidth have historically pulled in more talent with less effort through sheer brand awareness, today's top candidates are more selective in finding the right fit for their skills and leadership styles, thus making an employer's brand messaging and medium more important than size alone.  Essential to gaining this competitive advantage is an effective inbound marketing strategy.  
Talent acquisition and marketing professionals joined our Social Recruiting 201 webinar hosted by Audra Knight (@media2knight), a recruitment marketing and operations leader at Tenable, to learn how to craft and deliver targeted messaging on social media that converts to more qualified candidates.
To help recap the webinar, we've highlighted below the top shared #talkHR tweets from the webinar.
The Inbound Recruiting Funnel: Where More Applicants Equal More Advocates
Who doesn't love a good funnel? 💚 #recruitmentmarketing #talkhr pic.twitter.com/uVSn16Rq8U

— KRT Marketing (@krtweet) September 20, 2017

Audra kicked off the webinar introducing attendees to the Inbound Recruiting Funnel, a twist on the traditional sales funnel. She breaks down each stage of the funnel with the goal of not only having warm leads ready for when you need to hire, but also having ready advocates for your brand to encourage those in their network to take notice of your opportunities. Notice how the Apply stage is not the end goal, but creating Brand Advocates who build loyalty, enhance awareness, and apply again is the real end game.  
KRT Marketing (@krtweet) screenshot set the tone for the remainder of the webinar and reminded attendees the importance of keeping your employees happy so they can become your best brand advocates.
Access the Social Recruiting 201 webinar recording and slides >>
Employment Branding 101: Be Clear, Be Bold
Go bold with #EmploymentBrand videos! Let people opt in AND OUT! My fave > https://t.co/14klyiCirY #TalkHR pic.twitter.com/pRa1xr2y81

— Audra Knight 🤘 (@media2knight) September 20, 2017

The most entertaining tweet came from Audra's post referencing Betabrand's employer brand video. The video promotes their fun work environment characterized by their, now infamous, No Dress Code Policy. In the video Betabrand employees and leaders alike wear, shall we say, "interesting" clothing and apparel. The video was meant to be over-the-top not only to draw attention but more importantly to draw the right attention of the culture-fit candidates who have the same sense of humor. Bold campaigns like this video are a double-edged sword, and they are meant to be: As Audra's tweet reminds us all, effective employer branding lets potential applicants opt-in, and out. So be bold (and preferably funny).  
Most Quotable Tweet of the Webinar
Your #content should always add value, entertain, and engage candidates. They don't want to see ads or be sold to! #talkhr pic.twitter.com/yKFjH8Bure

— KRT Marketing (@krtweet) September 20, 2017

We couldn't have said it better than KRT Marketing. Posting content daily on social media is a great goal, but an even better goal is to post content that keeps your audience engaged creating and curating content that adds value and speaks to your specific audience will help increase the number of followers, retweets, and shares.
Stumped on what to post? Audra walked through some examples what types of posts encourage engagement on Twitter, Facebook, Instagram, among others, and how to optimize and target your ideal audience. Watch the playback now. >>
Best Recruitment Marketing Tools
Having a content calendar can make your life easier by scheduling your posts ahead of time so you never miss important dates! #talkHR pic.twitter.com/m5UVV1JMBK

— CareerArc (@CareerArc) September 20, 2017

Now that you have amazing ideas for content to share, it's important to stay organized. Success in social relies on both consistency and variety — your audience must hear from you often while never tiring of your message. To keep yourself, or your team, on a sustainable pace and track, Audra recommends using a content calendar. She highlighted CareerArc's Engage Module, shown in the tweet above, which allows you to schedule and distributes content across a company's social media accounts with the added benefit of inserting trackable links that route candidates directly to your job postings.
Want to amplify your reach? Make sure you add hashtags to your tweets. Audra recommends Hashtagify to help identify the best hashtags to use to increase your tweet's visibility.
A Recruiter's Rule of Thumb
It's important as a recruiter/sourcer to be able to "walk the walk and talk the talk"when it comes to your company's brand. #talkHR pic.twitter.com/H9tCfYhSqI

— Chelsi Molina (@ChelsiMolina) September 20, 2017

Audra covered the best practices for content curation, employer branding, and engagement, but best practices also apply to recruiters and sourcers who act as ambassadors of employment brands. So don't forget to practice what you preach. Showcasing how amazing your company culture is great but as Chelsi (@ChelsiMolina) explains it, recruiters/sourcers must be able to "walk the walk and talk the talk" when it comes to your employer brand. If you convey the importance of caring for your employees then you should also treat your candidates the same way.
Related: The State of Candidate Experience Study 
Want to differentiate yourself from your competitors? Watch now >> Content Marketing for Talent Acquisition: How Content Drives Qualified Hires, and Buyers, to Your Door