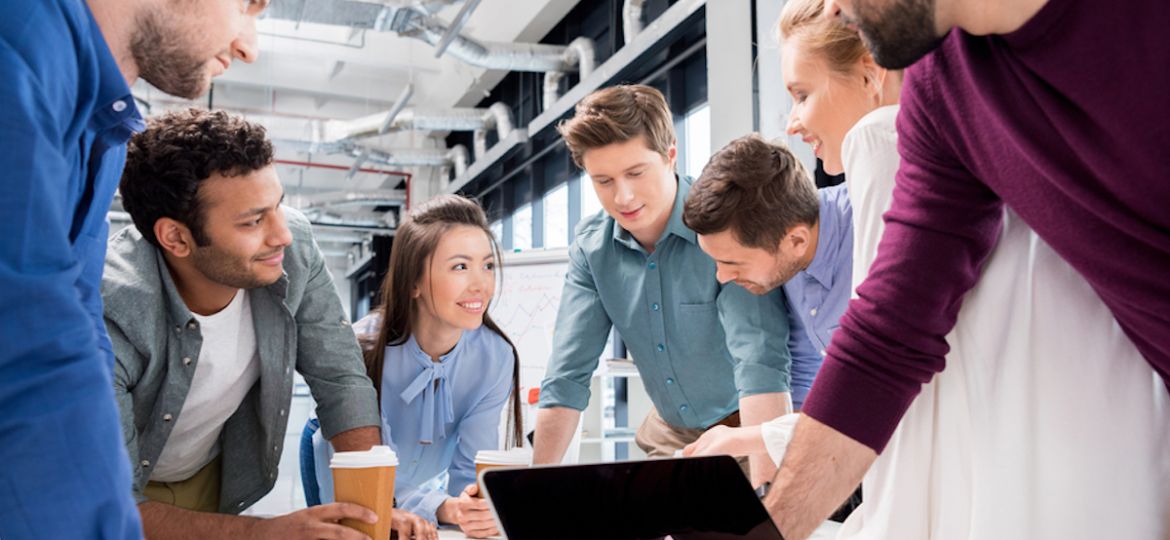 There is a misconception that HR and recruiting professionals' jobs are done when new hires accept an offer. Today, it's not simply enough to attract and hire potential candidates—you must also make that employee feel welcome long past day one by building their morale over time and retaining them as top talent. While the new employee's team and manager will show them the ways of their direct responsibilities, there are other components to onboarding that fall outside of day-to-day duties. Overlooking opportunities for team building within an employee's first few weeks could result in an early exit. And outside of not wanting to lose a new hire before they can reach their full potential, hiring new talent is more costly—in time and money—than retaining existing employees.
While you may think that the first few weeks are the most exciting and engaging for a new hire, it can actually be a confusing time. It's been found that about 22% of new hires are unlikely to recommend their new employer to a friend of family member after the initial onboarding experience. Implementing a team building strategy is a great way to keep new hires engaged and help them assimilate. Team building can also help develop new employees' communication styles so that they can start adding value to your company sooner than if they were left to navigate your corporate structure on their own. 
Below are three reasons why team building is important and how it can benefit new employees and your company as a whole. Plus, take a look at some team building ideas to make a new hire feel welcome and further assist them through the onboarding process.
1. Team building exercises facilitate communication.
The goal of team building is to help create a positive working environment so that individuals can work as a cohesive group, and communication is a key component to any team's success. Anything a company can do to strengthen interactions between individuals will ultimately strengthen the entire team's output. Beyond how teams function within themselves, often times individual departments can become preoccupied with their own workflow and goals and unintentionally ignore the resources and objectives of other teams. Cross-departmental team building can help broaden the reach and influence of new employees. And what better way to ingrain that ideology within a new hire than at the start of their journey at your company?
Exposing a new hire to multiple areas of the business through names and faces—in place of corporate email addresses—can encourage a more organic collaborative environment. For example, let's say a new member of the marketing team was in the same team building group as an app developer for the product team. The two individuals don't work together on a daily basis, but while brainstorming for a brand marketing campaign the new hire remembers meeting the team member from the app team. That person is then inspired to reach out and utilize an app feature within the campaign. The connection between these two individuals that was formed at a team building event was able to impact the business in a positive way, even if not immediately. 
As the Harvard Business Review reports, there are three aspects of communication that affect team performance: energy, engagement and exploration. Facilitating productive lines of communication through team building can help establish engaging opportunities for employees to use their creative energy and explore beyond team boundaries. You may also want to consider adding some established team members as a part of onboarding team building exercises. They can represent your company culture and help new hires feel more at ease. It can also help to have a seasoned employee to reach out to as an additional resource.
2. You can develop relationships through team building activities in and out of the office. 
Team building is important to help foster a new hire's enthusiasm. Once they're acclimated and invested, they can hit the ground running—and keep the momentum going. Onboarding strategies in the office can help familiarize a new hire with the brand and its teams, but it's important to also place a focus on OOO (out of office) opportunities too. Team building events, like volunteering at a local shelter or participating in a corporate run, can help encourage authentic connections between team members. Having a baseline connection outside of the office can help encourage positive working relationships once everyone is back at their desks.
While offsite team building events are great, they can take a good deal of effort to plan and money to execute. Set or pre-planned break times can offer a simple way to encourage team building in a casual atmosphere without all of the fuss. Team break times can encourage people to spend more time with their coworkers away from their workstations in a casual setting. Placing an importance on personal connections may ultimately help your new hire feel more personally connected to your business.
3. Team building exercises can build trust among new teams. 
It's important to keep in mind that if you add one person to your team, you have a whole new team—not just one new person. This idea serves as a reminder that team building is important for existing employees as well. 
A new person coming in may not trust a team that has been working together for months or even years. On the flip side, that team may also be leery of a newcomer. In these situations, it's important to build trust. Collaboration is more free-flowing when working with trusted partners, and a team will only get so far if they are not willing to work together. According to the Harvard Business Review, successful teams share several defining characteristics, one of which is everyone talking and listening in roughly equal measure. Another characteristic of a successful team is team members being connected directly with one another and not just their leader. Team building exercises that require equal levels of participation across all levels of a team help develop and strengthen these kinds of successful working relationships. 
Conclusion
So, why is team building important? Essentially, the best team building activities can break barriers. When employees work as a team and are not siloed, their work atmospheres can be more productive and positive. And when employees are working together in a healthy environment, they are more likely to spend time in the office with their coworkers—and less time browsing job openings. It's a competitive job marketplace, and with all of the time and money companies are spending to get employees, keeping them is also becoming part of the recruiter's job.
Look to team building activities to help make your new hire feel welcome throughout the onboarding process. Outside of the standard welcome package on the first day, you can also think about including personal elements along with company swag. Do you know their pet's name? Maybe include an engraved frame for them to proudly display on their desk. You can also consider company trainings where you can show a new hire fundamental elements of the business, like navigating the intranet and sharing standing company event dates. Another way to make new hires feel more comfortable is to assign them a mentor. Consider this person more of a representative of the brand, compared to a professional leader. They could even work on another team or in another department. 
And remember to ask for feedback. Planned touchpoints can help both you and your new hire understand expectations and how to deliver better results.
Looking to revamp your employer branding strategy? Contact CareerArc to learn more.