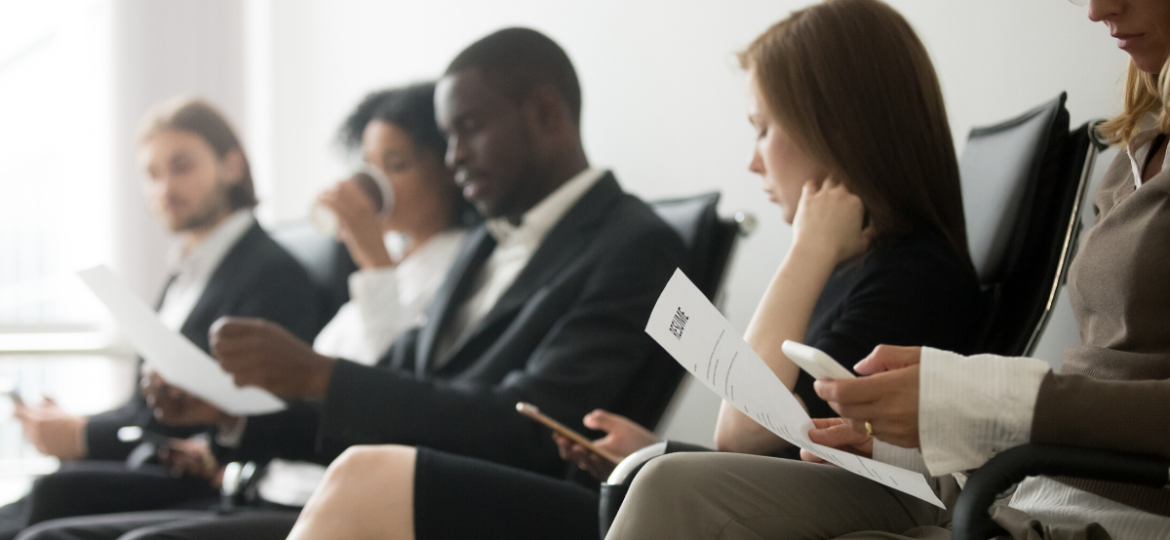 The coronavirus pandemic has prompted massive layoffs which have sent millions of people back into the job market. In under a month, U.S. unemployment claims reached 26 million, effectively erasing all job gains since the 2008 Great Recession and likely signaling the start of a new historic recession. 
The candidate-driven labor market has flipped from one of record-breaking low unemployment rates, to now record-breaking highs in joblessness. Employees at all levels have been impacted, and talent that was once hard to find—and even harder to attract and engage with—are now actively looking for jobs. In addition, employees that remain at companies that have had to undergo a recent reduction in force (RIF) may also be surveying the market for opportunities that could offer more stability amidst this crisis. 
While the effects of this crisis are widespread, companies will have varying talent needs and goals in a recession and may need to act now to minimize turnover risk and hiring costs, and maximize the potential talent opportunities even during a downturn.  
Whether you've undergone a hiring surge, hiring freeze, or even a layoff, you can position yourself now for your current and future talent acquisition strategy. Forward-thinking companies are wisely planning ahead for when hiring demands return and identifying opportunities to also get ahead of the competition by finding high-value, hard-to-find talent first. This is the moment to connect with top talent who are, or may soon be, on the move. 
Hiring and employer branding goals don't end during a recession, they evolve. 
Companies that are hiring will most likely see a natural uptick in applications, and with this expectation, some employers may choose to wait and see the caliber of talent that enters their applicant tracking system (ATS). However, the most proactive recruiters and talent acquisition leaders who want a chance at the best candidates available in this new market will need to reach beyond job boards to find them. 
Why? Because even in this climate, candidates don't simply want a job, they still want the job—one that offers as much stability as possible as the economy nears a recession, provides a step up—or even a lateral move—in their career, and boasts a positive employer brand and reputation. 
Some of the most impactful and immediate ways to proactively reach top talent in this climate is to leverage your available networks—social networks, talent networks, and employees' networks.
1. Social media usage is surging. Take full advantage of your social presence and social recruiting reach. 
Candidates will be leaning on their personal and professional networks to be the first to learn about promising job opportunities, and so it's important to increase your chances that the peer  networks candidates are tapping are referring back to you.
Social media traffic has surged as stay-at-home orders put in place across the globe have prompted many to connect with one another online through platforms like Facebook, Instagram, and Twitter, which have experienced an unprecedented spike in usage. Companies that leverage social media to promote their open jobs and talent brand can take advantage of the increased traffic by ensuring their profiles and pages are up-to-date and by posting relevant content that showcases their company culture, values, and opportunities. When posting jobs on social media, be sure to apply the best practices for optimizing each post so you maximize the potential for reach and engagement. 
Depending on the number of open jobs you have, manually crafting and optimizing each post can quickly become a labor intensive task. Consider solutions that can help you seamlessly automate social job distribution and assist you in crafting high-impact content posts that drive candidate engagement. CareerArc's integration with Facebook Jobs allows companies to maximize candidate reach on Facebook and deliver a full job search experience, from job discovery to application, all without ever leaving Facebook.
2. Employees are motivated to help their peers. Leverage employee referrals.
Employee referral programs are ranked by 88% of employers as the #1 best source for above-average applicants and credited for saving companies $3,000 or more per hire.  This is an ideal time to activate your brand ambassadors, as many of your employees may be looking for ways to help their peers navigate the job market and are thus more motivated to share your open jobs with their network. 
Launching a simple employee referral program can help introduce you to top talent through a trusted peer—your employee who is empowered to identify and vet the right talent for you. Social media is a powerful vehicle that can boost the reach and efficacy of traditional employee referral programs and can deliver the added benefit of raising your brand awareness with every job or referral link shared on social platforms. 
3. Candidates are actively exploring new opportunities. Set up a talent network to capture candidate interest for immediate or future hiring needs.
Setting up a talent network is a worthwhile investment whether you're hiring now or wisely building a talent pool from which to source candidates in the future when hiring needs return. A talent network is composed of a group of candidates who have opted in to the network to learn what it's like to work at your company, tips on how to apply for a job and progress their candidacy, and relevant job opportunities. 
For companies, talent networks represent a community of engaged candidates who have indicated their interest in working for the company even if they have yet to submit an application. Organizations can then nurture candidate interest by communicating employer brand content and opportunities immediately or at a later date. Talent networks are often powered by a candidate relationship management solution (CRM) that lets you send different emails to segmented audiences so you can tailor the content for particular types of candidates and schedule one or a series of emails to send at a specific time.
If you are considering launching or upgrading your talent network and CRM, invest in a solution that offers a branded experience that ensures an easy sign up process and which allows you to quickly create email campaigns based on the information you receive from each candidate—such as the candidate's profession and career interests—so that you can deliver relevant, personalized content from the start. These targeted messages will encourage candidates to engage with your brand more often and more meaningfully
Lastly, ensure your candidate relationship management solution (CRM) offers email marketing capabilities that can segment candidate audiences based on specific criteria so that you can organize your outreach methodically and maximize the opportunity to craft more personalized messages to targeted candidates so they engage with your brand more often, and more meaningfully. 
4. Leverage technology to power your talent and branding efforts.
To maximize your time and effort, try to automate your recruiting strategies as much as possible so you can better manage and engage with the increased candidate traffic to your social posts, career sites, job pages, and ATS. As mentioned above, everything from automating and optimizing social job distribution, managing employee referral programs, and setting up a talent network to capture and nurture candidates can all be supported by technology. 
It's also a good time to consider new tools and review your existing software and solutions for new features or upgrades that can assist in areas you may have not needed to support before but could help fill a gap now. Talent teams that have been impacted by recent layoffs and furloughs and are now needing to operate with less bandwidth and resources can benefit from investments in technology. Remember to evaluate solutions on their flexibility to handle multiple use cases and ease of implementation. You want talent and recruiting solutions that can provide immediate assistance today and that can easily scale later when hiring resumes and talent teams ramp back up.
5. Top candidates and employees are observant and selective. Continue to invest in your employees and your employer brand to earn trust and build a resilient culture. 
"How did you treat your employees during COVID-19?"
This will be the most popular interview question post-COVID-19 according to the expert panel on our recent webinar, "How to Use Employer Branding Under Pressure." As you continue to conduct candidate interviews, it's wise to prepare for this question now and think about the answer you would like your company to have so you can work towards that ideal. 
It's likely that your current employees are already asking this question today and observing how closely your actions align with company values. Prospective and existing talent are watching how companies manage this crisis. Employers who are able to authentically support their employees and also tell the story of how they are leading and navigating this crisis alongside their people will be able to attract and retain the best talent. 
Our webinar panelists also shared their tips on how to tell compelling stories that not only highlight your unique employee value proposition (EVP) but can also more effectively communicate the type of talent you are truly seeking. With a larger, more active applicant pool, it is more important than ever to authentically depict the benefits and the challenges of the job so that your branding and recruiting efforts can assist in attracting not just any candidate, but the right candidate, for the job. Updating your employer brand messaging and job descriptions to share the most accurate picture of what the job demands helps ensure the most qualified apply so that you and your team can focus on evaluating a pool of high quality candidates. 
Lastly, make sure to listen. Listen to your employees, your candidates, and professional networks, and monitor online and social mentions. Monitor changes in Glassdoor ratings and reviews, and learn when and how to respond accordingly. Watch our webinar, "Glow Up Your Glassdoor webinar" for best practices, and learn how to integrate an employer review program into your talent engagement strategy. 
6. Care for your impacted employees. They may be your ideal hires post-recession and can remain loyal brand ambassadors even during a downturn. 
Some companies may need to continue making difficult decisions throughout the course of the crisis, which could include more layoffs and furloughs. These cuts in valuable talent are deepened by the loss in training and experience that employees have accumulated for years at a company. Many organizations aim to maintain good relationships with those who have exited the company in hopes of rehiring many who have been impacted once the economy recovers and protecting their employer brand and reputation. 
One of the ways employers strengthen their brand and maintain relationships post-layoff is by providing a complete severance package that includes outplacement assistance to support their employees with their job search. An outplacement solution and program that offers virtual services such as unlimited one-on-one coaching, resume help, and interview preparation tools can improve your employees chances of landing a job now while increasing your ability to maintain a positive brand impression and extend goodwill to employees. 
Beyond offering outplacement benefits, make sure to check in periodically with impacted employees, readily offer recommendations to those you've worked with closely, and tap into your own networks for leads on promising opportunities. The employees you help transition may be placed at a company they love right away, and may still consider returning to your organization, or sending talent your way, when you resume hiring. 
7. Care for your candidates. Invest in the candidate experience to assist those navigating an unprecedented job market.
Candidates today face one of the toughest job markets in recent history. For many, landing a job may take several months after a layoff and can be particularly challenging for those who are navigating their job search without career assistance like outplacement services. 
Caring for the candidates who have taken their time to apply to your company or sign up for your talent network is one of the best ways you can help job seekers today. Whether you're continuing to hire, or have paused hiring for now, this is the right time to review your current candidate experience flow and the systems and software that support it. 
Check for any points of unnecessary friction or delays in communication. How many clicks does it take to complete an application? How many days does it take to notify a candidate of the status of their application? Even the simple improvement of automating an email confirming receipt of a candidate's application can impact hundreds of applicants who are waiting to hear back from companies like yours. 
CareerArc clients can also offer prospective talent Candidate Care—a platform that offers job seekers career search tools like resume builders and interview tips that increase their chances of landing a job. Companies who offer this service to candidates easily extend their ability to care for each prospective candidate that signs up for their talent network or applies to a job without impacting their talent or technical teams whose resources may already be constrained.
During a recession, the average number of candidates who apply to a job will increase. If left unchecked, the candidate process you have in place may communicate the wrong brand impression and further impact applicants who navigate a challenging job climate. By leveraging each opportunity to provide more value to candidates, employers can immediately improve each candidate's experience and make a lasting impact.
In an economic downturn, talent acquisition and employer branding activities shouldn't halt completely. They must evolve. In many cases, this is the right time to invest in technology and resources in these areas to systematically build a pipeline of talent and retain the talent you have. Talent opportunity abounds even during a recession, and those who proactively seek out that opportunity are poised to benefit most. 
Learn more about CareerArc Social Recruiting and CareerArc Outplacement.