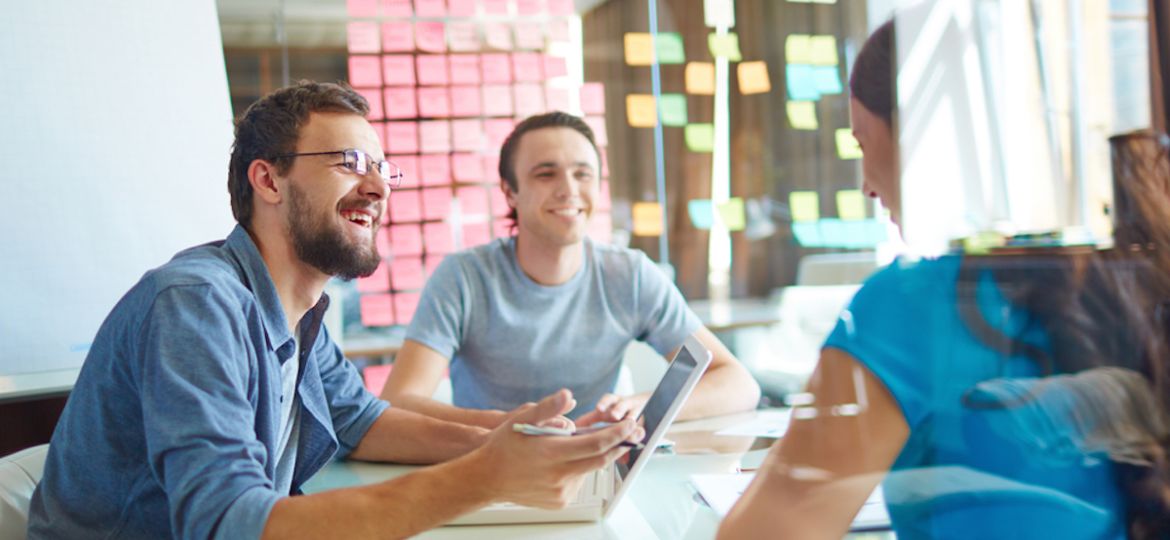 Need recruiting ideas for hourly employees? You're not alone.
In the United States, 78 million people, or 59% of the workforce, are hourly workers. For many employers, these hourly workers may even be the lifeblood of their company. They interact with customers on a daily basis and perform the ongoing tasks that keep things running smoothly. However, even though hourly positions are important, they can be increasingly difficult to hire for and companies are struggling in maintaining the workforce that they need.
Currently, businesses are in a battle for hourly workers who are a major driver of the economy in the U.S. In October 2018, the number of job openings in America reached over 7 million, and will soon exceed the number of active job seekers. For employers, this means a shrinking labor market that is extremely discerning about where they choose to work, and a potentially higher level of attrition as employees jump from company to company in order to get the best experience and benefits.
Additionally, turnover of hourly workers is one of the industry's biggest workforce problems. In a survey by Society of Human Resource Management, respondents reported that the average annual turnover for hourly workers is 49%, which is an average cost of $4,969 per employee.
Luckily, there are a variety of things you can do to streamline the hiring process and aid retention. Here are top recruiting ideas for hourly employees.
Go for Speed and Simplicity in Your Application Process
Part-time workers will abandon an online application if it's too lengthy or complicated. It can be frustrating for applicants to fill out an application that is not mobile-friendly or feels too long for the job they are applying for. Add to this shortened attention spans and you may have an increase in candidate drop-off.
Top recruiting ideas for hourly employees include a quicker and simpler application process. The more streamlined the process is, the more attractive it will be to hourly workers and the more likely they are to complete it. The key to simplicity? Streamlining! Keep your application short, sweet and to the point and integrate social profiles to help make the process even easier. Also making your application process mobile friendly is a must, as a growing number of candidates are using their smartphone to search for work.
Stop Requiring E-mail and Embrace Text Messaging
Hourly employees are more likely to apply via mobile than professional-level employees. Why? The mobile device might be their only connection to the Internet. This means it's more important than ever to ensure applying via mobile is fast and easy.
Top recruiting ideas for hourly employees includes mobile optimization. Most people have a cellphone number even if they don't have a computer so consider a text to apply option that makes it even easier for candidates to apply.
Optimize Your Job Descriptions and Highlight Relevant Experience
Did you know that 61% of entry-level jobs require 3+ years of experience? This can disqualify candidates who are new to the workforce before they've even applied. Ensure that the experience you're expecting from your part-time workers makes sense with the hours and pay that you're offering. Keeping these things in alignment can help prevent a loss in applications. Be transparent about the role and benefits of the job in your job descriptions in order to filter out candidates who may not last in the position. You can also highlight special features that make you stand out from your competitors. Lastly, consider your job titles! Make your titles search-friendly, relevant, and easy to recognize.
Share Your Jobs on Closed Communities in Facebook Groups
There are many closed communities and trusted networks of people on Facebook who may be looking for work. For example, Facebook Groups in local cities and industries like "Uber drivers in San Francisco" or "Baristas in Boston" are platforms that specifically offer job seeking support and advice to local job seekers. Join these groups to be part of real-time conversations and let people know that you're hiring. This is a great way to introduce yourself and your company while also prescreening applicants.
Give Respect and Professional Development Opportunities
Many hourly workers consider being treated fairly and with respect as one of the most important factors in job satisfaction. By training your frontline managers to support people, you can promote a healthy and happy culture. While the majority of manager training focuses on things like inventory and customer service, consider also training your managers with the skills they need to support their teams. Remember, respect equals longevity. By offering professional development opportunities that encourage growth within the company, you're aiding in retention as well. Employees are more than twice as likely to stay at their job for more than a year if they see their job as a career or a stepping stone to a career.
Highlight Your Perks and Keep Your Schedules Flexible
Turnover can cost up to 200% of an employee's annual salary, depending on the role. Yikes! However, hourly workers are more likely to stay in their current job if they have control over their work schedules, the most important aspects being predictability and flexibility. You may also consider offering existing workers additional hours, rather than hiring new workers, which can help save on costs and improve employee satisfaction. Employers can support educational goals with scheduling flexibility as well since people who are enrolled in school while working are much more likely to stay in their current jobs. Additionally, don't forget to call out any special benefits that you offer to stand out from the crowd. The most important benefit by far is health insurance and for part-time workers, the number of hours worked are just as important as the hourly wage they're paid.
By using these recruiting ideas for hourly employees, making it easy for candidates to apply, creating a culture of respect and encouragement, and offering flexibility, you can help increase candidate flow, hire better and support employee growth and retention for your hourly employees.