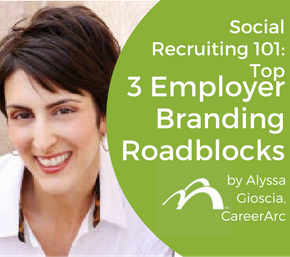 By Alyssa Gioscia
Client Success Manager, CareerArc
---
I was so thrilled to have hosted our Social Recruiting 101 webinar last week where we addressed head-on the top 3 employer branding roadblocks that keep many hiring teams from achieving their social media recruiting potential.
I, along with the entire Client Success team at CareerArc, work with customers every day to execute and optimize social hiring and employer branding strategies. We have a good understanding of which common factors prevent social recruiting and employer branding initiatives from growing, or even starting, namely:
Lack of Consensus & Cooperation
Lack of Budget & Bandwidth
Below I've summarized key points from the discussion that can help you navigate and overcome these roadblocks. I also invite you to watch our complete presentation on social recruiting best practices.
Lack Consensus? Build Your Case For Social.
Often times you'll need to build a case for why being on social is important from both an employment brand and job distribution standpoint. So how do you get consensus and build cooperation?
The best thing you can do in this case is arm yourself with the facts. Here are a few compelling stats you can share on social recruiting: 
In 2005, the number of online job seekers was only 26% of Americans. Today, the Pew Research Center found that 54% of Americans are using the internet to research available jobs, and nearly 45% of them apply for jobs online.  

The use of social media for recruitment has grown 54% in the past 5 years

A recent SHRM study found that 84% of organizations are now recruiting on social media. If we look back at 2011, only 56% of companies were hiring via social. That's quite an increase.

According to Glassdoor, 79% of job seekers use social media in their job search, and 

1 in 5 have applied for a job they learned about through social media.

Related: 14 Social Media Stats Recruiters Should Know By Heart
Lack Budget & Bandwidth? Start Where You Are.
We've found that those who manage employment brand and social recruiting usually lead the effort on their own or work in small teams, and often social media marketing is not their main area of expertise. The lack of financial and/or human resources force many HR and talent acquisition teams to hesitate to allot, or make the case for, the additional investments needed to really make an impact. 
But the truth is social recruiting and employer branding do require some investment—be it in time, teams, and/or tech—to be successful. In today's competitive talent market, the question you should be asking yourself is not whether you could afford to invest in your employer brand, but rather whether you could afford not to.
This is why we highly recommend building your social presence with the tools you have now. So, what will you need?
Building a social presence when you're starting from scratch…
In the webinar, I focused on fundamental best practices for revving up your Facebook, LinkedIn and Twitter recruiting, but for this post, I'll cover a few ways you can drive brand awareness and reach the talent you seek without overextending yourself or your team.
Build Brand Visibility, But Don't Burn Out:
Leverage your industry experience and expertise. Share content, blog posts, and relevant articles. Be where people come to find out what's happening in your industry. Ask your Marketing team to share content with you to help leverage the employment brand. Each like and share extends your network and introduces you to a larger audience.
Focus on Visuals. Social media is getting more visually oriented all the time. Images — memes, quote photos, infographics and regular old photos — can all propel your content further and spread your message to an ever-larger base.


Use Hashtags Often. Using hashtags on Facebook, Twitter, and now LinkedIn, will help bring more people to your accounts. But be sure to use them carefully! Watch the webinar to learn how to get started using hashtags like a pro.
Stockpile Shareable Content. Content that people want to share is your best bet when you're starting out on a new social presence.
Consistently Post at a Comfortable Rate. Post frequency is all about balance–you want to post just enough so that your audience starts to expect your content, but doesn't grow tired of it.
Post often at a rate the works for you (1x per day; 3x per week)
Post across multiple platforms (at once, if possible)
Invest in Time-Saving Tools. CareerArc Engage is a great option for collaborative teams, or for mighty teams-of-one. The Engage scheduling calendar allows you to draft posts set to publish days, weeks, and up to months later across multiple platforms, as well as easily include custom content—like images, videos, article links, and job listings—to each post. 
Fear Negative Feedback? Reframe Risk as Opportunities for Employer Brand Leadership
We polled our webinar audience to see how many monitored and had read at least one piece of online negative feedback about their applicant process. Here are the results from over 800 webinar attendees: 

The results reflected the feedback we received from our Candidate Experience Study: Roughly two out of every three employers have read a negative review about their applicant process, but perhaps more notable, about one out of every four employers have yet to check if negative reviews even exist.
Our Candidate Experience Survey also found that 72% of candidates who have had a poor candidate experience report having shared that experience online on an employer review site or social site, or directly with a professional or personal contact.
Job candidates today are in a better position than ever to research potential employers, and sites like Glassdoor and Facebook give candidates and employees the opportunity to share the inside scoop on a particular company.
However, as you can see from our survey, avoiding social media doesn't keep the negative comments from coming, but it certainly makes it harder for you to minimize the impact. 
So how can you make the most out of reviews/comments, particularly negative ones, should the opportunity present itself?
Respond to all reviews, be they positive or negative. 

Job seekers will not only be reading the reviews, they'll be looking to see how you respond

Respond as quickly as you can, particularly to negative reviews. Your speedy response shows you're concerned and listening. Be genuine and professional at all times, and reply from a spirit of service with your goal being to turn the situation around, if not delighting the commenter, at least dissipating any sharp points of negativity. Also remember that the messenger is sometimes as important as the message. When C-level executives respond to comments, they can make quite an impression.
Create a template of responses. From a bandwidth standpoint, we advise assigning responsibility to someone on your team so you can keep up with the reviews. Decide what your frequency will be for monitoring new reviews, and as you get a sense of the most frequent replies, create a library of templated responses that you can adjust as needed to save time.
---
Alyssa Gioscia has been a Marketing & Brand Development specialist for over 10 years, most recently culminating 6 years in the hospitality industry where she managed various marketing initiatives for a global restaurant brand. At CareerArc she serves as a Client Success Manager where she has carried over her passion for developing high-impact, social strategies for growing companies.