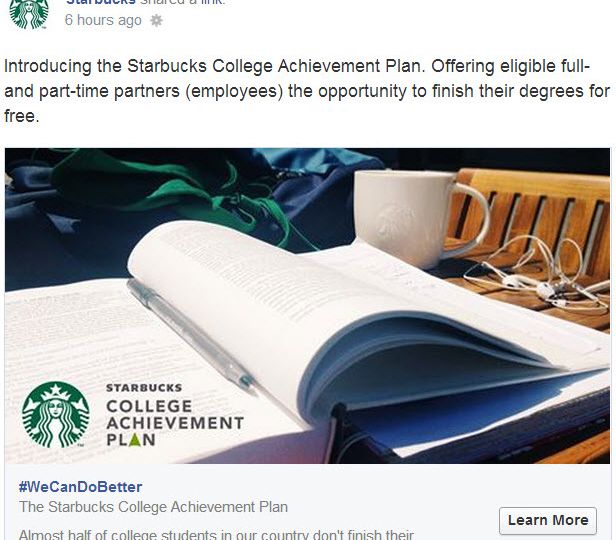 Starbucks makes headlines after announcing that they will pay for almost all of their employees' tuition fees while they earn a bachelor's degree at Arizona State University Online.
Another remarkable program from Starbucks that further boosts their already much-applauded employer brand and will likely attract many aspiring college grads to apply. Why is it so notable?
Here are 3 reasons Starbucks deserves the news it's getting:
Starbucks offers its employees college assistance at a time when other employers have significantly cut back on this benefit.
As reported by the Wall Street Journal, "A 2014 survey conducted by the Society for Human Resources Management found that 54% of employers offered undergraduate educational assistance, down from 62% in 2010." Starbucks is now one of the few retailers offering college tuition reimbursement to workers.
Starbucks extends this benefit to its part-time employees.
Like many of its other lauded employee benefits—like health coverage and stock options—this college subsidy is made available to even Starbucks' part-time workers who clock in only 20 hours per week.
Starbucks does not require (nor expect) its employees to continue working at Starbucks after they graduate.
Unlike other company-funded education programs who invest in their workers so that they retain their talent post-grad, Starbucks openly states on their site, "Partners will have no commitment to remain at Starbucks past graduation." No strings attached.
These three points illustrate Starbucks' intended brand messaging and image as a company that cares for its employees, which it states at the top of the College Achievement Plan page:
"We know more than 70% of our U.S. partners (employees) are students or aspiring students. We want to help."
Beyond its ability to convey a genuine care for its employees, Starbucks has also conveyed, through this offering, the kind of talent it targets: motivated, career-minded individuals who value their education.
Starbucks is a TweetMyJobs client and we are always excited to share their great employer branding news, which today reminds us how actions really do speak louder than words. What are you doing today to better your employer brand? How are you proving your employer message?