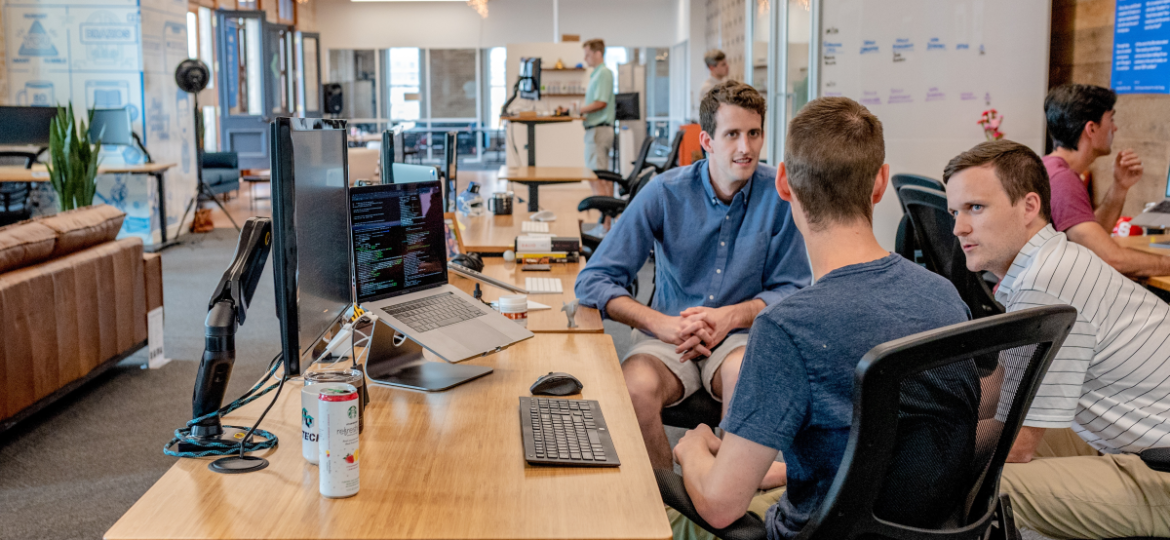 Many companies understand the value in building and maintaining a memorable and trusted corporate branding strategy. After all, these attributes support shared goals across most business models. Typically, these corporate targets include reaching consumers, driving conversions, and—ultimately—becoming profitable. With that in mind, there is more to a company than what is presented outwardly to consumers in the form of a brand story, product, or service. Behind any solid corporate branding strategy is a committed, quality workforce. Attracting, developing, and maintaining that workforce is crucial to any company's success in today's competitive job marketplace. And that is exactly where employer branding strategies come into play.
But, what is employer branding—really? To put it simply, employer branding is the promotion, or marketing, of your company as an employer to ideal potential candidates within your area of business. At the root of it, employer branding shapes your reputation as an organization. You want to be known as a good company to work for and invest valuable, career-shaping time in long-term.
It can be helpful to also think about your employer brand as your talent brand or people brand. In that, the strategy behind it should be focused on your people; on the talent who you would like to see apply for positions at your company, eventually employ, and then keep around for a long time. Employer branding, at its best, helps recruiting efforts by attracting the right potential candidates, boosting retention rates, and propelling company culture. It's not enough to attract top talent—today you have to hold job seekers' interest throughout the application process and then keep them committed to the company for the long haul.
Employer branding strategies can connect you to job seekers that are invested in the success and culture of your company. Moreover, they can turn them into future employees that can continue to shape and define your culture, help you accomplish your goals, and define new company-wide aspirations. That is just the start of why a strong employer brand is so important.
Why does my company need employer branding?
Let's boil it down to three words: attract, recruit, retain. On average, 1 out of 5 people in today's workforce is an active job seeker—so your job as an HR or recruiting professional is never really done. How you market your company to job seekers puts your employer branding to work. The one constant in today's market is that it is always changing. And having an employer branding strategy can help you not only keep up in a competitive market—but propel forward towards success. Marketing your company as an employer of choice to an ideal pool of engaged applicants should only help you retain this sought-after quality workforce. And being able to focus on the work of the business in place of filling overturned positions will only help your company grow and thrive over time.
A company with a strong employer brand can save on recruiting costs. On the flip side, not having an employer branding strategy can cost you too. A negative or null reputation as an employer can really impact your recruiting efforts' bottom line. In a 2017 CareerArc Employer Branding Study, out of 508 job seekers, nearly 80 percent of potential candidates said a poor online reputation could deter them from applying to job openings. With job applications being just as researched as a big purchase—it's important that you place the same level of importance on your employer branding just as much as your corporate branding.
Get started with employer branding strategies.
In a candidate-first environment, top talent has their pick of quality employers. Employer branding will help your company stand out from competitors. At the core, you'll want to identify what you have to offer potential candidates and utilize your existing talent to get the message out there.
For one, your company likely has a value proposition to your customers. This can be in the form of products or services in the exchange for money. In the same way, you should have value propositions for your employees as well. Employee value propositions, or EVPs, deliver on the offerings you promote as a corporation. These offerings go far beyond healthcare and monetary advancement, but also speak to your company's principles, culture, and aspirations. It's everything your company can offer as an employer. Think good benefits, flexible schedules, competitive salaries, a fun culture, job advancement opportunities, and more. Many qualifiers can influence a potential candidate beyond the day-to-day responsibilities. Work-life balance, on-the-job perks, team caliber, and job security can all play a role. Utilize your existing workforce to help define what they love about your company. Building a strong employer value proposition will support your employer branding strategy at large.
The benefits of having happy employees are more than just productivity—they can be invaluable to your recruiting efforts and overall employer branding strategy. In the same employer branding study, 55% of job seekers reported having abandoned a job application for a company after reading a negative employer review. This goes to show that perception is the reality for both customers and candidates. So, make a commitment to retain top talent and encourage them to share what they love about your business on social media and career sites. Engaged employees will be happy to share job posts as they become available. They will want to be featured on your career pages and will feel special being identified as a representative of your company. After all, job seekers rank current employees as the most trusted source on information about a company,. With that in mind, facilitate opportunities for team members to share positive, attractive qualities that make your business desirable and different from the rest.
Find meaningful ways to connect with your current employees. Consider starting a company blog or creating career-focused social media pages. Thoughtfully curated career destinations will only give interested job seekers more to consider and compare against your competitors. It will help inform them, so they can make an educated decision whether or not to apply.
Keep in mind employer branding best practices.
Not everyone will respond to your employer branding strategy and that's okay. Ensure your candidates' experience is authentic and speaks to your overall company message—if it's not the right fit, you'll find a better match. Broadcasting an idealistic portrayal of your brand that is not a true representation will only end up hurting your recruiting efforts and retention goals. Disappointed candidates talk to other candidates and potential candidates will listen.
Recognize that you can paint the picture of happy employees, but only truly happy employees are your best recruiting tool. Develop a clear message of outreach and encourage employees to keep their online professional profiles up-to-date, as that is one place where potential candidates will go looking once they have solid interest in your company.
So let's circle back to our initial question: what is employer branding? Employer branding is an opportunity to promote the special qualities of your company to potential candidates. It enables you to highlight top talent and engage with existing team members. Employer branding strategies involve establishing a strong foundation of corporate values so that you can market your company in the best, most unique light possible. Use employer branding strategies to better define who you are as a company, where you want to be, and who the best prospective candidates are to get you there.