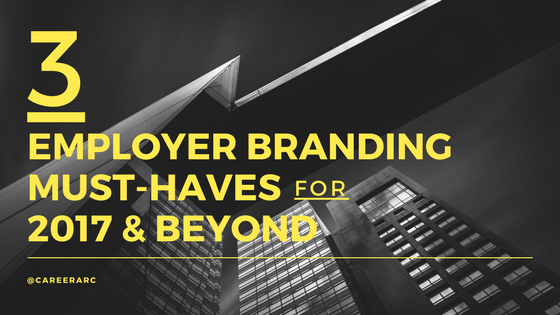 Employer Branding strategy is getting more competitive, more informed, and more necessary.
In our recent CareerArc Future of Recruiting Study, we found that 97% of companies plan to invest in employer branding efforts in 2017. The majority (51%) plan to increase their employer branding investment.
These trends indicate employer brand management is a maturing discipline in HR and Talent Acquisition. As the fight for great talent grows more competitive, that talent has also grown more selective, forcing employer brands to do more just to be seen. Below is the new list of essential priorities and processes companies must adopt to earn the best hires this year, and beyond.
An Improved Candidate Experience: The No. 1 Talent Priority
Managing and amplifying employer brand requires vigilant attention to a company's many touch points with a current, former, or prospective employees along the candidate and employee journey. As the labor market has tightened, employers have placed increased focus on the candidate experience they deliver to ensure the applicants they worked so hard to attract are retained in their talent pipeline.


In our Future of Recruiting survey, employers rank Candidate Experience as their top hiring priority ranked higher than enhancing Recruitment Data Analytics and Employer Brand Awareness.
Why? Because more companies are starting to investigate some overlooked consequences, as well as opportunities, in the candidate journey in which employer and consumer brand are being influenced. Our survey revealed:
Disappointed candidates stop buying your products

: 64% of Job Seekers are less likely to purchase goods and services from a company that has recently delivered a poor candidate experience. 

Disappointed candidates talk to other candidates

: 72% of applicants who have been dissatisfied by their experience report sharing that experience online or directly with a friend or colleague.

Potential candidates listen to other candidates

: 55% of Job Seekers who have read a negative review have decided against applying for a position at that company. 
Do you know how your candidate experience stacks up against that of your competitors? If not, the first step is to begin surveying your candidates today so you know where in the candidate journey you have to improve. Download our full report for more relevant stats and best practices. 
Feedback Protocol: Listening and Responding to Comments is the New Normal
Employer review sites and social media have made it easier than ever for applicants, as well as current and former employees, to share their opinions on any aspect of your business—from your onboarding and offboarding processes to your corporate values, culture, and leadership.
Many companies by now have incorporated, at a minimum, the practice of social listening—the process of monitoring online mentions and conversations about your brand across social platforms.


However, for the most competitive talent brands, listening is simply not enough. Companies today must also adopt a social responding practice to their feedback protocol.
According to Glassdoor, 62% of candidates say that seeing an employer respond to a review improves their perception of that company. (Source: Glassdoor U.S. Site Survey, January 2016)
Adding this additional step will not only increase the likelihood of leaving a positive impression on that particular reviewer but also on potential candidates who read the exchange and become witness to your values in action.
But who should respond to comments left on social media and review sites? Some believe that a reply from executive leadership leaves the strongest impression.
While the well-circulated 2016 Edelman Trust Barometer points to the overwhelming lack of public trust in today's C-level executives, C-level leaders can still play an effective role in your client advocacy: The Global Social CEO Survey found that 75% of U.S. respondents perceived companies whose C-Suite executives and leadership teams used social media to deliver messages on their mission and values as more trustworthy than organizations whose C-suite refrained from engaging on social to communicate their brand purpose and philosophy. 
Is your candidate and employee feedback loop complete? The first step is to understand the most common points of criticism and feedback you most frequently receive from candidates. Make it easy for leaders to be involved by helping prepare responses to the most common comments so they can reply to reviewers concisely and with consistency.
Social Recruiting: Once Novelty, Now a Necessity
In just a little over a decade, social media is now the most preferred recruiting platform among both employers and job seekers. Our recent Future of Recruiting Study unearthed the following results that point to a strong future for social media's role in talent acquisition:
Social and professional networks are the most useful job search resource according to Job Seekers who ranked social as more useful than job boards, job ads, employee referrals, recruiting agencies, and recruiting events.
91% of Employers are using social media to hire talent today. 91% of Employers also believe Social Media will become a more significant source of hire in the next 5 years.
Employers predict Social Media Marketing to be the HR skill in most demand by 2020, a skill projected to reach a higher demand than Data Analysis.
LinkedIn's 2017 Global Recruiting Trends Report found similar results, stating a company's website and social media are now the top ways to promote and measure brand impact. 

Are you promoting and measuring your employer brand through social media? In 2020, millennials will make up nearly half of the U.S. workforce; in 2025, they will make up 75%. According to Pew Research, adults from age 18 to 29 topped social media usage charts for ten straight years. 
Social media has become not only a necessary but central piece to the employer brand ecosystem. With three out of four working Americans projected to be actively engaged in social media within the next decade, social media will be to not only be essential to hiring but a central characteristic and culture of American labor.