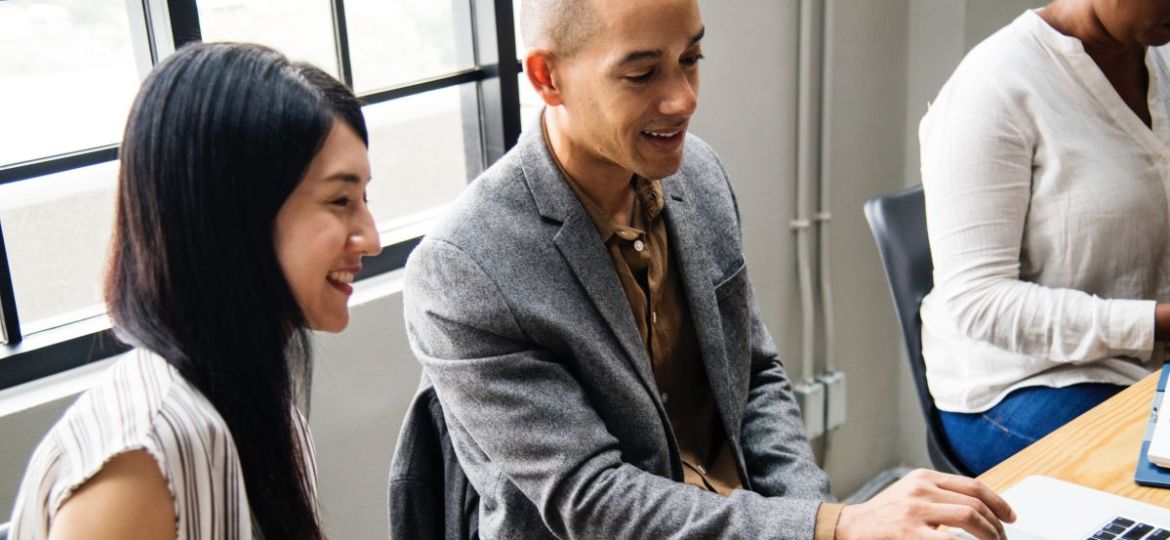 Developing your employer brand is no easy task. It requires time and effort but, when done well, an employer branding strategy can help your company reap long-term success. In fact, 96% of employers believe that employer brand and reputation can positively or negatively impact their company's bottom line. 
If you're not sure how to develop an employer branding strategy, take a deep breath—we've broken it down into manageable steps. Follow the blueprint below to start investing in your company's reputation.
1. Start from within.
The first step to employer branding as a human resources management strategy is to determine what makes your organization unique. How do your employees perceive your company's mission? What do they have to say about their day-to-day work? An easy way to get this information is by sending out an internal employer branding survey. Just be sure to make the survey anonymous so people feel comfortable giving their honest opinions.
You can also collect feedback about the company on external sources like Glassdoor, LinkedIn, and Indeed. Review unfiltered comments from current, past, and prospective employees to better understand the employee experience that you're providing. If your company has an employer Glassdoor account, you can get a more detailed look at reviews and ratings, as well as benchmarks against the competition.
2. Make amends.
Once you are aware of your employees' sentiments, you must then actually start implementing changes to any negative areas revealed by the survey. If you actually want to make your employees happy, then you need to give them what they want (especially after asking them about it!). Your employees will appreciate your transparency and efforts to make them feel valuable—and that's one big step towards building a good employer brand.
3. Identify your employee value proposition.
After you have a better understanding of the gathered data, you can then identify your employee value proposition (EVP), which is the set of associations and offerings provided by an organization in return for the employee's performance at the workplace. An EVP is unique to your company and should be the guiding light for your employer brand. When creating employment branding strategy, make sure that your messages showcase your EVP both internally and externally.
4. Promote the message.
What's the use in establishing a strong employer brand if it's not going to be seen? Start promoting your employer brand on channels where you'll get the most traction such as social media, your career site, and job boards. Keep in mind that employer branding consists of the entire candidate experience, so make sure all your touchpoints on these communication channels are presenting the same message about your company. Social media, especially, is a good channel to start building a natural relationship with the job seeker before they even apply. Share team pictures and fun outings in order to give candidates a taste of what it's like to work at your company.
5. Leverage current employees.
According to Cisco, the social posts of a company's employees generate 8 times more engagement than posts from an official company account. If your employees are happy, you can leverage their social audience and have them advocate for you. You can be creative in how you get started, whether that's announcing a company-specific hashtag that employees can use in their posts, or an "Employee of the Month" that increases both engagement and morale.
You can also leverage current employees by setting up a referral program, which is one of the most productive recruiting strategies with 88% of employers considering referrals to be the best source for above-average applicants. Referred employees tend to be higher quality since they've already been vetted by your existing employee who, at this point, should be very familiar with your employer brand. 
6. Work with marketing.
While marketing and HR may be separate departments, they are faced with similar tasks. Both require communicating a good experience to their prospects—marketing to prospective customers and HR to prospective employees, respectively. In order to create a strong employer and corporate brand, the experience that they're marketing should be the same. That is why it's important for HR and marketing to work together to craft an unified message.
Start the partnership by clearly defining what your responsibilities will be and what's on marketing's turf. You can also start sharing assets so that the employer brand and corporate brand have an unified look. And don't forget to tap into each other's expertise! Marketing's expertise is creating engaging experiences while HR's expertise is understanding what matters to employees. By combining the two strengths, just think of where your employer branding strategy can go.
7. Monitor and measure your effectiveness.
Calculating the return on investment of your employer brand can be tricky, but it's essential to actually know what's working and what's not. One way to measure the value of your branding efforts is to look at employee lifetime value (ELTV) and see if there's an increased level of value over time as well as average employee tenure. If that route isn't for you, you can refer to more traditional metrics such as cost per hire, time-to-fill, and number of open positions to gauge your employer branding success. Whatever the case, having a data-driven mindset to employer branding will only help link your KPIs to business-related outcomes.
Understanding how to develop an employer branding strategy is crucial for attracting the best job candidates and retaining top employees. Stand out from the crowd by having your employer brand do all the talking.