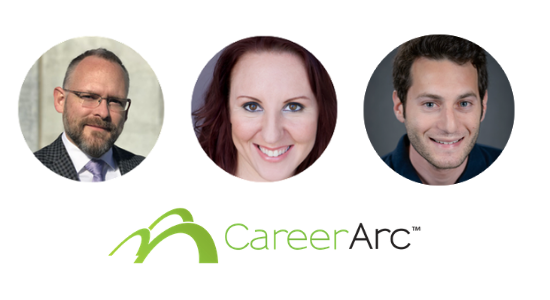 As a part of the company-wide hiring push fueled by the recent $30 million growth equity round led by PeakEquity Partners, CareerArc has appointed two top executives to drive the company's growth and expansion in the multi-billion dollar HR software market. Additions to its leadership team include former vice president of inside sales at ZipRecruiter, Jason Blais, as executive vice president of sales, and tech startup veteran Linda Souza as senior vice president of marketing. In addition, CareerArc's chief marketing officer, Yair Riemer, has been appointed to a new role as president of the career transition services business.
"Jason and Linda bring decades of sales and marketing leadership, strategic insights and proven experience in accelerating the market expansion of high-growth B2B tech companies. Yair's appointment to president of our career transition services business will further focus and streamline efforts to rapidly increase our footprint in the outplacement market. With their added leadership, we are poised to achieve aggressive growth targets and gain market share in the ever-expanding HR tech market." –
ROBIN D. RICHARDS, CHAIRMAN AND CEO. CAREERARC
As executive vice president of sales, Jason Blais will drive growth of CareerArc's social recruiting business. Bringing over 20 years of sales and leadership experience, Jason most recently served as the head of corporate sales and vice president of inside sales at ZipRecruiter, growing the sales team to 350 people and leading the company to significant revenue growth in a highly competitive market.

Linda Souza, CareerArc's senior vice president of marketing, has over two decades of experience leading marketing strategy and operations for early-stage and growth-stage B2B tech startups. Prior to CareerArc, Souza served as vice president of marketing for several emerging tech startups in blockchain, artificial intelligence and more, including Gem, Deep 6 AI and iMeet Central. She also worked in marketing and product management leadership roles at Everbridge and Ariba, an SAP company (formerly FreeMarkets).
Yair Riemer, a founding member of CareerArc, will take on the newly formed position of president of the company's career transition services team where he will lead sales teams, manage operations and oversee product development strategy to advance the company's online outplacement offering. Previously, he served as CareerArc's chief marketing officer.
Read the full press release.
Read our most recent news and announcements.