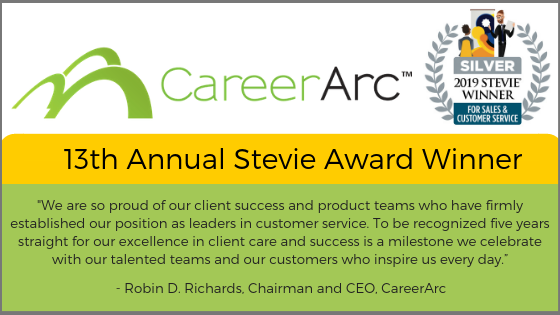 CareerArc has once again been recognized for its award-winning customer service delivery and strategy.
Winning two Stevie® Awards at the 2019 Stevie Awards for Sales & Customer Service last week, CareerArc achieved the following distinctions:
Front-Line Customer Service Team of the Year – Technology Industries
Best Customer Feedback Strategy
The Stevie Awards for Sales & Customer Service honor the achievements of sales, business development, customer service, and contact center professionals worldwide.
Over 2,700 global nominations were considered for the 2019 Sales & Customer Service Awards. Other winners include MailChimp, Comcast, IBM, Intuit, Zappos, Dell, Bank of America add Delta Air Lines–view the complete list here.
"We are so proud of our client success and product teams who have firmly established our position as leaders in customer service. To be recognized five years straight for our excellence in client care and success is a milestone we celebrate with our talented teams and our customers who inspire us every day." – Robin D. Richards, Chairman and CEO, CareerArc
Visit our Clients Page for more information and read their success stories to learn about our award-winning Client Success team.