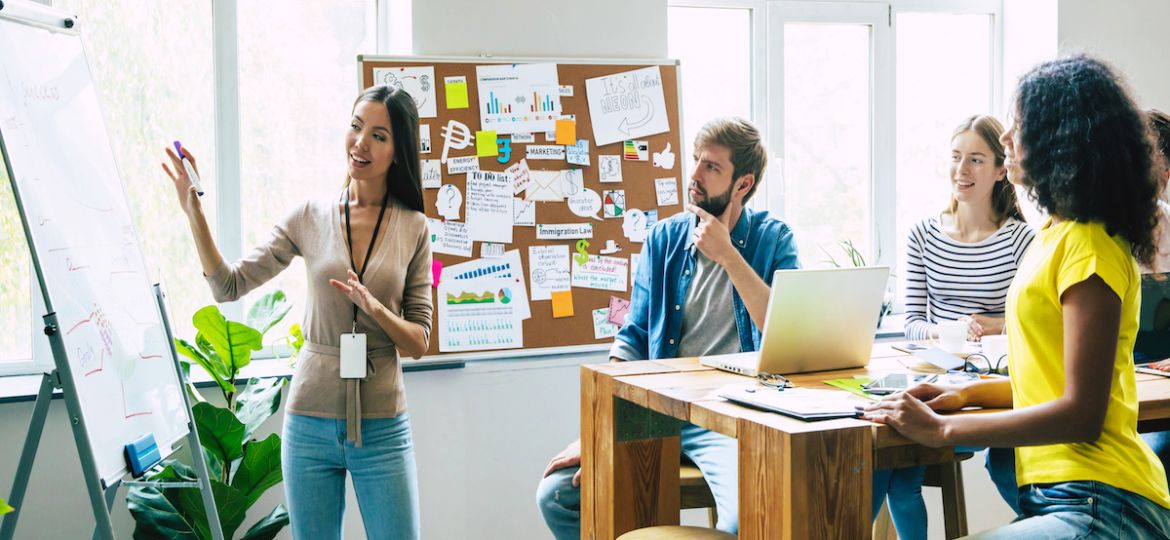 Recruiting employees is only half the battle for HR professionals and recruiters in today's hiring landscape. Retaining employees has become an increasingly difficult challenge in recent years. According to CareerArc's EMBARC Pulse Survey, 43% of HR professionals report more difficulty retaining talent than in years past. And employee retention is sure to continue being a challenge that businesses will face in the year ahead.
What are the factors that are impacting an employee's willingness to leave a company? Job characteristics, work environment, career development, and work-life balance are four themes that are trending up in having an influence over an employee's voluntary departure. These are areas that have a direct impact on overall employee satisfaction and engagement—and these areas can be controlled and improved by any employer.
Get ahead of the ever-present obstacles of high turnover and low retention by keeping your employees actively engaged—not only in their daily tasks, but with your company as a whole. Take a look at these employee engagement ideas today to get your employee engagement strategy kickstarted. 
Listen and share.
Historically, most companies are used to telling employees what the expectations are for how teams should work, what they should produce, and how any success should be measured. This year, though, some businesses may want to sit back and listen to what their teams have to say before they communicate out any blanket directives.
1. Conduct an employee survey. Set a pattern of distributing quarterly or biannual surveys to employees. Your employees are in the thick of things and can share practical feedback as it pertains to the day-to-day challenges and opportunities of the business.
2. Continue to welcome feedback throughout the year. Employees should feel comfortable sharing their thoughts outside of designated survey periods too. Keep employees engaged in problem-solving by encouraging them to speak their minds. Create some kind of a digital, confidential space where employees can submit feedback.
3. Acknowledge and/or address the feedback. Allowing employees the opportunity to give feedback can help improve employee engagement, but actually showing that their points have been heard and have a chance of being addressed can make a markable difference in an employee feeling valued.
4. Set clear company and personal goals. Let employee feedback inform company goals when it makes sense, and be sure to communicate those goals out to all levels of the company.
Onboard the person, not the employee. 
Orientations typically use the same, tired template. Name games may be involved, perhaps a tray of bagels, an IT presentation on how to access help desk portals. But these introductions have so much more opportunity to increase employee engagement from the start.
5. Make introductions more natural. Instead of spending ten minutes playing a name game with a group of people who will likely forget said names moments after leaving the room, foster organic conversations between new members. Actually, eat those bagels and just allow people to mingle and circulate for twenty minutes—maybe even play some music to help encourage a casual vibe.
6. Use technology for practical information sharing. There is truly no better time than to lean on technology for templated onboarding materials. Create a digital center of resources for new hires and leave printed packets in the dust.
7. Host regular meetups throughout the year. An initial chat at an orientation is great, but keep the conversation going by hosting events that cater to new employees but welcome all team members to join. New hires can engage with experienced employees and all departments can connect.
Encourage professional development. 
Investing in employees' skillsets by exposing them to leaders in and outside of your company will show that you not only value the work they contribute today but also what they are capable of doing in the future.
8. Host regular employee development seminars. Keep employees actively engaged by giving regular development talks with leaders of your company.
9. Invite experts from outside of the company. Show your employees that you're invested in their future by allowing for speakers or trainers outside of your company to present on specific subject matters.
10. Welcome all levels to get involved in hosting talks. Offer seasonal opportunities for anyone to pitch a talk topic. Perhaps even allow for the company to vote on submitted talks.
Focus on individual growth.
Growth isn't so much connected to the corporate ladder as it used to be. Today businesses will want to facilitate employees' pursuing new career opportunities within the company.
11. Provide individual career mapping. Yearly reviews can be a great opportunity to share feedback on job performance, but it doesn't always offer enough information around an employee's actual path.
12. Support lateral moves. Progressing within one team or department can limit an individual's options. Help employees progress by opening up other paths for success.
13. Create a mentorship program for anyone within the organization. Typically mentorship programs have been limited to green employees or interns, but any level could benefit from a mentor relationship.
Break out of the office…desk. 
Employee engagement ideas can extend to how your office is physically set up too. Traditional offices, even open space environments, all involve a lot of sitting—or standing—in one spot.
15. Make the move to unassigned seats. Consider opening seating arrangements up to the masses and allow for regular desk rotations.
16. Create space designed just for fun. Thinking about what employee engagement activities would appeal to your office staff? Pick a theme that would appeal to your employees, show them you know them and care about making them comfortable, and create a space that supports their interests.
17. Make meetings truly mobile. Meeting rooms typically aren't the most inviting or inspiring of spaces. Even if you hire a designer to dress up drab boardrooms, the overall atmosphere can get old. Instead, take some meetings outside of the office. Go on walks for individual team member check-ins, make a team meeting into a working lunch at a favorite place to eat, or just make it a habit of meeting outside—weather permitting—once a month as a larger group.
Inspire seamless collaboration across all departments. 
No matter what year you are in, getting multiple teams to productively work together can be a challenge. These employee engagement ideas can help bridge the corporate gap:
18. Equip physical spaces for idea sharing. Set team members up for success by offering larger meeting rooms that can accommodate multiple teams. Keep mobile wipe boards around the office so that different teams can "commute" with their working boards to relevant stakeholders, as they work through problems. This can cut down on endless email chains and encourage teams to actually talk through things together.
19. Invest in employee engagement tools. Half (50%) of HR professionals report investing in employee engagement tools and services in 2019, and 32% planned to purchase or increase investment in such services in 2020. Tools like Trello or Teamwork offer another way for multiple groups to align and work together. These kinds of tools can be especially good for remote workers; this type of offsite workforce will likely continue to increase from years prior.
20. Mix up meeting attendees. In brainstorms or collaborative meetings, some employees may be intimidated to speak up while others may always dominate the conversation. For these kinds of meetings, set smaller sessions before having a larger conversation. This may get some employees who would tend to be quiet more engaged in the conversation.
Open corporate communication to all. 
Unbutton communications around corporate updates and encourage a more transparent atmosphere to better engage your employees. When corporate-wide information is only distributed to top-level employees, it can create a feeling that more entry-level employees are not important—when in reality, ultimately everyone on the team is important to your end goal. 
21. Start a newsletter that features your workforce. Send out a regular corporate newsletter to update employees on large and small matters. But also feature employee-authored columns or op-eds.
22. Brainstorm—musical chairs style. When looking to increase employment engagement or make company-wide improvements, involve all levels' involvement. And purposefully set groups that are mixed up of different teams and ranks.
23. Create corporate dream boards. Designate a place to receive corporate-wide new ideas. Make it visual and house it in a shared space where any individual could "paste" their idea. Once a month, review the ideas and take action on the ones that make sense for the time. You could even publish the top submissions within the company newsletter you might create.
Keep up with social media.
Employee engagement ideas don't just stop at the office. It's also important to stay actively connected with your teams through social media. An engaged workforce is something you'll want to highlight within your social media pages, so why not encourage online opportunities for team members to post, comment, and share organically?
24. Feature employee spotlights. Valued employees are more likely to be engaged employees. Create a regular series of social media content where top performers are recognized for their work.
25. Have employee social media takeovers. Once a quarter, or however often would work for your company, allow employees from different departments to "take over" a social media channel. Their posts can give an inside look to their team or department, which can keep that individual engaged, but also engage the company as a whole through sharing insight into situations that others may not typically get to be a part of.
26. Run social media contests. Propose different themes to employees through social pages or a company-wide newsletter. After a topic is chosen, promote contestants and have employees vote with a "like" or a "share." Employees can participate actively within the contest or simply by voting.
27. Respond online and take action in the office. Validate comments or posts that call for positive change by responding in the comments section, but then also by making moves to better the situation offline.
28. Create an employee engagement ideas Facebook Group. Give employees another outlet for sharing employee engagement ideas. Again, just be sure to read, file, and eventually act on these pitches as much as possible.
Lean on non-monetary incentives.
It's not always possible to reward employees with pay increases and bonuses. But that doesn't mean there aren't other ways of showing them their efforts are valued. Here are some ways to recognize hard work that will resonate with the workforce:
29. Offer flexibility. Allow for some flexibility within traditional work weeks. Consider offering work-from-home days or half days once a week. Employees may be more engaged in their work if they know they can get to spend some more time out of the office.
30. Personalize perks. Show employees that you recognize them as individuals. If a team member loves a certain TV series, let them take the day off after the season finale, for example.
31. Promote employee health and wellness. Employee engagement ideas that involve the overall health and wellness of your workforce will help show that you care about their individual wellbeing. Look for discounts that local health and fitness centers could offer your employees or host meditation classes on Fridays once a month. Companies could also consider swapping unhealthy food choices or snacks available with more healthy snack options.
32. Support a healthy work-life balance. It's been reported that work-life balance is the second most cited category for turnover and it has trended up 20% since 2013. "Always on" work cultures are sure to exist but consider applying the approach of a people-first culture and recognize the need for downtime. Employee engagement ideas will only take you so far, that is, if your team members are too burned out to fully participate.
Recognize the little wins. 
An employee may not be landing new clients day in and day out, but there are likely making strides that will eventually pay off each day. Keep employees engaged in their work every day by showing you value their commitment to any end goal.
33. Send out an email shoutout to your team or department. Acknowledgement can go a long way when it comes to showing employees you value their efforts.
34. Offer an extra day off or a free lunch. Rewards don't always have to be overblown; small gestures can show that you appreciate what it takes to get the job done.
Have an employee engagement committee that's made up of all departments. 
HR typically owns employment engagement activities and planning. But open it up to all departments and allow for anyone to contribute employee engagement ideas that actively look to strengthen working relationships and improve employee engagement.
35. Recognize life events. If a team member has a birthday, gets married, buys a house, show them that you care to celebrate their life events and achievements. Decorate their desk, send them flowers or a card.
36. Host monthly happy hours. Once a month get the team together in the office and toast to your successes.
37. Start a potluck event. Create an ongoing lunch event where employees can share a dish that means something to them.
38. Go off-site. Have a large event to celebrate the end of a year or smaller team outings. Just encourage team bonding by allowing for opportunities to connect outside of the office.
39. Volunteer as a team or corporation. Giving back as a collective group can help with team building and instill positive working relationships across all departments.
Be human.
It's easy to get caught up in deadlines, budget cuts, and bottom lines. But at the end of the day, employees are people who have personal struggles and goals of their own. Read on for our final employee engagement idea that won't cost a thing and can reap big rewards:
40. In the words of Mr. Rogers, "Be kind." One of the easiest ways to show employees that they are valued is to be nice, empathetic, and friendly—moreover, treat them as people and not numbers. Your employees are not disposable, and they are just as worthwhile to retain as new talent is to recruit. If you keep quality employees engaged in their work, they will value your overall mission and work as hard as they can for your business.
Employee engagement ideas will only take your company so far—your business will have to put those ideas into action. Choose the topics that most resonate with your workforce and really commit to seeing the ideas through to the end. Engaged employees will be taking note of changes and most likely more than willing to help. So tap into your best resource—your workforce—to create a winning employee engagement strategy.
Social media can be a great place to start any employee engagement initiatives, read on for more employee engagement ideas to try across your company's social media channels.