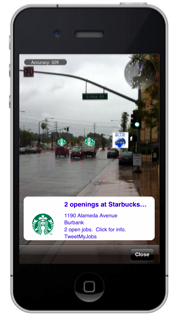 About.com recently announced the winners to their popular 2013 Readers' Choice Awards in the Careers Space and TweetMyJobs came out on top!
TweetMyJobs took home the 2013 Readers' Choice Award for Best Mobile App for Job Searching.
Our app takes advantage of the power of location based services – using the GPS on your phone to let you view jobs nearby on a map as well as taking advantage of the phone's camera to explore work opportunities through our augmented reality overlay – pictured above.
We're proud of our work in mobile – and we know it's not just the future in the recruiting industry, but also the present. In fact, there are about 5.1 billion cell phones on the planet, but only 4.2 billion toothbrushes, according to the Mobile Marketing Association, so if you're thinking about how mobile can affect your business, and your talent acquisition strategy, then you're doing the right thing.
If you haven't checked out the TweetMyJobs app on your iPhone, iPad or Android device, make sure to download it today- it's free.
And if you want to learn more about what we're doing in the social and mobile recruiting space, feel free to contact us.