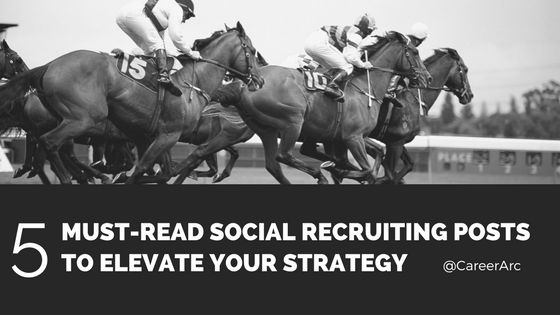 As your summer vacation might be coming to an end, you may need to catch up on the latest HR news. Luckily, we've wrapped up the week with these five must-read articles that will elevate your strategy.
Recruiter Social Media Do's and Don'ts – Undercover Recruiter
A first impression can be very difficult to revise, so what perception do your social media profiles give a potential candidate or employee? Check out these great tips on how you can improve your social media handshake presence.
What Most Companies Get Wrong About Employer Branding ROI – Undercover Recruiter
So you've invested in creating a strong employer brand, now the time has come to evaluate the effectiveness of your efforts. Where do you start? Undercover Recruiter gives you examples on how to measure your initiatives.  
Related: The True Cost of a Bad Employer Brand
How to Improve Employer Branding Through Recruiting (Infographic) – Social Talent
Showcasing your employer brand serves many benefits including differentiating yourself from competitors. That's why there is no surprise that over 59% of employers say their employer branding is a key component to their HR strategy, according to Social Talent.  Learn seven ways to improve your employer branding through recruiting.
Young Job Hopefuls Not Hiding Their Social Media Past, Survey Finds – The Washington Times
A recent study shows 68% of soon-to-be college graduates would not hide their social media accounts from potential employers, explaining their social profiles, content, and connections could help them showcase their promotional skills. How will this affect your candidate selection?
Google Cancels Diversity Town Hall Over Concerns for Employee Safety – NBC News
The biggest employer branding news this month so far is none other than the "Google Manifesto" story which continues to make headlines. The so-called manifesto, written by the now-fired engineer, James Damore, highlights the issue of what is, and is not, considered free speech in the workplace.