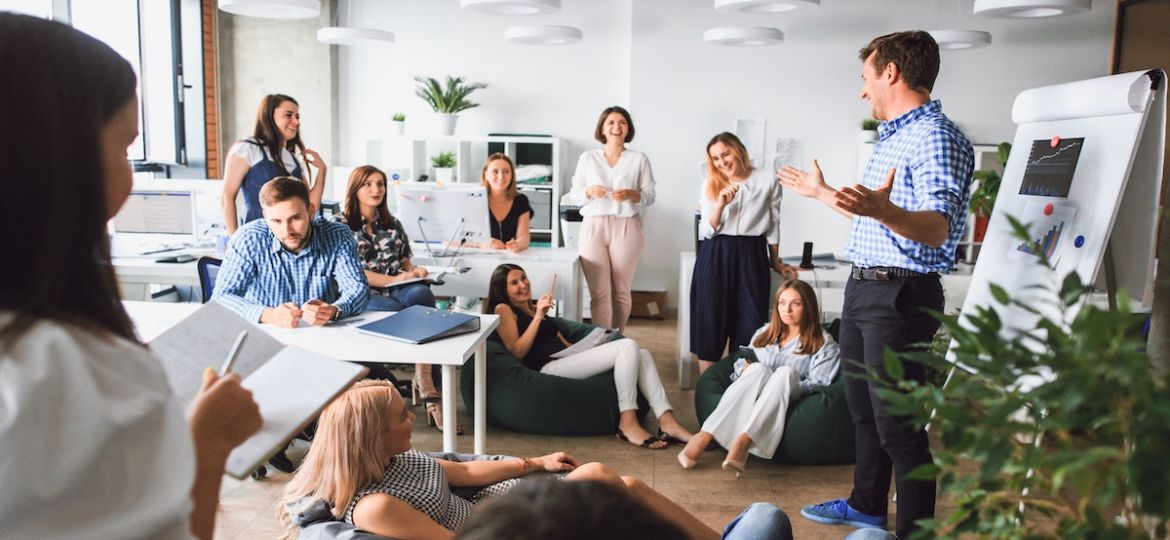 At some point within the application process when someone is looking to apply to a new company, they'll likely land on the business' career page. What's displayed on that page will typically speak to the benefits of working at that particular company. Snacks at the office, corporate activities, pets sitting at desks, open work environments. All of these things could be considered job perks—and some people might even consider these "extras" to be part of a company's culture. But do standardized office privileges really make up the ethos of a corporation?
Everybody wants a good workplace culture—but what is company culture, truly? And does having cold brew on tap really make a difference?
What is company culture?
There is not one shared definition for company culture, but there are defined understandings of the word "culture." One accepted meaning involves the set of shared attitudes, values, goals, and practices that characterizes an institution or organization. Now replace the terms "institution" or "organization" with "company" or "corporation"—and the answer to the question, "What is company culture?" may start to get a bit clearer.
So shared attitudes, values, goals, and practices as they relate to your corporate environment can all contribute to workplace culture. These words are not so much tangible items as they are behaviors or purposes that belong to any particular workforce. Perhaps you could even say that a company's culture isn't defined by words, but by its people and that's why there is not a ubiquitous definition for company culture as it stands today.
The meaning of corporate culture may not be easy to put into words, which makes how much this undefinable term can really define the company it belongs to a little funny. The goals of a company and the values, attitudes, and practices it takes to get those objectives accomplished really speaks to the need of a united workforce.
A strong organizational culture can hold a company together and act as a common thread among people from different departments and backgrounds. For instance, what can a marketing employee share with someone who works in IT? What can a finance person exude that a creative services employee does as well? Effectively, these individuals can share similar attitudes and values—even if their individual support of a company's goals differ. The teams are united in their mission and uphold certain standards that are unique to any specific company.
The people of an organization act as the beating pulse that puts a business' ideas into action. How those people engage with one another and work together contributes to what a company's culture is—whether it be good or bad.
Types of company culture
Hopefully you now have a better idea of what company culture is as it currently stands. Different factors, though, can influence the kind of work culture a company has—for example, leadership styles, company norms, and lingo as well as expressed principles or mission statements can all impact the kind of culture a company may manifest.
There are strong, healthy examples of company culture and, on the flip side, weak, unhealthy work cultures. A large factor of a great company culture is the level of employee engagement. How much do employees care about their work? How much do employees care about their company's success overall? Here are some examples of the kind of work cultures you can find in today's corporate world.
The "always-on" company culture
Within this work environment, employees likely share a high level of stress along with a heightened level of commitment to their work. While employees may be subject to "burn out" and other perils of always on work culture, they may be bound by their strife and exude a strong sense of camaraderie having made personal sacrifices for a shared mission—corporate success. There is also a unique understanding shared by employees within this culture—they don't have to explain things to their coworkers like they may have to their spouse or best friend.
The "flexible" company culture
In contrast to the above example of corporate culture, a flexible culture thrives on the idea that less can be more when it comes down to hours on the clock. In fact, it's been found that most workers are productive for less than three hours a day. Flexibility in the workday can allow for more concentrated efforts in place of touch-and-go productivity. As some companies are moving on from an eight-hour workday, extra effort may be required to keeping employees engaged in a more flexible work environment—especially if a good deal of working hours will be spent off-site. Employees may miss out on shared past experiences that bond and influence future behavior.
The "people first" company culture
Within this kind of work environment, businesses understand the value of happy employees and put their workforce's wellbeing above their bottom line or their shareholder's wallets. As Forbes puts it, there can be two primary problems with shareholders-first thinking: "The first is a widespread focus on short-term results at the cost of long-term benefits. The second is a lack of incentive for corporate social responsibility."
In general, strong culture in the workplace is supported by a strong purpose and a team that is devoted to the cause. Strong leaders can help keep individuals motivated and help propel the essence of what a company really stands for—they can also help shape employees to better support their overall corporate philosophy.
Weak cultures can be linked to a fundamental disconnect between stated or aspired-to values and attitudes and what is actually practiced. In some cases, weak cultures can be a byproduct of an afterthought and not an inherent component to business' function. Authenticity is key when defining a strong company culture—quick fixes just won't cut it.
It's important to invest in your people, invest time in their development and engage with them on a regular basis. Doing so will support a stronger environment and sense of purpose.
How company culture will change in 2020
Some people may think that a strong company culture is irrelevant when it comes down to the overall success of a business, but that cannot be farther from the truth today. In fact, a poor employee experience can actually impact your bottom line. According to CareerArc's 2017 Employer Branding study, 64% of consumers have stopped purchasing from a company after learning about its poor employee treatment. Not to mention, only 1 in 5 candidates would apply to a 1-star rated company.
In 2020, the connection between a business and its people will be even more important. Company culture perpetually changes and what matters to employees will continue to affect the way HR managers and directors create culture at their company in the year, months, and weeks ahead. However, there are some components that will always remain essential to the cultivation and maintenance of a healthy corporate culture: trust and authenticity. A company that is honest about its values and approach will stand to strengthen any company culture they have to-date, while a company that is searching for meaning may risk falling behind.
Job creators should also care about their employee's engagement and development in the upcoming year. After all, keeping a committed workforce is just as important as attracting new talent—especially when it comes to keeping the authentic spirit of your company alive. High turnover rates will make it difficult to cultivate and maintain any company culture initiatives.
While company culture in the new year may involve less in-office hours for some and more working lunches and late nights for others, what will be important to remember is the commitment to your people and the support they need to reach your shared goals and missions. Valuing employees and striving for healthy work environments can end up rewarding a company with a rich culture and corporate success to boot.
What else should HR professionals be ready for in 2020? Read on for the six top priorities and trends in HR technology and services for the new year.