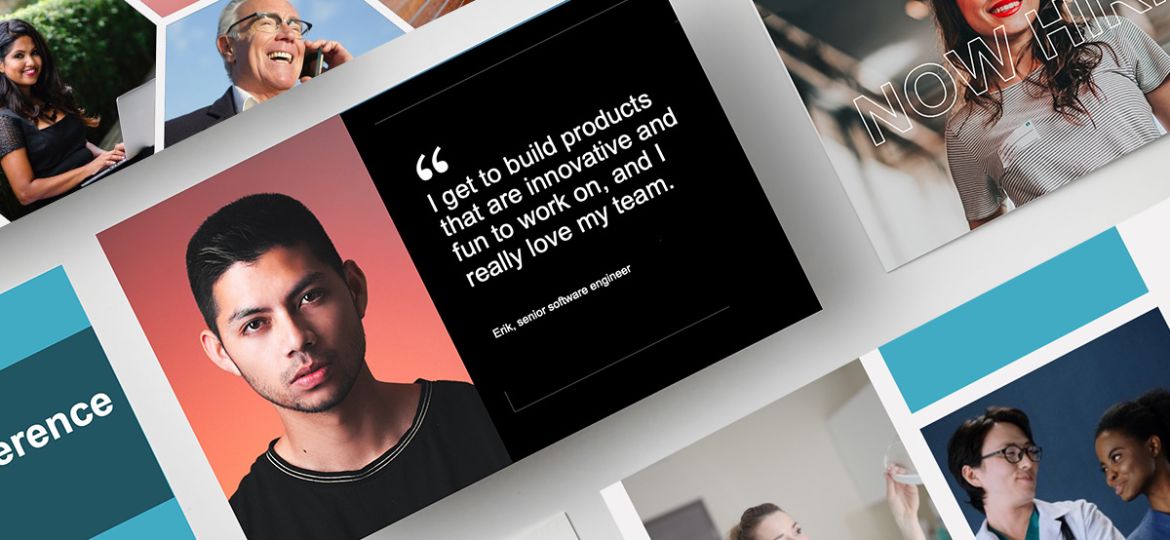 As a busy talent acquisition professional, you're probably up to your eyeballs in work just to cover the basics. Who has time to design a bunch of graphics for social media? Don't worry—we've got your back. Download this pack of 11 customizable employer brand templates for social media for fast, professional graphics perfect for your social recruiting efforts on LinkedIn, Twitter, and Facebook. It's free, and it will save you a ton of time. Hiring for healthcare? Here are some healthcare social recruiting templates.
Free graphic templates for employee quotes, spotlights, hiring, and core values
You can post these graphics on their own, as part of a series, or paired with blog posts and/or videos in a more extensive storytelling campaign to showcase your talent brand. Included in this employer brand social media pack are the following graphic templates:
3 employee quote templates
Why do your employees love working for your company? How have they grown in their careers since joining? What's different about working for you? Leverage these graphic templates to easily create a series of quotes that highlight why top talent should choose your company over others. These are also great for engaging your current employee base.

2 employee spotlight templates
Employee spotlights help humanize companies. Candidates love to learn who their peers would be should they work for your organization, and they appreciate seeing how much the company values its team members. Customers and prospects value a peek into the people behind the products and services. Use these templates to welcome new hires to the team, announce promotions, recognize team members for their hard work, or otherwise introduce employees to your audiences.

2 core values templates
Show off your company culture and how you live your core values. Because the templates are customizable, you can easily use one template as your base to output four to six different graphics highlighting each of your company values. Change up the image, text, font, and colors on each to keep it interesting yet consistent as part of a series.

4 hiring templates
Hiring for a specific role? Have always-open roles you're trying to fill? Or just want a general hiring graphic to use for any post? We've got four templates you can adapt to your brand to show candidates your personality while enticing them to click.

Easy to customize – no design skills necessary
You don't need to be a designer to put together polished social media graphics customized to your employer brand and talent acquisition program. These templates can be edited with PowerPoint – no graphic skills necessary – and the fonts are standardized for display across PC or Mac. The graphics are sized for Facebook, Twitter, and LinkedIn and can be exported as jpgs or pngs. Add your own photos and logo with a single click and customize colors and fonts to your employer brand. Instructions included.
Download now: Social recruiting template – general | Social recruiting templates – healthcare
I've been using them for my employee testimonial posts and they have been getting much better results! The templates are easy to use, easy to customize and easy on the eye.
Shelby Nowlin, Coordinator, Senior Campus Recruiting, Enterprise Products
How will you use these?
We'd love to see how you adapt these templates to your employer brand. Tag us on social (@careerarc) to show off your posts.
Need to save more time with your social recruiting initiatives?
We can save you time in lots of areas of your social recruiting program. Get a demo of CareerArc today to see how we can grow the reach of your employer brand and jobs exponentially over social media without significantly expanding your effort.