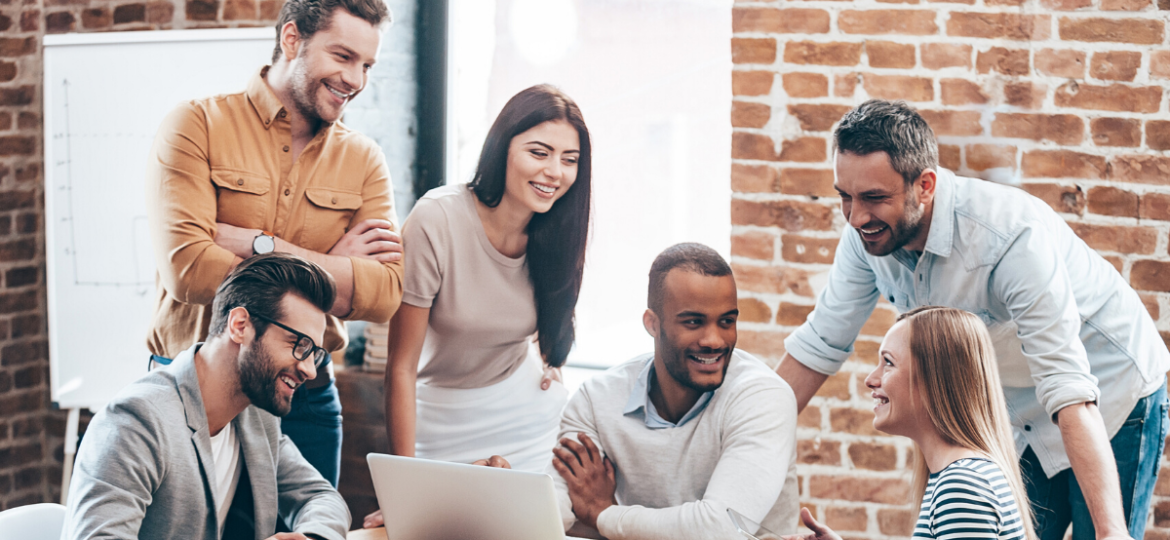 Landing top talent is and will always be a top priority for recruiters and HR managers. In order to be competitive, companies need to look for ways to stand out as preferred employers—that's where employer branding comes in.
Employer branding shapes your reputation as an organization to attract and retain quality candidates in your area of business. Essentially, a business needs to think about marketing not only its product to consumers, but its attributes as a potential employer to job seekers as well. And adhering to employer branding best practices will only better set up any hiring or staffing strategy for success. Here, take a look at employer branding best practices to live by, whether you're establishing a brand for the first time, or revisiting your current approach or message.
1 / Have a purpose
Just like people want to feel good about a purchase they make, job seekers want to feel good about working for their employer. There are certain alignment values that come into play when someone is looking to work for a new company. These values go beyond organizational principles and can get very personal. Choose a mission that people can get behind, but one that also aligns with business goals. If your company can stand for something behind a product or service, like upholding environmental standards or giving back to an underserved community, you'll stand apart from competitors.
2 / Know your market
Knowing the needs of your consumer can help shape your corporate mission—and is an employer branding best practice that shouldn't be overlooked. Markets are constantly evolving and there is little more that is less attractive to prospective job seekers than a business that is behind the times in terms of its offerings. Think of it like the yellow pages and Yelp: both publishers supply business listings, but one is unquestionably more "of the now"—which one would you apply to as a potential candidate?
3 / Understand your culture
It's important that you stay true to who you are as a brand when defining an employer brand strategy. Your people play a huge role in developing your work culture and likely represent either spoken or unspoken traits that you'll continue to look for in potential candidates. Understand the current state of your company culture before you to expand on it—or change it. You might be surprised to find that your company culture is already expressive of your ideal corporate vision. And if it isn't quite there, you can identify behaviors that may need to change to support your desired goal.
4 / Welcome employee input
As mentioned, your employees already play a big role in shaping your culture and employer brand. So a somewhat obvious—but often underutilized—employer branding best practice involves gathering and listening to their feedback. Try to create an opportunity for employees to share what they think works and doesn't work when it comes to your company culture, mission, and employer brand.
5 / Care about candidate experience
The hiring process is much more than a simple application or interview. HR managers and recruiters need to develop strong careers pages, social media accounts, dynamic job listings, as well as streamlined application and interview processes. Candidates will do their homework and read up on employer reviews and reach out to connections that are either current or former employees. Marie Lo, T-Mobile Senior Employer Brand Manager, told CareerArc: "No longer is there a single touchpoint that serves as source of application or hire, but rather each touchpoint serves as a source of influence." This reality makes it that much more important to consider a candidate's perception of your brandthroughout the recruiting process.
6 / Be responsive
Did you receive a bad review on a careers site or a negative post on one of your social media pages? Whether it was from a candidate, former or current employee, this kind of feedback can be damaging to your employer brand. And be it uncomfortable at first, an employer branding best practice encourages businesses to respond to these kinds of negative comments. It's important that your brand have a voice in these matters. Plus, it will show that your company cares to take the time to address the issues that were raised. Just remember to keep the communication professional and as positive as possible. And after the first response, try to take the conversation offline.
7 / Embrace technology trends
Just as markets and industries evolve, so will the technology that supports them. Stay on top of the latest trends to look competitive to potential candidates. Consider investing in HR data analytics software, upgrading your CMS if you're on an antiquated system, or implementing live chat capabilities into your website. Job seekers will likely want to move on to a company with technology advancements and may find the opportunity to learn new programs as an incentive.
8 / Produce original content
This employer branding best practice can highlight the inner workings of your company and the people behind your brand. Original content can include things like behind-the-scenes videos and employee-authored blog posts. While a potential candidate is researching your company, they'll likely come across these content pieces and it can enrichen their experience and likeliness to apply. Plus, the process of creating these materials can also be an effective employee engagement activity.
9 / Lean on social media
Create a plan to share any original content on social media strategically and encourage employees to engage with it. Whether it's creating a careers-dedicated social media presence or posting employer brand content on the corporate channel, it's important to mindfully plan what you're going to share and when. Consider targeting audiences with specific hashtags and monitor the performance of the posts. Analyzing how your audience engages with the posts will allow for you to tweak or update your social media employer branding strategy as needed. 
10 / Get out of the office
Volunteering in your community or for a cause that supports a brand value can create opportunities for employee engagement. And you can share the experience through posts, pictures and original hashtags with your social audiences and hopefully inspire them to also get involved in the cause. This employer branding best practice can also position your brand as an authentic voice that lives up to their communicated principles or outfacing values.
11 / Invest in employee development
When it comes to attracting and retaining top talent, employee advocacy and development opportunities really matter to both existing and potential employees. Create a learning and development program, have a regular reviews cycle, and consider promoting from within when you can. Such actions demonstrate that you care about an employee's long-term success.
12 / Invest in employee happiness
Overall employee happiness will speak volumes to potential candidates. To support their well being, offer good benefits, attend to wellness needs, and spend time developing employee engagement opportunities. Get started by checking out a list of 40 new ideas here.
13 / Be authentic
A 2017 KRC Research and Weber Shandwick study found that only 21 percent of American workers strongly agreed that the their company's public image aligned with what employees experience. Employers need to stay true to who they are when it comes to promoting their brand. If you consider your culture or mission to be a "work in progress", that's okay. With that said, you shouldn't promote an idealistic end goal in the meantime. Authenticity should always be top of mind when communicating any kind of employer brand messaging. 
14 / Lead with innovation
This employer branding best practice is no easy feat. That being said, leading the pack in terms of innovative products, services, or programs will give you a leg up as an employer. Top talent wants to work for businesses that are redefining standards and elevating the way they work. This kind of gusto speaks to your company's culture or mission and it will attract go-getters and winners alike.
15 / Separate on good terms
No matter how hard you may work to keep employees, turnover—voluntary or not—is to be expected. Outplacement services can help manage relationships with employees who you chose to part ways with, be it because of a layoff, acquisition, or merger. Offering this kind of employee benefit doubles as an employer branding best practice. As former employees are bound to share the terms of their separation with their family, friends—and the interwebs—ending on a positive note is paramount.
16 / Stay focused
With so many moving pieces, it's easy to get overwhelmed and lose sight of your initial end goal. Try to clearly identify what it is that you want to achieve with your employer brand strategy. Choosing and communicating one goal will help keep you on the path to success and less vulnerable to distractions.
Caring about how your brand is perceived to potential candidates is really the first step in setting up a winning employer brand strategy. And these employer branding best practices can help ensure you share an authentic, clear message to both job seekers, existing employees, and your consumers. To further enrich your candidate pool with top talent, check out CareerArc's social recruiting services and schedule a demo today.