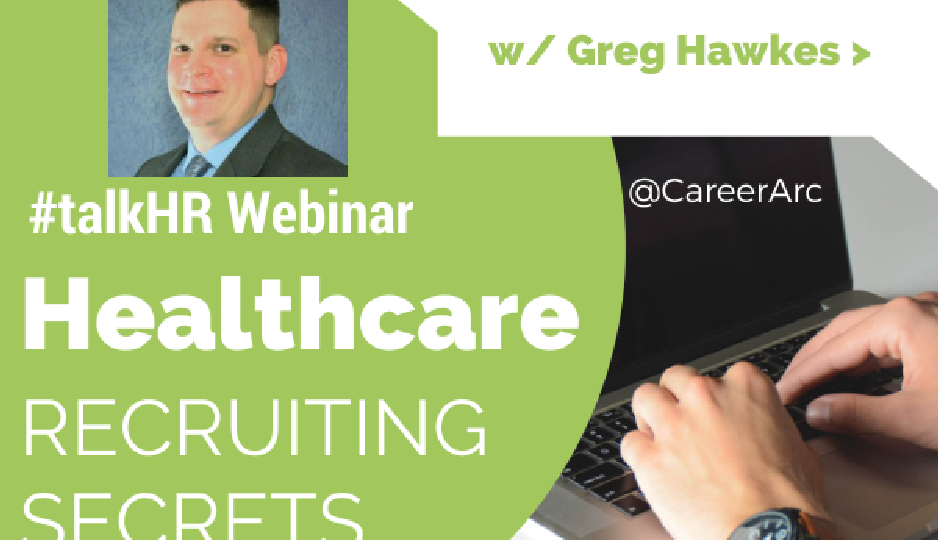 Finding new candidates can be challenging, let alone finding highly qualified candidates.

Healthcare recruiting
in particular is growing increasingly competitive, and with healthcare poised to be the largest industry measured by the number of jobs by 2020, the demand for talent is only expected to climb.
Which is why it's no surprise that the healthcare recruiting and hiring community turned out for our Healthcare Sourcing Secrets Webinar hosted by one of the leading voices on the topic, Greg Hawkes (@GregHawkesHRSTB).
Greg provided healthcare sourcers with an abundance of resources to search for the best physician, nursing, and clinical candidates. Naturally, attendees showed their appreciation on Twitter. Below are the top shared #TalkHR tweets to help recap the event.
Best Tweet of the Webinar
Being a top sourcer means keeping an eye out for new tools and hacks that help find more candidates. Terry (@TerryJobs) went into our webinar with an open mind and discovered much more than what she expected.
Went in not expecting much, came away mind blown 💥 Using many of the tools already but not all of them! #TalkHR #Sourcing @GregHawkesMDACC

— Terry (@TerryJobs) July 25, 2017

Thanks for the great feedback, Terry!
Some of Greg's favorite sourcing tools include:
Hiretual
Sociallist.io
Angel List
Archinect
Doximity
Access the webinar recording and slides. >>
Healthcare Sourcing Appendix
Uhhh, wow. @GregHawkesMDACC's entire #sourcing appendix is all that & more! #talkHR #mindblown @CareerArc pic.twitter.com/iXauWbwLOH
— ⚾️ David Nicola 🎸 (@Capt_Careerist) July 25, 2017

One of the most memorable tweets shared came from David Nicola (@Capt_Careerist) showing Greg's tool appendix which helped viewers get a more detailed look into Greg's sourcing secrets. Download the webinar slides for a full view of the appendix and other sourcing apps and search techniques Greg recommends.  
David Nicola actually hosted one of our previous webinars so you can say he knows a thing or two about the secrets of a top sourcer.
Most Notable Technique to Finding Top Talent
Greg went over some unexpected resources the creative sourcer can use. Deb discovered the wonder of Google Scholar and how to find published doctors which helps target highly qualified candidates.
I hadn't thought about Google Scholar before–a great way to source talent that have published their work! Love it! #talkhr @GregHawkesMDACC
— Deb Kaplan Jacoby (@IamDebJacoby) July 25, 2017

Related: How to Successfully Add Social Recruiting Into Your Existing Talent Acquisition Mix
Sourcing with a Search Engine: A Primer to Boolean Search
@CareerArc #talkHR here is an overview of #boolean operators and definitions for #sourcing https://t.co/u29tjLDHrv
— Greg Hawkes (@GregHawkesMDACC) July 25, 2017

Q&A was a lively 20 minute discussion. One webinar attendee asked for an explanation of boolean operators and syntax. Greg provided us with a Google guide for search operators, taking attendees strategies to the next level by filtering through search results and targeting their ideal candidates.
Want more free tools and resources? Greg has compiled a compendium of free resources at HRSourcingToolbox, complete with tech recs, guides, and even ready-made Custom Search Engines (CSE).
Thanks to all of our attendees for making the event so memorable! Make sure to reserve your spot for our next webinar.