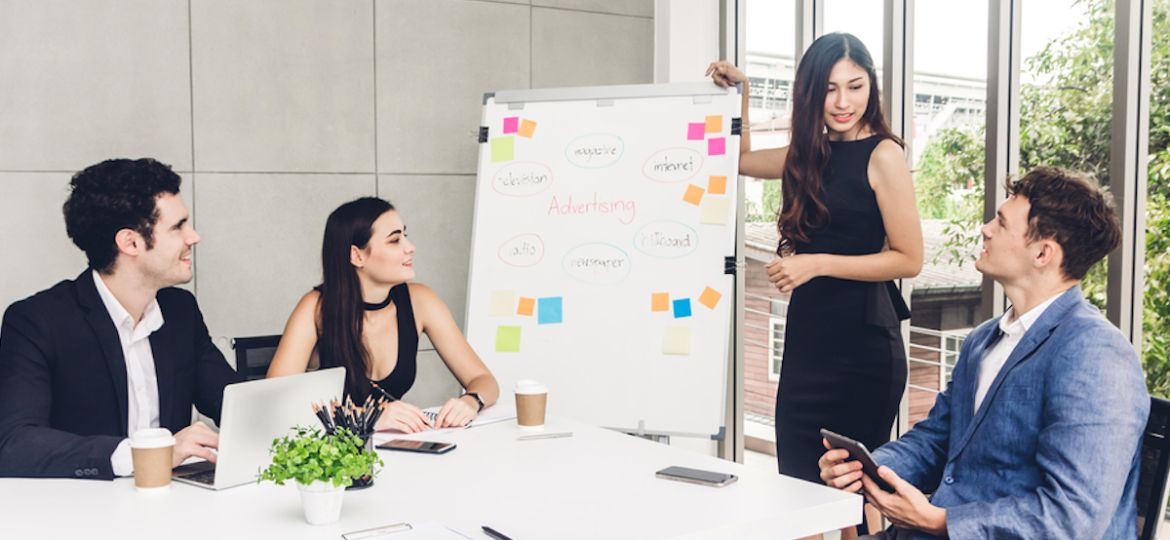 Social media has become an essential part of life. Facebook, Instagram, LinkedIn, Twitter, and other social media sites allow others to learn more about an individual or a business. These channels also allow others to get an intimate look inside a brand and what happens both in and outside of the company office. In the corporate world, social media presents multiple touchpoints across the employee journey—from the early job seeker phase to the veteran phase (and even post-employment!). It can also help foster and maintain authentic relationships between employees and the C-suite—where otherwise they may have limited interactions. The best social media employee engagement strategy, however, will not only support personal relationships, but will also amplify your employer brand.
In an age where social media is at the forefront of everyone's minds, companies cannot afford to let these pages run themselves. Teams of people should not only be responsible for managing the accounts, but also for developing a well-thought-out, winning social media employee engagement strategy. It's important for companies to understand the value that their existing workforce possesses. Often times, current employees hold the power to attract new talent, maintain, or heighten internal morale and project positivity about your brand to your consumer base—even if inadvertently.
Really, your company's employees can be your best advocates. Get them involved by following these 7 essential tips for developing a social media engagement strategy. The sooner you can put these steps into action, the better!
1. Create a written policy.
Professional social media pages and personal social media pages are very different. While both seemingly welcome personal expression, there should be some formal guidelines in place to keep posts and comments above board. It will only benefit your company in the long run to take some time upfront to clearly define the expectations that your brand has of its employees when they engage on company social media pages. Additionally, all employees should know that these guidelines exist. Take some time to share that the policy has been created and show existing employees where to find it. It could also be good material to include in any new hire onboarding.
2. Set realistic goals.
Do you want to increase traffic to your website's career page? Or perhaps your brand would like to see an increase in employee referrals? Did you know that job seekers want to see that current employees are happy? It's understood that the best employer brands answer the question, "Why should someone work for you?" A strong social media employee engagement strategy can help you answer these questions and help improve workplace morale at the same time. IBM, for example, wanted to gain a real-time understanding of employee engagement and utilized their accounts to identify areas of employee dissatisfaction. After posting about the company's reimbursement process for their ridesharing policy, it became apparent that employees were not happy with the program as it was set up. The negative reactions and comments around the post signaled that this was a larger problem then perhaps the company had realized. Not only was the team at IBM able to pinpoint areas of improvement, but they were also able to take action thanks to the insights gained from the social media post. Whether your company is looking to expand their reach or reenergize their existing workforce, social media can help.
3. Designate brand ambassadors.
Utilize the team you have in place today to get a social media employee engagement strategy off the ground. Reinforce company culture and values through your existing team members' takes on company events and updates. Take some time to identify employees who you'd want to represent your brand. They may be long-time employees, or new hires, but their level of enthusiasm for your brand should be well established and they should be in good standing within their positions. Not only could your social media employee engagement strategy include creating content to profile these individuals, but it could also utilize them to help get the message you want to spread out to larger group of people. Moreover, it could be more impactful for an employee to see a post coming from their peer, versus a corporate logo.
4. Create engaging content.
According to Gallup's 2017 State of the Global Workplace, nearly 85% of employees report being not engaged or actively disengaged at work. A social media employee engagement strategy can help encourage open dialogue and reengage employees who have lost their initial connection with the company. Put a plan together to create content that will truly engage your audience. Consider running an Instagram takeover series, where existing employees are chosen to participate in the posting themselves. Also you may want to include some third party content that steps away from branded messaging and shows the human side of your company. Look to create content that employees will want to share with not only your internal network, but their external connections too.
5. Utilize social analytics tools.
According to a Buffer study in 2019, social media makes up a key part of marketing strategies, with 58.8% of marketers believing that social media is "very important" to their overall strategy. Yet nearly 20 percent are unsure how to measure its effectiveness. You'll not only want to create content and facilitate conversation, but your company should also want to measure the success of each post or series of posts. Truly understanding how your audience is engaging with the content you post will only help inform your social media employee engagement strategy in the future. After all, social media success is much more than just the number of likes a post receives. Social analytics tools will provide you with more insight on how many people the post reached, who clicked through to a page, and how long they interacted with your content.
6. Get your employees excited.
Think of ways to incentivize your existing workforce to participate on your company's social media accounts. Consider hosting a giveaway or showcasing top talent with employee spotlight profiles. Employees could also be encouraged to share on your pages if your company runs a contest for the best "desk lunch" or cutest "office pet" photo. Consider including callouts to your social media pages within your company newsletters. You could also ask employees what they would want to see more of—or what they could do without. Getting your employees involved in your social media employee engagement strategy lets them know that your company cares about their interests and preferences, and that their voice matters.
7. Show that you're listening.
There's no better way to reinforce that you care about employee engagement than to actually respond to what your company's employees are saying. Take time to say thanks to employees who leave positive comments and share their reactions to create deeper bonds within your employer brand. It's important to actively respond to comments, whether good or bad, as they will show that your company is listening and takes employee feedback seriously.
Once you put these tips into action, be sure to keep it up. It's not enough to "set and forget" a social media employee engagement strategy. Your employees will notice if there is a drop in enthusiasm on the company's part. They can lose their motivation to engage just as quickly as it was rallied. CareerArc offers social recruiting and employer brand services to help keep your accounts at the top of their game. Schedule a demo today.