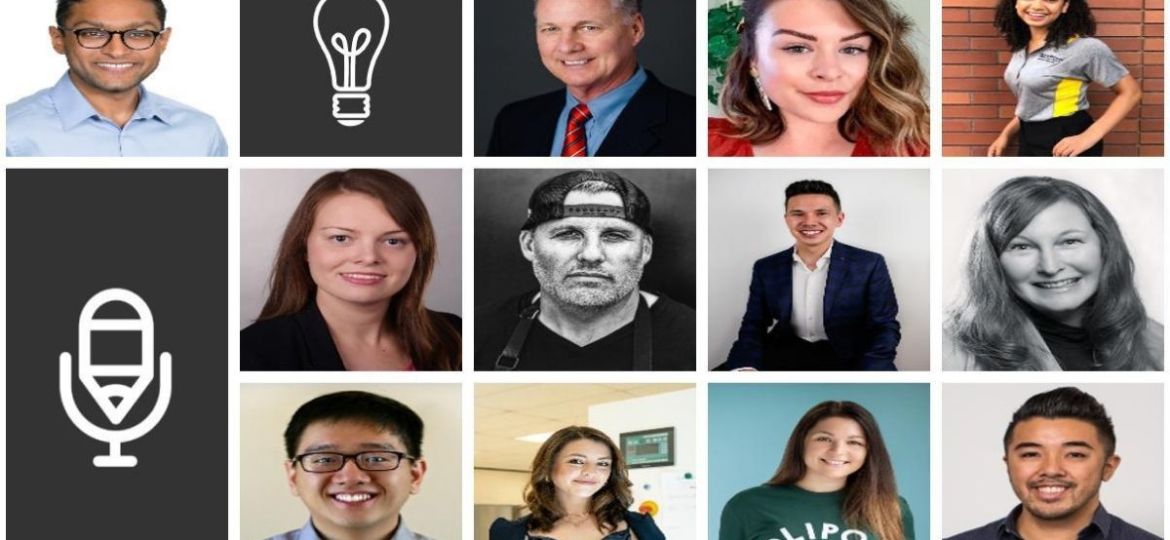 Stop us if this sounds familiar. You post your open jobs, you wait eagerly for those applications to roll in, but . . . crickets. How do you get the world to know about your open jobs? How do you tell them "We're hiring?"
To help you better showcase your career opportunities, we asked HR, recruiting professionals, and business leaders this question for their insights. From hosting meaningful events to leveraging social media, there are several ways you can showcase your employer brand and career opportunities.
Here are 12 employer branding ideas to tell the world that you're hiring:
Host meaningful events
Showcase your brand with social media
Use content marketing tactics
Review candidate feedback
Treat your candidates as customers
Celebrate what makes you unique
Market the benefits that matter most to your talent
Promote your workplace culture
Connect with prospective hires
Tell your story
Leverage social sedia
Add a human element with your employees
Market the benefits that matter most to your talent
BestCompaniesAZ has executed many different employer branding strategies to help elevate our clients' brands in the Arizona market. One strategy that we have found to be effective is marketing the benefits of the role that matter most to job seekers.
This could be the option to work from home, career growth opportunities, tuition reimbursement, and so on. When a job seeker sees that they are valued by the employer, they are more likely to resonate with that career opportunity.
Thorin Yee, Best Companies AZ
Marketing the benefits of your roles is a hugely effective tactic that can help with many things, including seasonal hires. For more on that, see Our favorite methods to increase seasonal recruitment in time for the holidays.
Showcase your brand with videos
You can use YouTube, Vimeo, TikTok, or Instagram Reels to publish an explainer video that sparks people's curiosity to the point that they want to be members of your team. Going the old-fashioned route of text on a website is informative, but not always that engaging.
On the other hand, an explainer video is an accessible, informative, and exciting presentation that only takes up a few minutes of a viewer's time, but that time is valuable. With an explainer video, people can get a quick glimpse of your company culture and see what your brand has to offer them as employees.
Rod Cullum, Cullum Homes
For more on this, see 8 ways to use video for recruiting
Host meaningful events
Place your business front and center in people's minds by hosting an event. The event should be both a value-add to attendees and a promotion for your business. To do so, feature a guest or panel of industry leaders, free headshots, or other options that benefit professionals.
Be sure current employees are in attendance to connect with potential applicants. Consider throwing the event at a nearby university or grad school campus to attract budding talent.
Claire Routh, Markitors
Looking for some inspiration on how to do this? Check out this post on 9 steps to a successful recruiting event
Use content marketing tactics and crowdsource content from employees
We all know how important it is to break through the clutter and get our message to the right audience. Your company might have high-quality products and great content on its blog, but it won't be successful unless people know about you. The same rule applies to recruiting.
If you want to attract top-caliber talent, you need to partner with your marketing team and create an engaging content marketing program for your applicants. It's a good idea to ask your employees and new hires why they enjoy working for your organization and share their stories with the outside world.
The key is to convince the applicants that your company is a place for them. It's not just about career development opportunities or perks, but also your company culture. Showing personal stories or different initiatives is a great place to start.
By doing so, you will create a positive company image in the eyes of your candidates and encourage them to choose you over other organizations.
Dorota Lysienia, LiveCareer
For more on this post, see this article on Why your HR and marketing teams should be working together.
Review candidate feedback
Use surveys to ask candidates (whether they're hired or not) for feedback on your hiring practices. It's easy to overlook details from the employer's side, but often, candidates will be vocal and willing to explain what went right or wrong and what can be improved.
By sending out the survey yourself, you're showing that the company is flexible and willing to improve how it handles hiring. Perhaps that will convince the candidate to apply again down the line.
Charlie McKenna McKenna, Lillie's Q
For some practical tips on this, see How to set up a candidate experience survey.
Treat your candidates as customers
Job seekers now have a lot of positions to choose from. This allows them to be more selective than they might have been in the past. It's important for your talent acquisition team to make the interview process as enjoyable as possible.
Remote interviews, timely feedback, and game-based assessments are all ways to engage potential employees. By treating your candidates as customers, you're showing them right from the start that you're a company that cares not only about profits, but the team making those sales happen.
Melanie Bedwell, Olipop
For more on this, see Why recruiters should treat candidates like customers
Celebrate what makes your company unique
To attract the type of qualified candidates that you're looking for, you need to elevate public perception of your company and the experience of working there. It's simply not enough to post a job listing and call it a day.
It's imperative that your employer branding celebrates the things that make the company unique — from the company's wider objectives to the very people that work there.
To maximize your employer branding, make use of story-driven narratives which paint a clear picture of your company culture. You should incorporate content of all forms, including video, audio, and text, in order to promote your employer brand and present your career opportunities effectively.
In doing so, this will provide your target talent with a depth of vision and show them the full scope of your company's employee experience.
Gregory Yong, Convincely
For tips on how to elevate your brand perception and image, see Brand awareness: How to stand out in a crowded field.
Promote your workplace culture
It's important to show candidates that you care about making them feel heard, included, and respected in the workplace. You may have benefits like a relaxed dress code which gives employees the ability to feel confident and express their creativity or offer flexible work schedules that encourage work-life balance. Showing prospective employees that you care about their well-being will allow the talent acquisition team to recruit the best candidates who are looking to work in a positive work culture.
Hayley Albright, Xena Workwear
There's a lot to say on workplace culture. For example, see 3 ways to a more inclusive company culture here and 3 ways to communicate company culture and values on social through action.
Connect with prospective hires
While not an incredibly popular technique, reaching out to prospective hires is one of the best ways to help acquire talent. Building personal relationships in a way that demonstrates company culture, benefits, and value can significantly help company recruitment chances.
Kashish Gupta, Hightouch
For some tips on how to reach out to candidates, check out this article on 7 methods to reach out to your perfect candidate.
Tell your story
Storytelling is one of the most powerful techniques available to improve your employer branding. What separates you from your competitors is the culture of your company and the people who work there, so be sure to showcase both as much as you can. In doing so, your career opportunities will stand out above the rest.
Here's the simple reason why storytelling augments your brand: when you use it right, you're no longer a faceless company in a sea of other companies. Instead, you represent a real organization with real people. Before long, talented prospects will start to think about becoming a part of your brand story.
To master the art of storytelling, get creative and be vulnerable about the things that matter most to your organization. Tell the story of what you want to accomplish, what you've achieved thus far, or what a day is like at the office. You'll find that these small steps come together to really bring your company to life and strengthen your employer branding.
Tina Hawk, GoodHire
For more on this, check out this post on How you can use storytelling to up your recruiting game.
Leverage social media
To showcase your career opportunities effectively, be sure to use a combination of LinkedIn, Instagram, and even TikTok to generate the reach that you're looking for. If your talent acquisition is localized to one platform in particular, such as LinkedIn, you might be alienating a significant portion of your target talent pool.
By using the full scope of social media, you'll expose your career opportunities to far more people and increase the likelihood that you'll find the right person.
Jerry Han, PrizeRebel
Psst: want to transform your social media presence into a strategic source of hire? See how CareerArc can help you here.
Add a human element with your employees
The best marketing tool to create an employer brand for career opportunities are the employees themselves, and they should highlight every employer branding promotion.
By placing your team at the forefront, allowing them to speak about their experience with the company, two important tasks are accomplished:
The company establishes trusts based on real-life experiences.
The company adds a human element.
This strategy allows potential candidates to see the high regard the company holds for its employees by making them the face of the brand. By highlighting your team, you are increasing the chances of making a connection on a personal level that will lead to more successful employee recruitment.
Adelle Archer, Eterneva
For tips on how to imbue humanity into your social media captions, see The busy recruiter's guide to writing social media captions.
Ready to take your recruiting to the next level?
This last tip's from us at CareerArc. If you'd like to not just tell the world "we're hiring" but get them to care, to connect with you, and speak even to passive candidates who aren't looking for a job . . .
Then check out a demo of CareerArc here and see how we can help you elevate your talent acquisition goals.
This post was graciously contributed by Terkel. Terkel creates community-driven content featuring expert insights. Sign up at terkel.io to answer questions and get published.