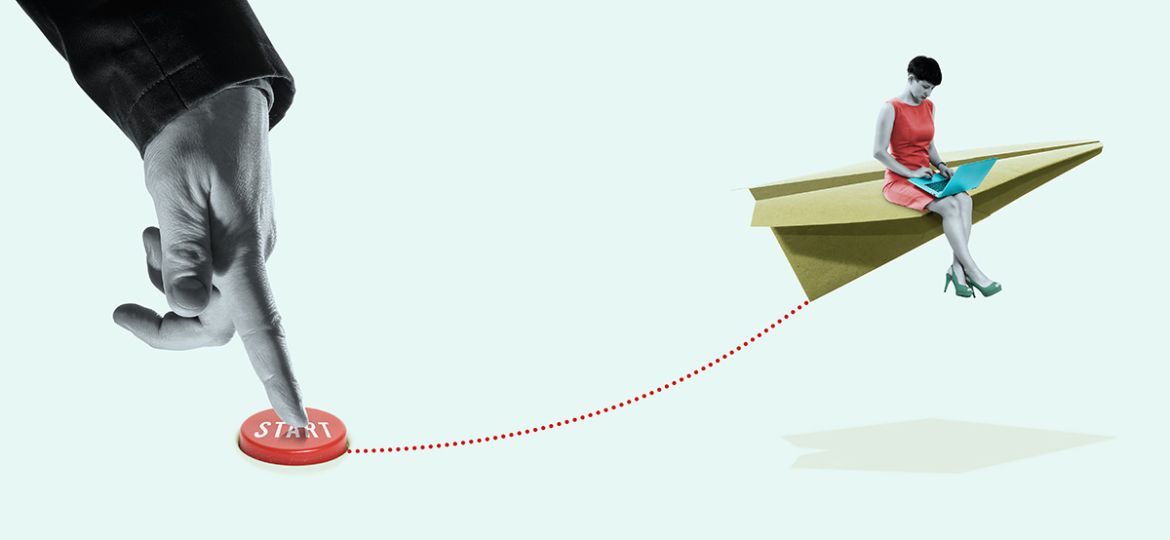 Here's the thing. Social recruiting needs to be an integral part of your talent acquisition strategy, especially now. But for social recruiting to be done right, it needs to be done at scale—with enough variety, frequency, and reach to effectively break through the noise and reach the candidates you're looking for. And depending on the scope of your needs (generally speaking, how many jobs you're looking to fill), that might require a social media automation tool. And when you choose the right tool to strategically automate your social recruiting strategy with, you get to reap all the benefits of social recruiting with none of the drawbacks.
We've talked in the past about how to automate your social recruiting strategy correctly, so we're not gonna bore you by repeating ourselves. Instead, we're gonna take a step back, and share some of the ways different companies from different industries (all clients of ours) are automating their social media recruiting strategy for different results.
How Texas Roadhouse reached more candidates by leveraging a social media automation tool for recruiting
"Just within the last 12 months alone, we've had close to 400,000 applicants come from CareerArc. We have actually been able to re-engage with 188,000 people that have expressed interest in her locations and divvy them up and into each location and those managers can grab those contacts and talk one on one with these applicants.
"And then our career site, I don't know if you've ever been on it, but it's a challenge to navigate through. And so CareerArc was able to put that job map on top of our career page which has actually 52,300 views, with the conversion rate of 50% in applies.
"CareerArc has been our number one source when it comes to hires, even compared to all of the other paid job boards that we use. They're providing us with $1.96 per applicant for their cost per hire which is incredible, we haven't seen that on any other job board"
Laura Dunlap, Manager of Field Staffing and Employer Branding at Texas Roadhouse
How Vi Living saved time with a social media automation software built for talent acquisition
"The Content Calendar allows me to be more strategic and efficient in postings. Before, it was a very manual process going to the various social media sites one by one, but now, the Content Calendar allows me to go to one place and with a few clicks, I can post and schedule postings in advance saving me a great deal of time. Over the course of a year, hundreds of hours of my time are saved. In addition, all of my images are stored, and I can go back to prior posts and reuse those that gained the most traction. I can't imagine not using CareerArc's Content Calendar to effectively execute our social media strategy."
Shawn Scott, Talent Acquisition Manager at Vi Living
Related: See how Vi Living uses 3 ways to scale their social recruitment.
How Applied Industrial Technologies reached passive candidates through automation
"We have seen our applicants from social media go from less than 2% of our online applicants to as many as 20% of candidates last fiscal year coming from social media. Sourcing talent has been a challenge over the past 18 months. CareerArc allows us to access a nearly-untapped passive candidate audience. It would be challenging to consistently maintain a presence on social media, but we can rely on CareerArc's automation to do this for us."
Cliff Wagner, Talent Acquisition Manager at Applied Industrial Technology
How DRS Global Enterprise Solutions improved brand loyalty through automated social media recruiting
"Thanks to CareerArc, we did not renew our contract with the job boards we had relied on for years. CareerArc got us more qualified candidates in less time and at a price that was unbeatable. Most importantly, CareerArc helped us cultivate and strengthen brand loyalty, which is particularly tough to do in our industry. While exceptional brand loyalty has always existed at DRS GES, Inc. deployed operations, our partnership with CareerArc has elevated our brand engagement and awareness, in both U.S. and international operations, higher than we had ever thought possible."
"Current employees coming off contract, looking for challenges in new locations, or seeking opportunities for internal advancement utilize our Twitter, Facebook, and LinkedIn communications to stay informed of internal job postings. With CareerArc's recruiting platform, we see internal and external candidates returning to our sites to check the newest openings. The job map has been particularly effective in keeping the attention of our mobile, remote workforce on opportunities within the DRS GES, Inc. jobs network."
Lisa Wilkinson, Senior Director, Human Resources at DRS Global Enterprise Solutions, Inc.
How Wounded Warrior saw 562% more applications through automated employee advocacy
"Our organization has experienced a dynamic lift of 562% in apply-click traffic because of CareerArc's recommendation to fully activate our talent acquisition team's LinkedIn channel campaigns this year. We saw this dramatic increase in traffic just weeks after CareerArc began distributing jobs across our recruiters' LinkedIn channels.
"CareerArc's social recruiting solution helps my team manage social media campaigns and job post distribution, as well as provide us with intuitive reporting tools to evaluate each campaign. They are social recruiting subject matter experts who keep our jobs moving ahead at light speed through social channels that are relevant to our organization. The interfaces they've produced for job seekers are also very easy to use and effective. CareerArc's level of innovation and support enable us to do what we do best: source and hire top talent!"
Karen Winant, Talent Acquisition Manager at Wounded Warrior Project
How CVS Health's social media automation solution of choice is one of lowest cost sources of applicants
"For us, we measure pretty much everything and CareerArc is one of our top sources of applicants and hires and lowest cost for applicants and hires as well. As one of the largest employers in the country, we at CVS Health rely on partners that can take on the volume of jobs we have and present our brand positively and consistently, everywhere. Working with CareerArc is like pushing the easy button: We have over 30k open jobs at a given time, and CareerArc takes them all and seamlessly distributes them across multiple channels, including Facebook, Twitter, and LinkedIn."
Kerry Noone, former Head of Employer Branding and Recruitment Marketing and Candidate Experience at CVS
How Flex builds their employer brand with social media automation technology
"We don't rely heavily on paid spend. Organic is very important to us, and how we distribute those jobs in a manual process wasn't working. We found that with CareerArc we could essentially control the brand, but we could also automate the process for recruiters, and that was really important to us. It's very little lift for recruiters and very little lift for the employer brand team. We've seen steady increases in our applicant flow.
"We have the job map incorporated into our career site and that continues to be a huge driver of traffic for us and actually completed applications. CareerArc is a critical component of our external branding efforts. We love the ability to customize templates and photos for all the regions where we hire. Our recruiters have the ability to only automatically post jobs that they're filling so it's customized for each person."
Lindsay Lee, former Senior Manager of Global Employer Brand at Flex
How Novipax proved overnight success is possible with a social media automation tool
"CareerArc actually helped us pretty immediately. Like everyone else through the pandemic, we just really struggled with filling our jobs. So we needed to think creatively. The retention bonuses, sign-on bonuses, attendance bonuses, increasing rates in shift differentials, flexible scheduling, et cetera that we had tried weren't really working. So we needed something else. CareerArc naturally fit.
"We received applications overnight, which for a small-sized organization—that doesn't have the brand recognition of some of the mega organizations in the world—was awesome. In the last two and a half months or so, we've had 800 job views, 240 or so applicants, and we've hired 13 directly from CareerArc. So, it's made a real difference for us."
Kerstin Falvey, Director of Human Resources at Novipax
How VON found the qualified candidates they needed with automation
"Before CareerArc, we had relied on job boards that simply weren't delivering enough qualified candidates for hard-to-fill positions. Our own LinkedIn efforts often returned international applicants who didn't have the domestic healthcare credentials for our openings.
"With CareerArc, we are seeing more qualified healthcare candidates, with the right credentials, from the right location looking for the right type of jobs. Our quality-of-hire, time-to-hire, and cost-per-hire all improved thanks to CareerArc's solution and service."
Jennifer Spry, Senior Manager of Talent Acquisition and OD at VON Canada
How Boston Market hired talent that stays through automated social recruiting
"CareerArc has helped bring in a really awesome and healthy portion of applications for us. Over the last 12 months, we have seen a total of 115,000 applications come through from CareerArc. And even of those applications, 85% of the candidates that we received from CareerArc are still with us today. Those are quality candidates that we receive, and they match well with Boston Market—what we look for and what they're looking for also."
Arielle Gerard, former Manager of Talent Acquisition and Culture at Boston Market
What's their secret?
How did so many companies, each with different goals and challenges and each from different industries, all achieve success with social recruiting automation?
The answer's simple: they chose the right platform.
As the only social media hiring platform designed exclusively for busy talent acquisition teams like yourself, we understand the unique challenges and needs you face. Our award-winning platform is designed from the bottom-up to help you meet your talent acquisition goals, and save you tons of time in doing it.
Here's how.
We strategically automate your social recruiting by auto-syncing to your ATS to grab pre-approved content from your Dropbox, Google Drive, YouTube, Sharepoint, and more; auto-creating countless new social media posts for you like magic; and auto-publishing your posts everywhere, including to corporate, recruiter, hiring manager, and employee profiles on Facebook, LinkedIn, and Twitter.
You can find out more about how we work here. Or, if you'd prefer to see it in action, just click here to see a free demo.