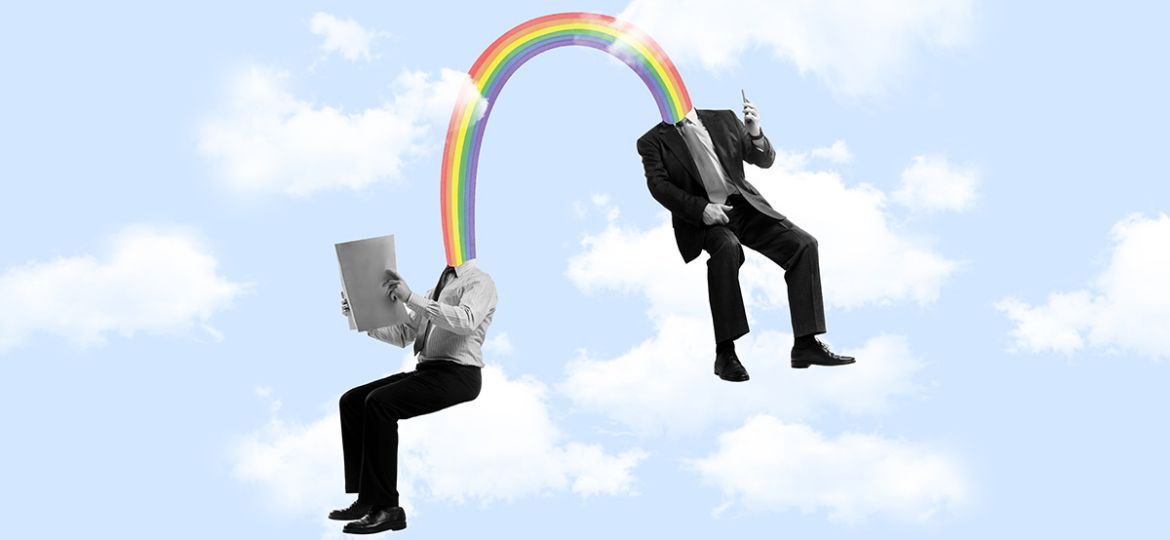 Despite the name, social recruiting's benefits aren't limited just to retention. A strong social recruiting strategy can help with retaining employees as well. To help you retain employees more efficiently, we asked social media experts and HR professionals for their #1 way they've used social media to retain talent.
Here's what they shared.
Tell employee stories to attract candidates
Use LinkedIn to paint your company story
Turn happy employees into retention magnets
Engage users with great content and visuals on social media
Share diverse content on Linkedin to boost retention
Use a targeted approach With a global mindset
Pull candidates to your career portal with relevant hashtags
Attract top tier talent With targeted tweets
Engage Facebook and LinkedIn industry groups for high-quality hires
Offer professional development courses on social media
Tell employee stories to attract candidates
"By making our own employees the heroes of our stories and motivating them to be ambassadors for our employer brand—by telling their stories about us—we can efficiently engage and delight them while reaching and attracting candidates," says Mariann Bencze, Global Employer Branding of Adverity GmbH. "However, this only works if the messages and stories are authentic, which is why a strong internal communications and engagement strategy is needed first. Social media—such as Linkedin, Twitter, Instagram, TikTok, YouTube, depending on the target group—can help brands and brand ambassadors lend credibility to the company and reinforce its culture."
"Word of mouth from our ambassadors is an effective way—which can be amplified if we give them access to design templates and hashtags that make it easy for them to promote the company with creative flair. When ambassadors are allowed to contribute to the company blog as thought leaders, since it's their own work, they are more likely to share the content widely with their network."
For some examples of how to tell employee spotlights on social media, see here.
Use LinkedIn to paint your company story
"To build pride amongst existing employees, and at the same time attract new employees, I prefer to use LinkedIn in a systematic and structured way," says Karoline Nauste, Vice President, Employer Branding and Recruitment at Orkla. "Many of our employees are active on LinkedIn and I believe the channel is growing. We post on our corporate site, but also interact between college posts, which increases the reach. I strongly believe that by telling the real story about who Orkla is, what we do, and what you can expect working here. Just by posting relevant and interesting content, that way both existing employees can relay, and we create awareness about Orkla."
"I also believe that LinkedIn is growing in several industries, and I like that people post about their own fields of industries, and we need to attract people in the whole value chain from production to customers."
Related: How Wounded Warrior Project saw 5x more applications through LinkedIn.
Turn happy employees into retention magnets
"Though social recruiting is more widely thought of as a recruiting tool, it also has powerful retention benefits," says Debora Roland, Vice President of People Operations of CareerArc. "By turning your employees into advocates and ambassadors for you on social media, you encourage engagement and excitement among your employees—something shown to have a strong effect on retention. In addition, posting employee spotlights to social media is an effective tactic to help employees feel wanted and appreciated (while also showing candidates what type of talent you seek and whom they could be working with). And as a bonus, studies show that employees hired through social recruiting are 25% more likely to stay longer. Which means that even as you recruit through social recruiting, you're simultaneously helping your long-term retention goals as well."
Related: 5 stats that prove the importance of employee advocacy on social media
Engage users with great content and visuals on social media
"Stop saying 'We are hiring,'"" says Kara McLeod, Principal Employer Brand Consultant at TQSolutions. "As an employer branding leader, this is the first rule of thumb I trained my recruiters on. You're a recruiter. Hiring is what you do. Instead: Upload visual, engaging content to help the post stand out; then, create a caption that connects the candidate to the role by reinforcing the message they can see in the content; and use the content to act as a hook. Use your caption to tell the candidate why they should click to find out more.
"No one is going to click on a generic message that sits next to an ugly auto-generated thumbnail of an ATS that the social media platform has generated!"
Related: Steal these 11 customizable employer brand social media post templates.
Share diverse content on Linkedin to boost retention
"Linkedin is the social media platform which helps me the most in retaining or replacing talent," says Valentina Passalacqua, Employee Experience and Employer Branding Manager at AUTO1 Group. "Having the opportunity to share diverse contents, both from personal and company profiles, I am enabled to post internal projects, activities and initiatives which allow me to spread company culture and attract new talents and candidates. At the same time it gives me the chance to create structured employer brand editorial plans, where all topics and contents defined give me more occasions to involve team members as testimonials. People are always super happy to be contacted and to have the opportunity to spread their voices and experiences in the network; this supports me a lot in retention since employees feel they are part of a big family that acknowledges them and that need their support to grow and become even stronger."
For more on how to boost your DEI through social media, see here.
Use a targeted approach with a global mindset
"One of the key aspects of building a successful social recruitment strategy is to have a targeted approach and a global mindset," shares Ana Escurin, Global Head of Employer Brand & Candidate Experience of N26. "Of course mainstream vertical platforms such as LinkedIn are a good way of building a primary audience, raising awareness and connecting with your talent. However, you may want to look at some other localized platforms in those markets where there are other strong players such as Naukri in India, Xing and Kununu in Germany or Maimai and Zhaopin in China."
"Same logic applies not geographically but also to the nature and core audience of the platforms. Instead of thinking of Facebook, Twitter and Instagram as your only possible recruitment platforms consider expanding your digital footprint to more niche communities like TikTok, Meetup, Quora, Reddit, Slack or WeChat among many others. Even Tinder has proven to be a successful recruitment tool!"
Related: How CareerArc's Job Maps help companies with multi-location hiring.
Pull candidates to your career portal with relevant hashtags
"We often utilize the power of Twitter to attract great recruits to the company," shares John Li, Co-Founder and CTO of Fig Loans. "By adding #FinanceJobs, #HiringAlert, and a few other relevant tags that vary based on the position, we use tweets to pull users to our career portal to find out more. Since Twitter's character limit is so short, we can have a brief, quippy interaction to test their interest without too much of a time investment on either side. Using Twitter, a social media platform that isn't designed for recruitment, allows us to access more passive candidates, giving us the freedom to find hires from a bigger talent pool."
Psst: Not all hashtags are created equal. Learn how to pick the right hashtags here.
Attract top tier talent with targeted tweets
"Social media allows you to meet potential candidates from around the world," says Patrick Casey, Director of Growth Marketing at Felix. "But instead of posting a listing and waiting patiently for the right candidate to get in touch, you could use social media more actively in an effort to pursue top tier talent.
"The best opportunity lies in connecting with passive job seekers. Passive job seekers are those that are looking for work, but will not necessarily reach out or apply when you publish a new opportunity or job listing. They are no less skilled or talented than those taking an active approach, but many employers remain entirely unaware of their existence.
"These individuals often use social media to stay up to date with industry news and developments. This is a chance for you to get in touch organically and start two-way conversations relating to a topic of mutual interest. It's as simple as engaging with their social media activity, responding to their comments, and building a slow and steady rapport over time."
Related: How companies use social media to attract passive candidates.
Engage Facebook and LinkedIn industry groups for high-quality hires
"LinkedIn and Facebook industry discussion groups have helped us find some of our top talent at a lower cost on a faster timeline," says Brian Dechesare, CEO of Breaking Into Wall Street. "By joining these groups and tapping into the discussions, you can quickly see who is contributing relevant content and displaying some serious skills. We always share our available job postings on these groups first, bypassing many of the "window shoppers" you see on most hiring platforms and reaching a large group of professionals with highly relevant experience and talent. We've even had former contractors and employees vouch for our company on those job posts, giving us an instant boost with future potential talent!"
For more on this, see this article about how to use Facebook groups for recruiting.
Offer professional development courses on social media
"Social media helped us roll out professional development courses at the height of the Covid-19 pandemic," says Max Hauer, Founder and CEO of Goflow. "We took advantage of masterclasses available on Linkedin Learning for Business, which allowed our employees to explore the latest concepts on leadership, technology, and creativity. We even recommended they take courses about remote working and stress reduction. This way, employees could learn new skills to adapt to a digitally-transforming work environment.
"Professional development courses through social media kept our employees' minds away from the worries and anxieties during the pandemic lockdowns. Ultimately, it convinced them to stay in the company and take advantage of our funded learning opportunities for professional growth."
Related: How to encourage professional development among employees
Do it all with CareerArc
We mean that seriously. As Boston Market told us, "90% of the applicants we hired from CareerArc were still working for the company a year later, which means that less than 10% separated from Boston Market – we love the quality!"
Our award-winning, all-inclusive social media recruiting platform takes the labor and guesswork out of social media hiring by automating your social recruiting and employee advocacy efforts and optimizing them to ensure you're always presenting your employer brand in the best light.
In short, we help you widen your talent pool and reach better quality candidates while also helping you retain your employees.
Want to see it in action? Just click here to try out a free demo.