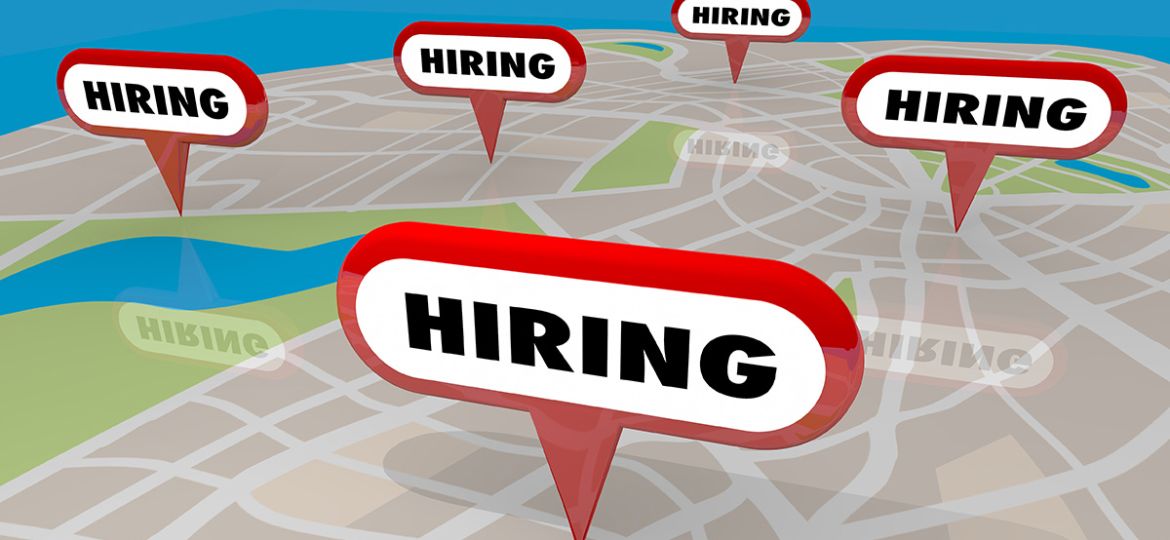 You know that classic image of one person trying to catch a whole bunch of pieces of paper flying away from him? Hiring across multiple locations can feel like that. Trying to juggle the task of recruiting, let alone increasing candidate engagement, for multiple different positions across so many different states, or continents, can be, quite simply, exhausting.
But that's okay, because multi-location hiring just got a whole lot easier–with CareerArc job maps.
(Psst: this is especially great news if you're in an industry that frequently hires across multiple locations. Like retail, restaurant, and healthcare.)
So let's talk about what job maps are, how and why they boost candidate traffic and engagement—driving over 3k job clicks per month on average—and how you can easily integrate them into your talent acquisition strategy, recruitment marketing initiatives, and your social media recruiting efforts.
What is a job map?
CareerArc job maps display a company's open jobs on a custom-branded map interface, offering candidates a visual and interactive way to explore, search, and view open jobs—be they across the country or around the globe. They can easily embed onto a career site, giving candidates an engaging way to find and interact with open jobs nearest them, boosting engagement, traffic to your jobs, and the likelihood of applying.
Job maps can be created and embedded in minutes and are just as easy to configure. And since CareerArc automatically syncs with a company's ATS to place and remove open jobs on the map, there's no additional maintenance needed.
Why job maps are essential for boosting candidate engagement for multi-location companies
1. They display the breadth of your brand and open positions in map view
When you have a bunch of jobs to fill, the simple task of raising awareness to every single one of those jobs can be a truly daunting task. With CareerArc's job maps, you deliver an interactive and highly engaging job search experience that is both more engaging and more effective than a search bar. Rather than having to search, scroll, and click back and forth just to find the job you're looking for, you can easily find the job you're looking for, where you're looking for it.
Plus, brandable pins (more on that later) display your employer brand reach across the U.S. or across the globe, showcasing the breadth of your opportunities in one glance and ensuring you always look unique and when putting your brand forward.
2. They put the job seeker at the center of their job search
CareerArc's job maps enable candidates to easily zoom in on a location and see nearby jobs in a matter of seconds, all within the same map.
In addition, job seekers can:
Search for jobs by keyword and location
Filter jobs by job category
View the details of an individual job
Click to apply to the job they are viewing
Get directions to a job
View the map on their desktop or on-the-go
All within the job map
3. They use the same link anywhere–online or in print—to drive candidate traffic across multiple sources
Embedding your job maps onto your career site is as simple as 1, 2, 3. You just copy a string of code, paste it to your site, and voila! Your job maps are live.
Other ways you can embed your job maps:
You can embed it on your careers page
Pin to the top of your social media post. For example:
Make sure to check out our Interactive Job Map to search career opportunities in your area: https://t.co/HVviLJlZwR pic.twitter.com/Rf3l85cCmO

— Ulta Beauty Jobs (@ultabeautyjobs) April 5, 2017
You can add a job map link to your email signature.
You can even create a QR code and add it to any printed paper you like. Like a flyer, an ad, or even a receipt.
Related: 10 recruitment tactics you'll wish you'd known earlier.
4. They create different versions of your job map to focus on specific regions, job types, and more.
At CareerArc, we recognize that every company is different, and there's no one-size-fits-all solution for everybody. Effortlessly customize your job maps by:
Branding your map pin
Selecting the size of your map
Which brands are displayed (if you have multiple brands)
Which jobs are displayed—you can choose to display all jobs or display select jobs in a specific location, of a specific job type, etc.
How many job maps you create for different career pages, brands, or use cases
How and where you want each job map installed
How candidates can interact with your job map, such as what keywords and job categories they search by
And you aren't stuck with a decision, either. Even once your job map is live, you can still edit it at any time.
As an example of a creative way to use job maps: We have a client who uses 85 job maps. This allows them to tailor the job map experience to their candidates and show available jobs by state, region, language, and job type.
How companies use the job maps for success
CareerArc's job maps aren't just effortless to install–they are powerful sources of talent attraction. And the results prove it. As Texas Roadhouse said, "We have also received 240,000 views from Facebook alone. And then our career site, I don't know if you've ever been on it, but it's a challenge to navigate through. And so CareerArc was able to put that job map on top of our career page which has actually 52,300 views, with the conversion rate of 50% in applies."
Or, as Flex put it, "We have the job map incorporated into our career site and that continues to be a huge driver of traffic for us and actually completed applications."
And in the words of CVS: "We've also strategically leveraged CareerArc's Job Maps, which drives a great deal of applicant traffic and engagement for us. Beyond our main CVS Health job map—which displays all of our open positions across the U.S.—we also have job maps that focus candidate attention on branch-specific positions, such as nurse practitioner and physician assistant openings at CVS MinuteClinics operating at 1,100 of our 11k CVS Pharmacies nationwide. In addition, we've dedicated a Job Map to support the expansion of our CVS Distribution Centers, a growing division in our workforce, and a Military job map to support our veteran hiring initiatives."
Job maps are just one of the many ways we help companies scale their recruiting efforts. Boost candidate engagement and transform your multi-location hiring with CareerArc. Schedule a free demo today.